Press release
ISEF

 — Our chance to shape the future economy!
07.07.2022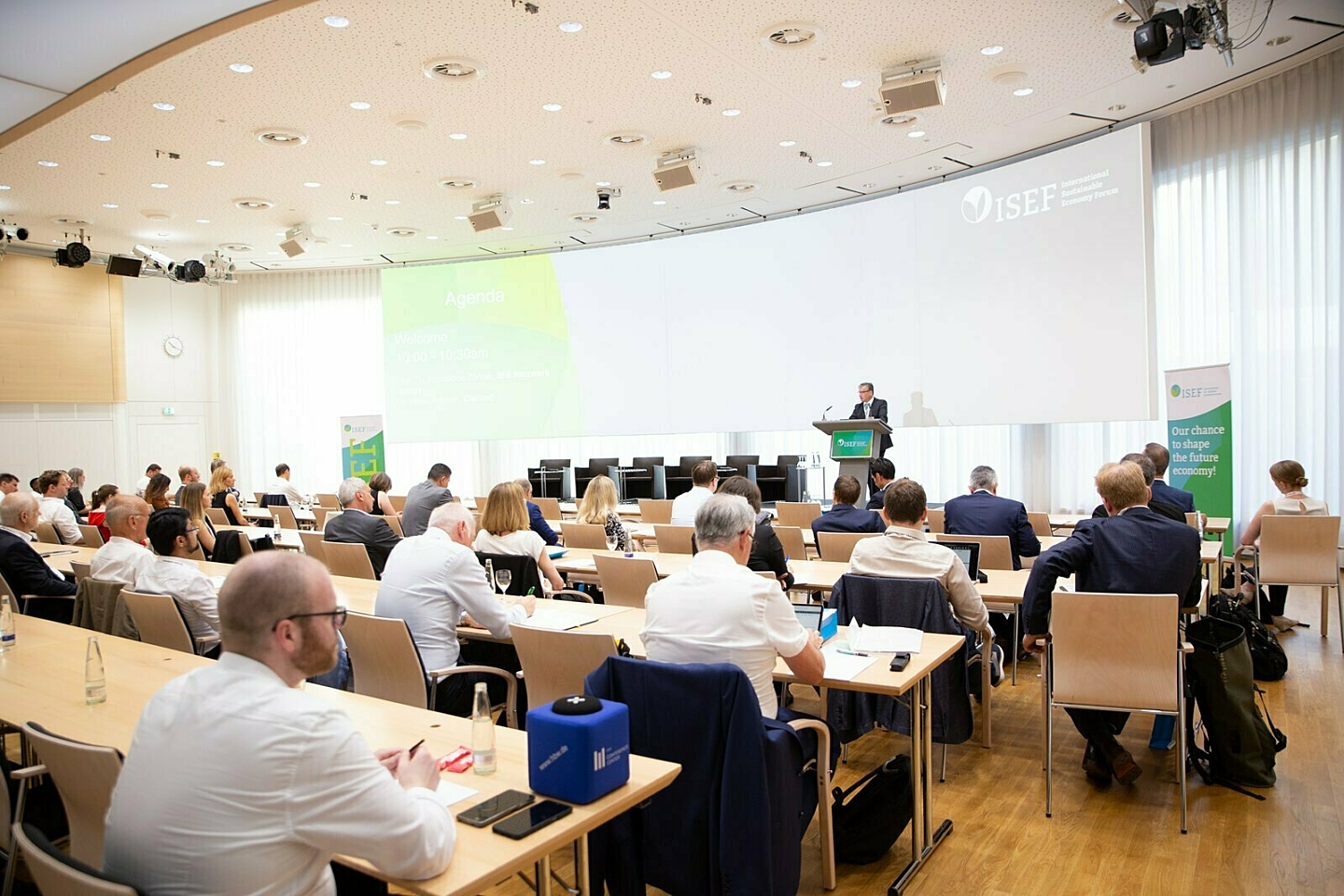 Munich,

07

.

07

.

2022

(Presse­Box) — On June

27

and

28

, the ​

"

Inter­na­tion­al Sus­tain­able Eco­nomy For­um" (

ISEF

) took place for the first time at the Haus der Bay­erischen Wirtschaft (hbw Con­fer­ence Cen­ter) in Munich. Approx­im­ately

100

par­ti­cipants from industry, research, aca­demia and polit­ics gathered in the cen­ter of Munich to dis­cuss solu­tions to the chal­lenges of cli­mate change as well as to shape a mean­ing­ful trans­form­a­tion to a sus­tain­able eco­nomy. In addi­tion to many excel­lent present­a­tions, there was also enough time for net­work­ing and match­mak­ing. The goal of bring­ing togeth­er stake­hold­ers from all sec­tors of busi­ness and aca­demia who use sus­tain­able raw mater­i­als, pro­duce sus­tain­ably or man­u­fac­ture products that do not harm the envir­on­ment and the cli­mate was also achieved thanks to the gen­er­ous sup­port of the Bav­ari­an State Min­istry of Eco­nom­ic Affairs, Region­al Devel­op­ment and Energy in the con­text of a cross-cluster project.

Inter­na­tion­al, top-class experts from industry, research and aca­demia spoke in sev­en ses­sions on the top­ics of sus­tain­able mobility/​energy, sus­tain­able chem­ic­als and mater­i­als, sus­tain­able busi­ness and mar­ket suc­cess, sus­tain­able pro­jects, recyc­ling CO₂ and indus­tri­al residue streams, sup­port­ing meas­ures for a sus­tain­able eco­nomy, as well as syn­thet­ic bio­logy and arti­fi­cial pho​to​syn​thes​is​.In addi­tion to the series of lec­tures pro­gram, which could also be fol­lowed via a live stream, the indus­tri­al exhib­i­tion, net­work­ing breaks, and on-site and online match­mak­ing provided numer­ous oppor­tun­it­ies to par­ti­cip­ate in the

ISEF

and to scru­tin­ize the vari­ous approaches with respect to the cri­ter­ia of sus­tain­ab­il­ity, identi­fy obstacles for stake­hold­ers in imple­ment­a­tion, and pro­pose solutions.

As plat­in­um spon­sors, Clari­ant Produkte (Deutsch­land) GmbH and

UPM

Bio­chem­ic­als GmbH made a cru­cial con­tri­bu­tion to the suc­cess of the

ISEF

. ​

"

ISEF

is the ideal plat­form to drive the core of our busi­ness: Design­ing solu­tions for a sus­tain­able, future-proof eco­nomy," said Dr. Chris­ti­an Lib­rera, Head of

BL

Bio­fuels and Deriv­at­ives, Clari­ant Produkte (Deutsch­land) GmbH. ​

"

That's why we whole­heartedly sup­port this suc­cess­ful format, which brought togeth­er experts from a wide range of dis­cip­lines and encour­aged a valu­able exchange."

Fur­ther spon­sors were Wallinger Rick­er Schlot­ter Tost­mann, Pat­ent- und Recht­san­wälte Part­ner­schaft mbB,

FUCHS

Schmi­er­stoffe GmbH, Neste Ger­many GmbH, Lan­za­Jet,

SHV

Energy, EurA

AG

, Wack­er Chemie

AG

, Elec­tro­chaea GmbH, BioCam­pus Straub­ing GmbH, Thermo Fish­er Sci­entif­ic

GEN­EART

GmbH, Nor­d­ic Elec­tro­fuel

AS

and intel­li­gent flu­ids GmbH.

We would like to take this oppor­tun­ity to sin­cerely thank every­one who sup­por­ted the

ISEF

2022

, espe­cially the Bav­ari­an Min­istry of Eco­nom­ic Affairs and Media, Energy and Tech­no­logy, all speak­ers and pan­el­ists, our spon­sors, and part­ners, as well as the hbw Con­fer­ence Cen­ter Munich, and hope to see you again soon at the next

ISEF

!