News
PHAt becomes PHAtiC­uS — Research and devel­op­ment of envir­on­ment­ally com­pat­ible lub­ric­ants enters the next phase
27.09.2021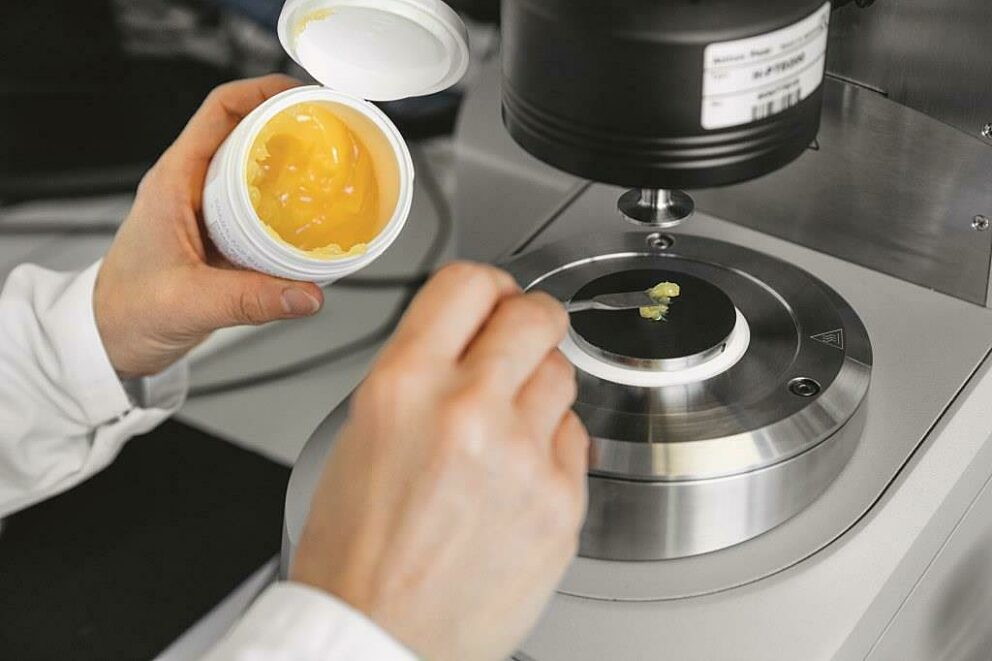 Around 700 thou­sand tons of lub­ric­ants were delivered in Ger­many last year. These pos­sibly every day and partly highly spe­cial­ized aids are used wherever machines of all kinds lit­er­ally have to run smoothly and have to be pro­tec­ted from excess­ive wear and from cor­ro­sion. As indis­pens­able as they are in many areas, many lub­ric­ants are also not entirely harm­less due to their chem­ic­al com­pos­i­tion. Lub­ric­ants and bon­ded coat­ings are largely pet­ro­leum-based, and their pro­duc­tion and dis­pos­al must there­fore be scru­tin­ized from a con­tem­por­ary sus­tain­ab­il­ity per­spect­ive. Des­pite the tech­nic­al level now reached by bio-lub­ric­ants, there are still con­sid­er­able chal­lenges here, par­tic­u­larly regard­ing the CO2 foot­print and product costs.
The pro­ject ​"PHAt — Poly­hy­droxyalkanoates as thicken­ers and bind­ers in tech­nic­al lub­ric­ants" marked the end of a three-and-a-half-year, 1.25-million-euro cooper­a­tion fun­ded by the Ger­man Fed­er­al Min­istry of Edu­ca­tion and Research between the Fraunhofer Insti­tute for Envir­on­ment­al, Safety and Energy Tech­no­logy UMSICHT, Fritzmei­er Umwelt­tech­nik GmbH & Co. KG, Unaver­a­Chem­Lab GmbH and FUCHS SCHMI­ER­STOFFE GmbH with FUCHS LUB­RITECH GmbH. With a dis­trib­uted remit, the pro­ject part­ners devoted them­selves to the devel­op­ment of innov­at­ive thicken­ers and bind­ers based on bio­tech­no­lo­gic­ally pro­duced poly­hy­droxyalkanoates (PHA).
The ambi­tious pro­ject was ini­ti­ated with­in the frame­work of the ​"BioPlastics" cooper­a­tion net­work led by Indus­tri­elle Bio­tech­no­lo­gie Bay­ern Net­zwerk GmbH (IBB Net­zwerk GmbH), in which par­ti­cipants meet twice a year for a pro­duct­ive exchange of ideas and share their know-how in joint projects.
Pro­ject coordin­a­tion, under the dir­ec­tion of Dr. Inna Bretz, was the respons­ib­il­ity of Fraunhofer UMSICHT, which also con­trib­uted the pre­lim­in­ary stud­ies on PHA-based thicken­ers and bind­ers on a labor­at­ory scale. The bio­tech­no­lo­gic­al PHA pro­duc­tion was car­ried out by the medi­um-sized com­pany Fritzmei­er Umwelt­tech­nik GmbH & Co. KG, while the sub­sequent chem­ic­al PHA modi­fic­a­tion was the core com­pet­ence of Unaver­a­Chem­Lab GmbH. Finally, the prac­tic­al expert­ise for applic­a­tion-ori­ented test­ing of the new devel­op­ments was provided by FUCHS.
Pro­ject goal achieved
After a total of three and a half years, all those involved can look back pos­it­ively on what has already been achieved. What counts above all is the dir­ect com­par­is­on of the goals set for them­selves with the veri­fi­able res­ults. The task was to use PHA as a thicken­er in a prefer­ably bio­lo­gic­al lub­ric­ant (EN16807 or 2011/381/EU), to devel­op PHA-based thicken­er sys­tems for con­sist­ent lub­ric­ants and to use PHA as a bind­er for poly­mer-based bon­ded coat­ings. The prop­er­ties of the innov­at­ive addit­ives should be at least equi­val­ent to those of con­ven­tion­al thickeners.
Pro­cess and results
The pro­ject began with the pre­cise defin­i­tion of the tech­nic­al prop­er­ties rel­ev­ant to lub­ric­ants as a whole, which were there­fore also to be ful­filled by new PHA-based products. This was fol­lowed by ini­tial basic tests of the com­pat­ib­il­ity of PHA with con­ven­tion­al base oils, which made it pos­sible to assess ele­ment­ary chal­lenges and quickly made it clear that this very com­pat­ib­il­ity was not suf­fi­ciently giv­en and that a chem­ic­al modi­fic­a­tion of PHA was necessary.
Both in the area of the use of PHA in bon­ded coat­ings and in the com­bin­a­tion of mod­i­fied PHA with cer­tain base oils, prom­ising res­ults were achieved with regard to com­pat­ib­il­ity and the desired thick­en­ing effect.
The way forward
At the same time, it became clear at the end of the pro­ject that the over­all goal is with­in reach. But fur­ther research is still needed to devel­op bio-based poly­mers in lub­ric­ants and bon­ded coat­ings into mar­ket­able and com­pet­it­ive products.
Accord­ingly, the focus is now turn­ing towards the future and the fol­low-up pro­ject. The con­tinu­ation of ​"PHAt" bears the name ​"PHAtiC­uS" and is planned to run for three years until the end of March 2024.
Source
IBB Net­zwerk GmbH / PHAtiCuS-Konsortium