News
ISEF

2022

: an out­stand­ing oppor­tun­ity to dis­cuss the chal­lenges and provide solu­tions for a sus­tain­able economy
08.03.2022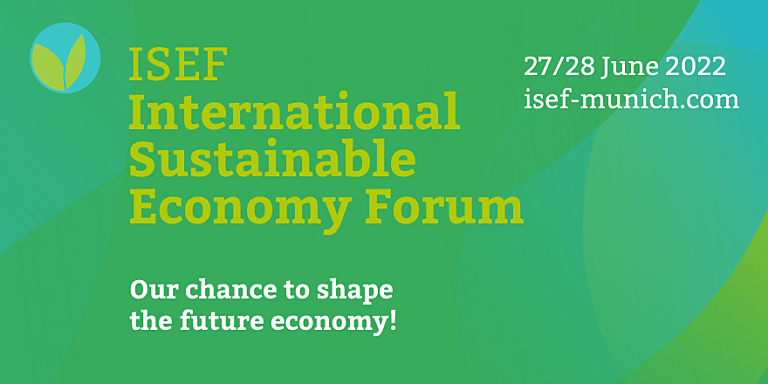 This year's Inter­na­tion­al Sus­tain­able Eco­nomy For­um (ISEF) is the first in a series of recur­ring events ded­ic­ated to address­ing imped­i­ments and present­ing eco­nom­ic­ally feas­ible solu­tions for a sus­tain­able eco­nomy. The hybrid event will take place at the con­fer­ence cen­ter of the Haus der Bay­erischen Wirtschaft in Munich on June 27 and 28, 2022.

With the Inter­na­tion­al Sus­tain­able Eco­nomy For­um, the com­pan­ies Indus­tri­elle Bio­tech­no­lo­gie Bay­ern Net­zwerk GmbH and Chemie-Cluster Bay­ern GmbH cooper­at­ively launch a nov­el net­work­ing event. It is the first of its kind to bring togeth­er all stake­hold­ers, regard­less of raw mater­i­als, meth­ods used and products, work­ing to jointly tackle not only the chal­lenges of cli­mate change but also a real and sens­ible trans­form­a­tion into a sus­tain­able eco­nomy.

The top­ics and dis­cus­sions dur­ing the event are largely determ­ined by the con­tri­bu­tions of the act­ive par­ti­cipants who will present their approaches and solu­tions to a sus­tain­able economy.The accom­pa­ny­ing exhib­i­tion will give all par­ti­cipants the chance to receive first-hand inform­a­tion from com­pan­ies and rep­res­ent­at­ives of sus­tain­able pro­jects. To aid the devel­op­ment of suc­cess­ful cooper­a­tions, the attendees will also have the oppor­tun­ity to be advised by the part­ner organ­iz­a­tions for example on pro­ject applic­a­tions, fund­ing and scale-up of pro­cesses. One fur­ther, very import­ant goal of the event is to col­lect and struc­ture leg­al and eco­nom­ic hurdles for a sus­tain­able eco­nomy, which will then be presen­ted to policy makers in the form of pro­pos­als or demands.

​"The ISEF is a truly unique event" pledges Prof. Dr. Har­alabos Zorbas, CEO of Indus­tri­elle Bio­tech­no­lo­gie Bay­ern Net­zwerk GmbH. ​"It addresses a pro­fes­sion­al audi­ence and cov­ers the strategies of a sus­tain­able eco­nomy in its entirety, rather than just deal­ing with par­tial aspects. Apart from that, our event aims to raise polit­ic­al aware­ness: The indus­tri­al require­ments and needs presen­ted dur­ing the event will be put to paper after­wards and con­veyed to polit­ic­al decision makers. I am delighted that sev­er­al well-known and influ­en­tial spon­sors – our part­ners – are already sup­port­ing the ISEF."

For spon­sors, ISEF offers sev­er­al oppor­tun­it­ies to prom­in­ently present their own com­pany while con­trib­ut­ing to the long-term suc­cess and imple­ment­a­tion of the jointly for­mu­lated goals. So far, renowned part­ners such as the glob­ally act­ing chem­ic­al com­pan­ies Clari­ant AG and Wack­er Chemie AG, Europe's largest paper com­pany UPM from Fin­land, the innov­at­ive lub­ric­ants com­pany Fuchs Schmi­er­stoffe GmbH, the young power-to-gas com­pany Elec­tro­chaea GmbH, the loc­a­tion and eco­nom­ic devel­op­ment com­pany BioCam­pus Straub­ing GmbH, the inter­na­tion­al con­sult­ing com­pany for innov­a­tion and tech­no­logy EurA AG, as well as the pat­ent law firm Wallinger Rick­er Schlot­ter Tost­mann have already con­firmed their sup­port.

The ISEF is gen­er­ously fun­ded by the Bav­ari­an Min­istry of Eco­nom­ic Affairs, Region­al Devel­op­ment and Energy as part of a cross-cluster pro­ject.

For more inform­a­tion on the ISEF, par­ti­cip­a­tion, and indi­vidu­al spon­sor­ing oppor­tun­it­ies, have a look at the event's web­site www​.isef​-munich​.com.

Source