Events
ISEF

: Inter­na­tion­al Sus­tain­able Eco­nomy For­um

2022
17.09.2021
27. ‐ 28. Jun 2022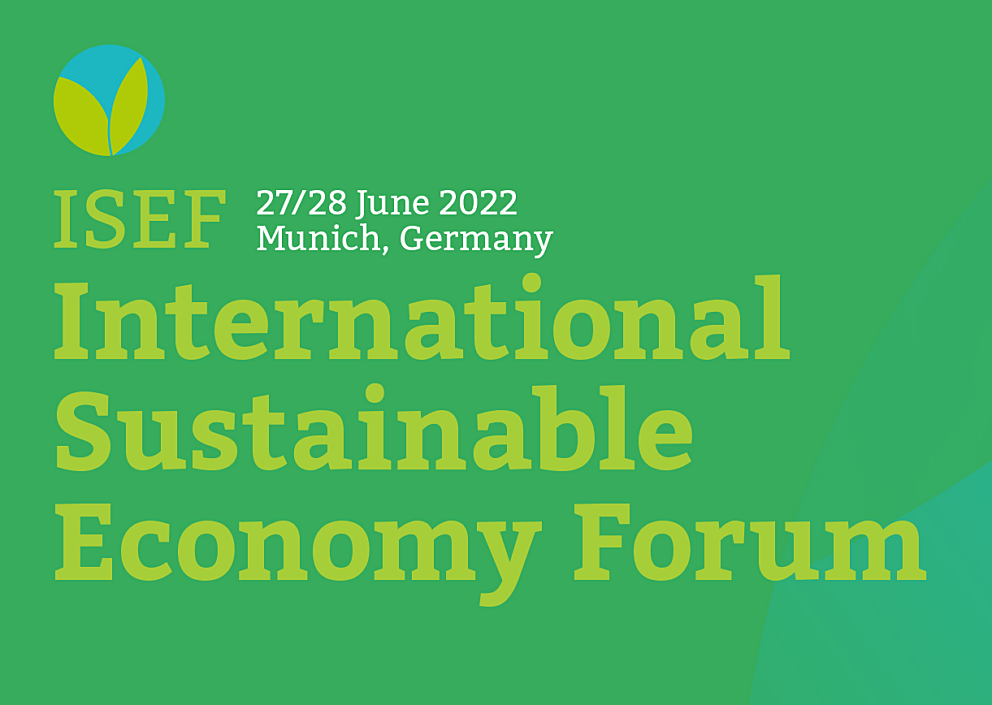 YOUR CHANCE TO SHAPE THE FUTURE OF THE ECONOMY!

Save the date: 27 and 28 June 2022
The cur­rent trans­ition of our eco­nomy from fossil-based to sus­tain­able resources and mild con­ver­sion pro­cesses is a glob­al chal­lenge and, in order to suc­ceed, requires our joint col­lab­or­a­tion. Let´s meet this chal­lenge together!
In 2022, the ​"Inter­na­tion­al Sus­tain­able Eco­nomy For­um" – short ISEF – will be brought to life with the aim to cre­ate an unpre­ced­en­ted plat­form that enables the cru­cial exchange to jointly address this transition.
The ISEF aspires to bring togeth­er all act­ors ded­ic­ated to the advance­ment of a sus­tain­able eco­nomy and offers a for­um for point­ing out cur­rent obstacles and chal­lenges to the real­iz­a­tion of a sus­tain­able eco­nomy, includ­ing bioeconomy. At the same time, it will pro­pose approaches as well as intel­li­gent and innov­at­ive solu­tions for the elim­in­a­tion of these hurdles. Addi­tion­ally, the ISEF strives to inter­weave the par­ti­cipants in order to launch pro­duct­ive col­lab­or­a­tions, which may include R&D pro­jects but also asso­ci­ations of interest groups, with the aim of pro­mot­ing a sus­tain­able eco­nomy with all effect­ive, per­miss­ible means.
We call on you to join this effort, shape the event and back with your con­tri­bu­tions the achieve­ment of ISEF's goals!
REL­EV­ANT FOR STEAK­HOLD­ERS WORK­ING IN THE AREAS OF
Bioplastics, bio-based

&

bio­de­grad­able mater­i­als and products
Plastic recyc­ling
Sug­ar and starch-based products, ther­mo­plastic starch, sug­ar substitutes
Sec­ond­ary plant sub­stances, e.g., wood-based bio­chem­ic­als, for indus­tri­al applications
Sus­tain­able Con­sumer Products: Food, Food Addit­ives, Nut­raceut­ic­als

&

Cosmeceuticals
Sus­tain­able lub­ric­ants and adhesives
Use of side streams of bio­mass processing
Advanced bio­fuels
Advanced biopoly­mer ana­lys­is and syn­thes­is: pep­tides,

DNA

,

RNA

, pro­teins; Syn­thet­ic bio(techno)logy
Chem­ic­al product syn­thes­is by means of arti­fi­cial photosynthesis
CO

2

-based fuels/​energy stor­age and oth­er CO

2

-based products (

CCU

)
Data-based and arti­fi­cial intel­li­gence-aided optim­iz­a­tion of bio­tech­no­logy, ​

"

Inter­net of Things" in biotechnology
BECOME A PART­NER! SHAPE THE ISEF 2022!

A full range of part­ner­ship oppor­tun­it­ies have been developed in order to sup­port the pro­mo­tion of your com­pany in the best way pos­sible. You can either choose single ele­ments, com­pile an indi­vidu­al pack­age based on your require­ments or wishes or choose one of our sug­ges­ted pre-assembled pack­ages (please see details in the spon­sor­ing brochure).
TAKE YOUR CHANCE!
Pur­sue a top­ic with­in sus­tain­able eco­nomy togeth­er with oth­er like-minded, adept experts
Get in con­tact with poten­tial cus­tom­ers, part­ners and providers
Inter­act with man­agers of estab­lished indus­tri­al com­pan­ies or new start-ups, aca­dem­ic rep­res­ent­at­ives and politicians
Get input and inspir­a­tion from renowned professionals
Dis­sem­in­ate your pro­ject results
Pro­mote your latest sus­tain­able products and ser­vices and thereby extend your reach
Devel­op fur­ther R

&

D pro­jects and/​or ini­ti­ate fur­ther busi­ness opportunities
Bene­fit from pro­mo­tion dur­ing the event and subsequently
Define ses­sion con­tents that per­fectly match your company
Stay tuned on the latest trends of sus­tain­able economy
Source