News
Sci­ent­ists Turn Car­bon Emis­sions into Usable Energy
05.02.2019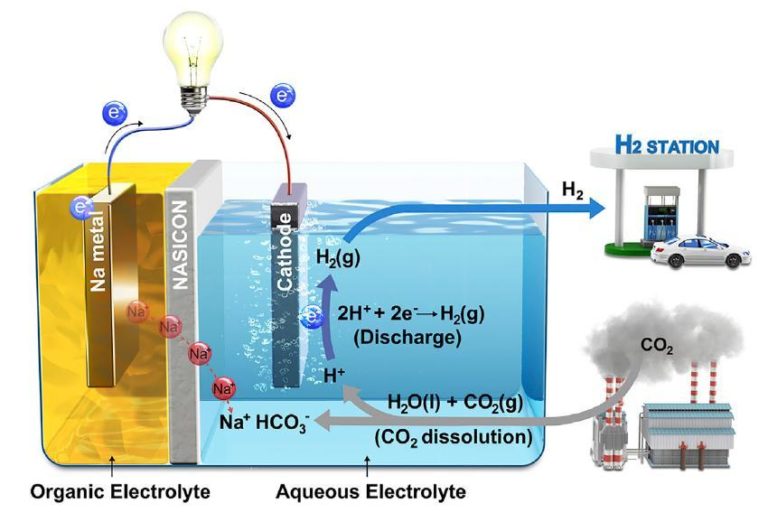 A recent study, affil­i­ated with

UNIST

has developed a sys­tem that pro­duces elec­tri­city and hydro­gen (H

2

) while elim­in­at­ing car­bon diox­ide (

CO

2

), which is the main con­trib­ut­or of glob­al warm­ing. Pub­lished This break­through has been led by Pro­fess­or Gun­tae Kim in the School of Energy and Chem­ic­al Engin­eer­ing at

UNIST

in col­lab­or­a­tion with Pro­fess­or Jae­phil Cho in the Depart­ment of Energy Engin­eer­ing and Pro­fess­or Meil­in Liu in the School of Mater­i­als Sci­ence and Engin­eer­ing at Geor­gia Insti­tute of Tech­no­logy. In this work, the research team presen­ted Hybrid Na-CO

2

sys­tem that can con­tinu­ously pro­duce elec­tric­al energy and hydro­gen through effi­cient CO

2

con­ver­sion with stable oper­a­tion for over

1

,

000

hr from spon­tan­eous CO

2

dis­sol­u­tion in aqueous solu­tion. ​

"

Car­bon cap­ture, util­iz­a­tion, and sequest­ra­tion (

CCUS

) tech­no­lo­gies have recently received a great deal of atten­tion for provid­ing a path­way in deal­ing with glob­al cli­mate change," says Pro­fess­or Kim. ​

"

The key to that tech­no­logy is the easy con­ver­sion of chem­ic­ally stable

CO

2

molecules to oth­er mater­i­als." He adds, ​

"

Our new sys­tem has solved this prob­lem with

CO

2

dis­sol­u­tion mech­an­ism." Much of human

CO

2

emis­sions are absorbed by the ocean and turned into acid­ity. The research­ers focused on this phe­nomen­on and came up with the idea of melt­ing

CO

2

into water to induce an elec­tro­chem­ic­al reac­tion. If acid­ity increases, the num­ber of pro­tons increases, which in turn increases the power to attract elec­trons. If a bat­tery sys­tem is cre­ated based on this phe­nomen­on, elec­tri­city can be pro­duced by remov­ing

CO

2

. Their Hybrid Na-CO

2

Sys­tem, just like a fuel cell, con­sists of a cath­ode (sodi­um met­al), sep­ar­at­or (

NAS­ICON

), and anode (cata­lyst). Unlike oth­er bat­ter­ies, cata­lysts are con­tained in water and are con­nec­ted by a lead wire to a cath­ode. When

CO

2

is injec­ted into the water, the entire reac­tion gets star­ted, elim­in­at­ing

CO

2

and cre­at­ing elec­tri­city and H

2

. At this time, the con­ver­sion effi­ciency of

CO

2

is high at

50

%. ​

"

This hybrid Na-CO

2

cell, which adopts effi­cient

CCUS

tech­no­lo­gies, not only util­izes

CO

2

as the resource for gen­er­at­ing elec­tric­al energy but also pro­duces the clean energy source, hydro­gen," says Jeong­won Kim in the Com­bined M.S/Ph.D. in Energy Engin­eer­ing at

UNIST

, the co-first author for the research. In par­tic­u­lar, this sys­tem has shown sta­bil­ity to the point of oper­at­ing for more than

1

,

000

hours without dam­age to elec­trodes. The sys­tem can be applied to remove

CO

2

by indu­cing vol­un­tary chem­ic­al reac­tions. ​

"

This research will lead to more derived research and will be able to pro­duce H

2

and elec­tri­city more effect­ively when elec­tro­lytes, sep­ar­at­or, sys­tem design, and elec­trocata­lysts are improved," said Pro­fess­or Kim. Source:

UNIST

, press release,

2018

-

12

-

11

.