News
Research­ers design trees that make it easi­er to pro­duce pulp
07.04.2014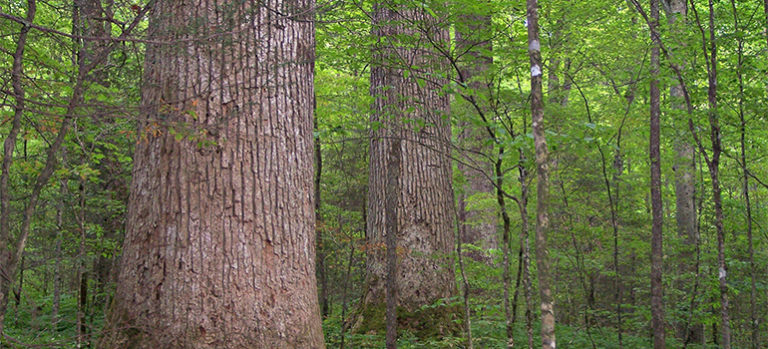 "

One of the largest imped­i­ments for the pulp and paper industry as well as the emer­ging bio­fuel industry is a poly­mer found in wood known as lignin," says Shawn Mans­field, a pro­fess­or of Wood Sci­ence at the Uni­ver­sity of Brit­ish Columbia. Lignin makes up a sub­stan­tial por­tion of the cell wall of most plants and is a pro­cessing imped­i­ment for pulp, paper and bio­fuel. Cur­rently the lignin must be removed, a pro­cess that requires sig­ni­fic­ant chem­ic­als and energy and causes undesir­able waste. Research­ers used genet­ic engin­eer­ing to modi­fy the lignin to make it easi­er to break down without adversely affect­ing the tree's strength. ​

"

We're design­ing trees to be pro­cessed with less energy and few­er chem­ic­als, and ulti­mately recov­er­ing more wood car­bo­hydrate than is cur­rently pos­sible," says Mans­field. The research­ers had pre­vi­ously tried to tackle this prob­lem by redu­cing the quant­ity of lignin in trees by sup­press­ing genes, which often res­ul­ted in trees that are stun­ted in growth or were sus­cept­ible to wind, snow, pests and patho­gens. ​

"

It is truly a unique achieve­ment to design trees for decon­struc­tion while main­tain­ing their growth poten­tial and strength." The study, a col­lab­or­a­tion between research­ers at the Uni­ver­sity of Brit­ish Columbia, the Uni­ver­sity of Wis­con­sin-Madis­on, Michigan State Uni­ver­sity, is a col­lab­or­a­tion fun­ded by Great Lakes Bioen­ergy Research Cen­ter, was pub­lished on

3

rd April in Sci­ence.
Lignin
The struc­ture of lignin nat­ur­ally con­tains eth­er bonds that are dif­fi­cult to degrade. Research­ers used genet­ic engin­eer­ing to intro­duce ester bonds into the lignin back­bone that are easi­er to break down chem­ic­ally. The new tech­nique means that the lignin may be recovered more effect­ively and used in oth­er applic­a­tions, such as adhes­ives, insol­a­tion, car­bon fibres and paint addit­ives.
Genet­ic modification
The genet­ic modi­fic­a­tion strategy employed in this study could also be used on oth­er plants like grasses to be used as a new kind of fuel to replace pet­ro­leum. Genet­ic modi­fic­a­tion can be a con­ten­tious issue, but there are ways to ensure that the genes do not spread to the forest. These tech­niques include grow­ing crops away from nat­ive stands so cross-pol­lin­a­tion isn't pos­sible; intro­du­cing genes to make both the male and female trees or plants sterile; and har­vest­ing trees before they reach repro­duct­ive matur­ity. In the future, genet­ic­ally mod­i­fied trees could be planted like an agri­cul­tur­al crop, not in our nat­ive forests. Pop­lar is a poten­tial energy crop for the bio­fuel industry because the tree grows quickly and on mar­gin­al farm­land. Lignin makes up

20

to

25

per cent of the tree. ​

"

We're a pet­ro­leum reli­ant soci­ety," says Mans­field. ​

"

We rely on the same resource for everything from smart­phones to gas­ol­ine. We need to diver­si­fy and take the pres­sure off of fossil fuels. Trees and plants have enorm­ous poten­tial to con­trib­ute car­bon to our soci­ety."
Ori­gin­al publication
C. G. Wilk­er­son, S. D. Mans­field, F. Lu, S. With­ers, J.-Y. Park, S. D. Kar­len, E. Gonzales-Vigil, D. Pad­mak­shan, F. Unda, J. Ren­coret, and J. Ral­ph. Mono­lign­ol Fer­u­late Trans­ferase Intro­duces Chem­ic­ally Labile Link­ages into the Lignin Back­bone. Sci­ence,

4

April

2014

:

90

 – 

93

DOI

:

10

.

1126

/science.

1250161

Source: Uni­ver­sity of Brit­ish Columbia