News
Repsol to build Spain's first advanced bio­fuels plant in Cartagena
22.10.2020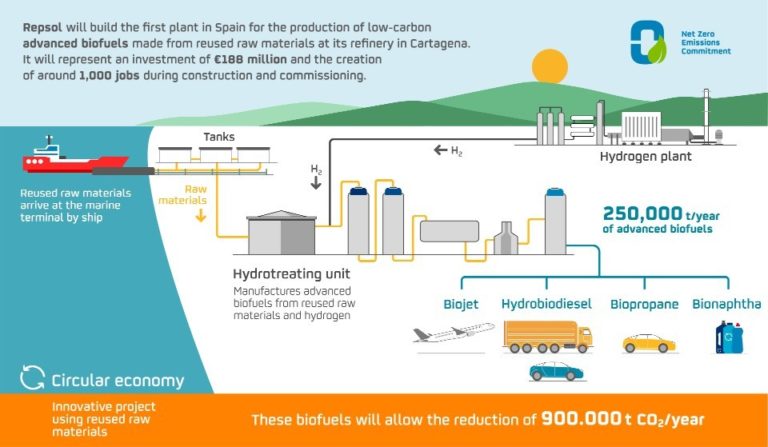 Repsol will build the first pro­duc­tion plant for advanced bio­fuels in Spain at its Cart­agena refinery. From this new facil­ity, the multi-energy com­pany, com­mit­ted to the cir­cu­lar eco­nomy as a tool for effi­cient resource use and emis­sions reduc­tion, will annu­ally sup­ply

250

,

000

tons of advanced bio­fuels for air­craft, trucks, and cars. The new facil­ity, con­struc­tion of which will rep­res­ent an estim­ated invest­ment of €

188

mil­lion, will include the com­mis­sion­ing of a hydro­gen plant that will fuel a new hydro­treat­ment unit equipped with cut­ting-edge tech­no­logy. This pro­ject is part of Repsol's com­mit­ment to the energy trans­ition and its goal of achiev­ing net zero emis­sions by

2050

. The advanced bio­fuels pro­duced at the Cart­agena refinery will enable a reduc­tion of

900

,

000

tons of

CO

2

annu­ally – approx­im­ately the equi­val­ent of the

CO

2

absorp­tion of a forest the size of

180

,

000

soc­cer fields – in yet anoth­er of the com­pany's ini­ti­at­ives to fight cli­mate change and, at the same time, give recycled raw mater­i­als a new use. With this state-of-the-art decar­bon­iz­a­tion pro­ject, Repsol is also mak­ing a com­mit­ment to devel­op­ing the indus­tri­al sec­tor and to gen­er­at­ing eco­nom­ic activ­ity in Spain while pro­mot­ing dir­ect, indir­ect, and induced employ­ment. With the sup­port of aux­il­i­ary com­pan­ies, the con­struc­tion and com­mis­sion­ing work for the plant will be car­ried out in dif­fer­ent phases and will require the work of some

1

,

000

pro­fes­sion­als from diverse fields. Repsol Chair­man Ant­o­nio Bru­fau today met with the Pres­id­ent of the Murcia Region, Fernando López Mir­as, at the seat of the region­al gov­ern­ment, to explain the details of the new Repsol advanced bio­fuels plant, an import­ant pro­ject for Cart­agena and for the region as a whole in terms of gen­er­at­ing eco­nom­ic activ­ity and employ­ment. At the press con­fer­ence, Repsol

CEO

Josu Jon Imaz stressed the import­ance of this pion­eer­ing pro­ject in Spain: ​

"

With this ini­ti­at­ive, we at Repsol are decis­ively pro­mot­ing a new tech­no­lo­gic­al route that will be key in our path towards car­bon neut­ral­ity. It is added to the pro­jects we have already imple­men­ted in energy effi­ciency, low-emis­sions elec­tri­city gen­er­a­tion, renew­able hydro­gen, cir­cu­lar eco­nomy, syn­thet­ic fuels, and

CO

2

cap­ture, use, and stor­age, among oth­ers." ​

"

Spain must base its decar­bon­iz­a­tion strategy on its indus­tri­al and tech­no­lo­gic­al cap­ab­il­it­ies, because that will be the way to pro­mote a com­pet­it­ive and innov­at­ive busi­ness fab­ric," said Imaz, before adding that ​

"

all forms of decar­bon­iz­a­tion are val­id and com­ple­ment­ary and incentiv­iz­ing them so that they can all con­trib­ute, without exclu­sion, will accel­er­ate the energy trans­ition and help us, as a soci­ety, achieve a speedy eco­nom­ic recov­ery, so neces­sary under the cur­rent cir­cum­stances of the coronavir­us pan­dem­ic."
A cut­ting-edge project
On Decem­ber

2

of last year, Repsol announced that it was ori­ent­ing its strategy to become a net zero emis­sions com­pany by

2050

, in accord­ance with the Par­is Agree­ment, mak­ing it the first com­pany in its sec­tor to adopt this ambi­tious goal. The com­pany emphas­ized the cir­cu­lar eco­nomy as a tool for the effi­cient use of resources and noted that it will double pro­duc­tion of high-qual­ity bio­fuels from veget­able oils (

HVO

) to

600

,

000

tons by

2030

, half of which will be pro­duced from waste before

2025

. Indeed, the sin­gu­lar­ity of the pro­ject at the Cart­agena refinery has to do with the cir­cu­lar eco­nomy and the reuse of recycled raw mater­i­als to give them a new life and turn them into new products with high added value, in this case bio­fuels whose use reduces net

CO

2

emis­sions. Repsol has been includ­ing bio­fuels in its auto­mot­ive fuels for over two dec­ades. In recent years, it has been increas­ing the bio­fuel con­tent, and in

2020

the energy per­cent­age has reached

8

.

5

%, in line with the reg­u­lat­ory require­ments in Spain that trans­late the country's com­mit­ments as agreed with­in the

EU

. The European insti­tu­tions have already laid out a roadmap through a new dir­ect­ive that pro­poses a min­im­um of

14

% renew­able energy in trans­port­a­tion by the year

2030

. In addi­tion, Span­ish legis­la­tion estab­lishes, in the Integ­rated Nation­al Plan for Energy and Cli­mate (

PNIEC

), a stricter tar­get of

28

% renew­able energy in trans­port­a­tion for

2030

. With this new pro­ject, Repsol stays one step ahead of the reg­u­lat­ory frame­work and decis­ively advances towards its goal of becom­ing a car­bon neut­ral com­pany by

2050

. The Inter­na­tion­al Energy Agency con­siders that bio­fuels will be a key lever in the gradu­al pro­cess of decar­bon­iz­a­tion of trans­port­a­tion, mainly from

2030

and in sec­tors where elec­tri­fic­a­tion presents chal­lenges, such as avi­ation and mari­time trans­port­a­tion. Sim­il­arly, the pro­mo­tion of bio­fuels will help diver­si­fy Spain's energy mat­rix and make it pos­sible to pro­gress in the country's energy inde­pend­ence, in addi­tion to gen­er­at­ing eco­nom­ic activ­ity and stable qual­ity employ­ment.
Tar­get of Net Zero Emission
This year, Repsol will reduce its Car­bon Intens­ity Index by

3

% with respect to the

2016

baseline, and it is sig­ni­fic­antly increas­ing its renew­able gen­er­a­tion capa­city to reach the goal of net zero emis­sions by

2050

. The com­pany announced in June of this year that it will launch two major cut­ting-edge indus­tri­al decar­bon­iz­a­tion pro­jects at its Pet­ro­nor refinery in Bil­bao. Addi­tion­ally, with the object­ive of evolving towards a low-emis­sions energy mod­el, Repsol pro­duced the first batch of biojet for avi­ation in the Span­ish mar­ket at its Puer­to­llano refinery in July. As part of its stra­tegic ori­ent­a­tion to become a multi-energy com­pany, Repsol has also expan­ded its port­fo­lio of renew­able assets. It cur­rently oper­ates

2

,

952

MW

of total installed low-emis­sions capa­city in Spain, and it is devel­op­ing renew­ables pro­jects that add up to anoth­er

2

,

300

MW

. In July, it began con­struc­tion work on its largest sol­ar farm, Valdes­ol­ar (Bada­joz), which will have total installed capa­city of

264

MW

. This was the company's third renew­ables pro­ject to break ground in Spain. The first was the Delta wind pro­ject, loc­ated in the provinces of Zar­agoza and Ter­uel, which star­ted to pro­duce elec­tri­city in Octo­ber and will have an installed capa­city of

335

MW

when fully oper­a­tion­al. The second, the Kappa wind pro­ject (Ciudad Real) where con­struc­tion began in April, will have total installed power of

126

MW

. Repsol's renew­ables port­fo­lio also includes Delta

2

, a pro­ject com­prised of

26

wind farms spread out over the three provinces in the region of Aragon (Zar­agoza, Huesca, and Ter­uel), with

860

MW

. With the help of all the avail­able tech­no­lo­gies (energy effi­ciency, renew­able gen­er­a­tion, bio­fuels, cir­cu­lar eco­nomy solu­tions, syn­thet­ic fuels, etc.), Repsol's goal is to advance in the energy trans­ition and reduce the emis­sions of its oper­a­tions and products, in line with the company's com­mit­ment to fight­ing cli­mate change in accord­ance with the ambi­tions estab­lished in the Par­is Agree­ment. Source: Repsol, Press Release,

22

.

10

.

2020