News
Regen­er­on Announces Import­ant Advances in Nov­el COV­ID-

19

Anti­body Program
17.03.2020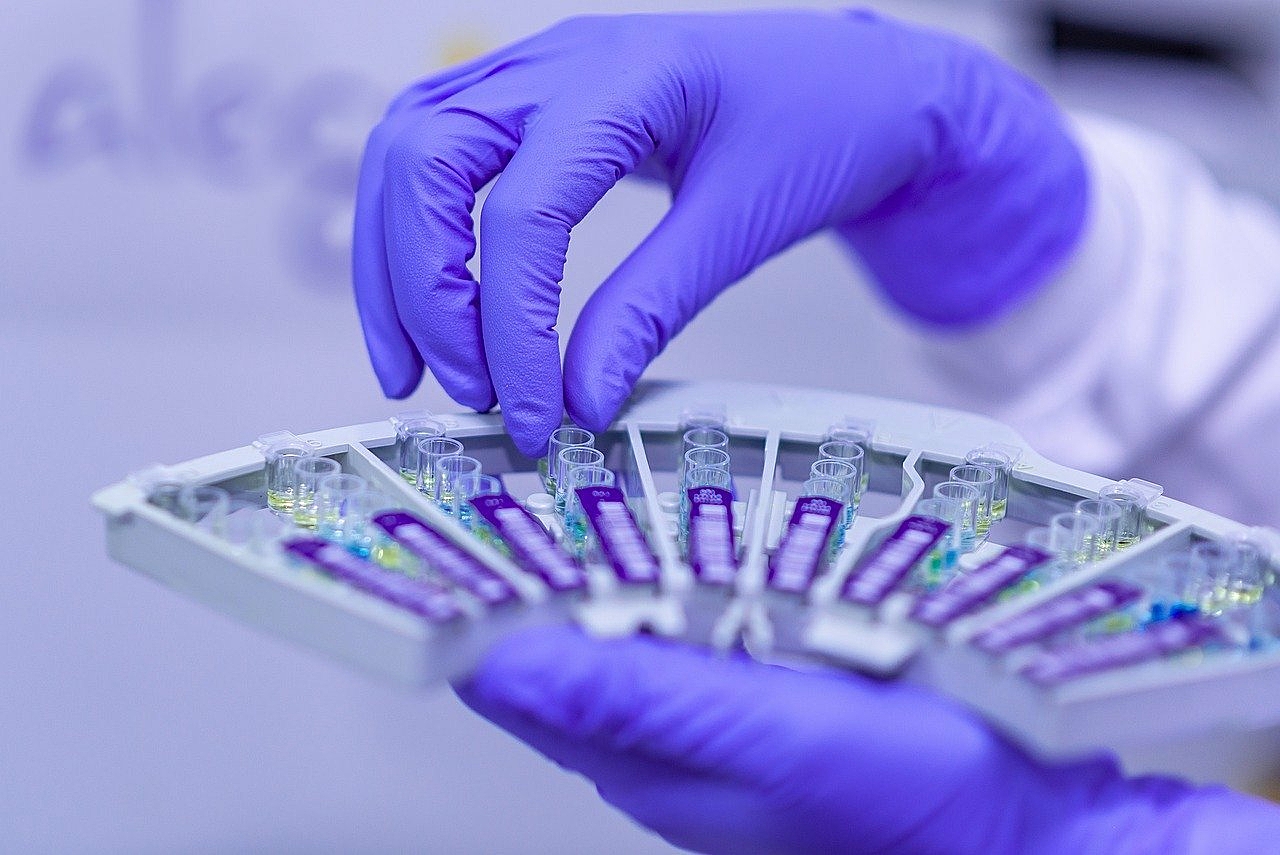 Regen­er­on Phar­ma­ceut­ic­als, Inc. (

NAS­DAQ

:

REGN

) today announced the latest pro­gress in its efforts to dis­cov­er and devel­op a nov­el multi-anti­body cock­tail that can be admin­istered as pro­phy­lax­is before expos­ure to the SARS-CoV­‑

2

vir­us or as treat­ment for those already infec­ted. Regen­er­on sci­ent­ists have now isol­ated hun­dreds of vir­us-neut­ral­iz­ing, fully human anti­bod­ies from the com­pany's VelocIm­mune® mice, which have been genet­ic­ally-mod­i­fied to have a human immune sys­tem. Regen­er­on has also isol­ated anti­bod­ies from humans who have recovered from COV­ID-

19

, in order to max­im­ize the pool of poten­tially potent anti­bod­ies. From this large pool of can­did­ates, Regen­er­on will select the top two anti­bod­ies for a ​

'

cock­tail' treat­ment based on potency and bind­ing abil­ity to the SARS-CoV­‑

2

spike pro­tein, as well as oth­er desir­able qual­it­ies. Using a multi-anti­body approach allows for tar­get­ing of dif­fer­ent parts of the vir­us and may help pro­tect against mul­tiple vir­al vari­ants. Regen­er­on pre­vi­ously used these tech­no­lo­gies to rap­idly devel­op a suc­cess­ful treat­ment for Ebola vir­us infec­tion, which is cur­rently under review by the U.S. Food and Drug Admin­is­tra­tion. In order to meet the press­ing pub­lic health need, Regen­er­on is apply­ing its VelociM­ab® tech­no­logy to pre­pare man­u­fac­tur­ing-ready cell lines as lead anti­bod­ies are selec­ted, so that clin­ic­al-scale pro­duc­tion can begin imme­di­ately. The com­pany is work­ing toward the goal of pro­du­cing hun­dreds of thou­sands of pro­phy­lact­ic doses per month by the end of sum­mer and hopes to have smal­ler quant­it­ies avail­able for ini­tial clin­ic­al test­ing at the begin­ning of the sum­mer. The com­pany is work­ing with the U.S. Health

&

Human Ser­vices' Bio­med­ic­al Advanced Research and Defense Author­ity (

BARDA

) to increase capa­city even fur­ther. ​

"

Our three dec­ades of invest­ment in our Velo­ci­Suite anti­body tech­no­lo­gies, which accel­er­ate and improve the tra­di­tion­al drug dis­cov­ery pro­cess, have hope­fully pre­pared us for this crit­ic­al time and to meet this import­ant chal­lenge," said George D. Yan­co­poulos, M.D., Ph.D., Co-founder, Pres­id­ent and Chief Sci­entif­ic Officer of Regen­er­on. ​

"

Giv­en the tre­mend­ous interest and con­cern around the COV­ID-

19

pan­dem­ic, we will be provid­ing reg­u­lar and trans­par­ent updates on our dis­cov­ery and devel­op­ment pro­grams. I want to recog­nize our incred­ible team, which is work­ing around the clock to devel­op needed solu­tions to this glob­al health crisis." All coronavir­uses have a single gly­copro­tein on the vir­us sur­face called the spike pro­tein, which is the pro­tein on the vir­us cell sur­face that binds to the host cell and is required for infectiv­ity. Regen­er­on's SARS-CoV­‑

2

anti­bod­ies will tar­get the spike pro­tein in order to block its inter­ac­tion with the host cell, and thus neut­ral­ize the vir­us. ​

"

I'm so proud to be part of this cross-com­pany team, which delivered a nov­el and effect­ive fully human anti­body treat­ment for Ebola in record time and is mak­ing every effort to once again rise to this unpre­ced­en­ted chal­lenge," said Chris­tos Kyr­at­sous, Ph.D., Vice Pres­id­ent of Research, Infec­tious Dis­eases and Vir­al Vec­tor Tech­no­lo­gies at Regen­er­on. Yes­ter­day, Regen­er­on and its col­lab­or­at­or San­ofi also announced the ini­ti­ation of a Phase

2

/

3

clin­ic­al tri­al eval­u­at­ing Kevz­ara® (sari­lu­mab) in patients hos­pit­al­ized with severe COV­ID-

19

. Kevz­ara inhib­its interleukin‑

6

(

IL

‑

6

), which may play a role in driv­ing the over­act­ive inflam­mat­ory response in the lungs of patients who are severely or crit­ic­ally ill with COV­ID-

19

.
About Regen­er­on
Regen­er­on (

NAS­DAQ

:

REGN

) is a lead­ing bio­tech­no­logy com­pany that invents life-trans­form­ing medi­cines for people with ser­i­ous dis­eases. Foun­ded and led for over

30

years by phys­i­cian-sci­ent­ists, our unique abil­ity to repeatedly and con­sist­ently trans­late sci­ence into medi­cine has led to sev­en FDA-approved treat­ments and numer­ous product can­did­ates in devel­op­ment, all of which were homegrown in our labor­at­or­ies. Our medi­cines and pipeline are designed to help patients with eye dis­eases, aller­gic and inflam­mat­ory dis­eases, can­cer, car­di­ovas­cu­lar and meta­bol­ic dis­eases, pain, infec­tious dis­eases and rare dis­eases. Regen­er­on is accel­er­at­ing and improv­ing the tra­di­tion­al drug devel­op­ment pro­cess through our pro­pri­et­ary Velo­ci­Suite® tech­no­lo­gies, such as VelocIm­mune® which uses unique genet­ic­ally-human­ized mice to pro­duce optim­ized fully-human anti­bod­ies and bis­pe­cif­ic anti­bod­ies, and through ambi­tious research ini­ti­at­ives such as the Regen­er­on Genet­ics Cen­ter, which is con­duct­ing one of the largest genet­ics sequen­cing efforts in the world. Source: Regen­er­on, News Release,

17

.

03

.

2020