News
On Mars or Earth, biohybrid can turn CO

2

into new products
31.03.2020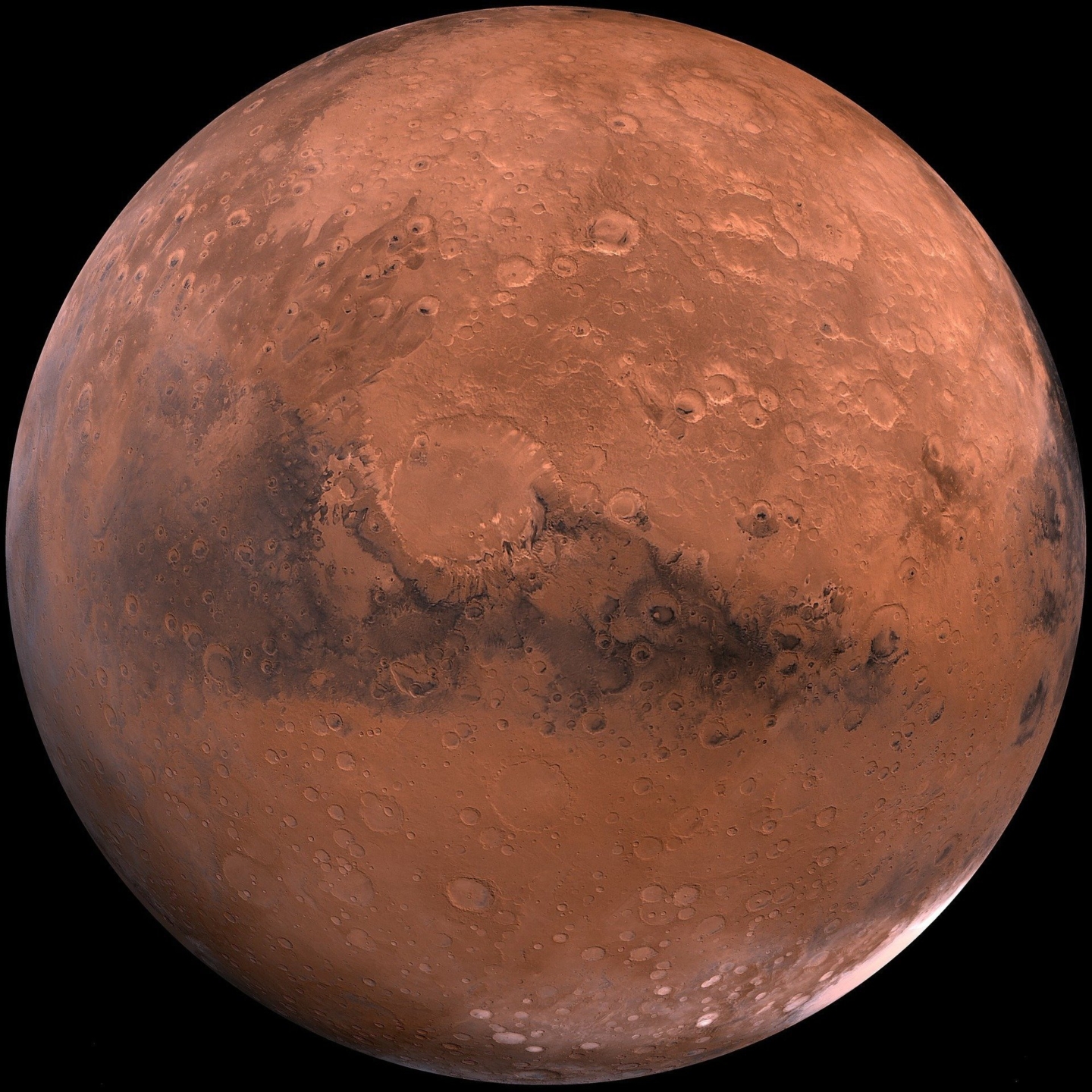 For the past eight years, the research­ers have been work­ing on a hybrid sys­tem com­bin­ing bac­teria and nanowires that can cap­ture the energy of sun­light to con­vert car­bon diox­ide and water into build­ing blocks for organ­ic molecules. Nanowires are thin sil­ic­on wires about one-hun­dredth the width of a human hair, used as elec­tron­ic com­pon­ents, and also as sensors and sol­ar cells. ​

"

On Mars, about

96

% of the atmo­sphere is

CO

2

. Basic­ally, all you need is these sil­ic­on semi­con­duct­or nanowires to take in the sol­ar energy and pass it on to these bugs to do the chem­istry for you," said pro­ject lead­er Peidong Yang, pro­fess­or of chem­istry and the S. K. and Angela Chan Dis­tin­guished Chair in Energy at

UC

Berke­ley. ​

"

For a deep space mis­sion, you care about the pay­load weight, and bio­lo­gic­al sys­tems have the advant­age that they self-repro­duce: You don't need to send a lot. That's why our biohybrid ver­sion is highly attract­ive." The only oth­er require­ment, besides sun­light, is water, which on Mars is rel­at­ively abund­ant in the polar ice caps and likely lies frozen under­ground over most of the plan­et, said Yang, who is a seni­or fac­ulty sci­ent­ist at Berke­ley Lab and dir­ect­or of the Kavli Energy Nanos­cience Insti­tute. The biohybrid can also pull car­bon diox­ide from the air on Earth to make organ­ic com­pounds and sim­ul­tan­eously address cli­mate change, which is caused by an excess of human-pro­duced

CO

2

in the atmo­sphere. In a new paper to be pub­lished March

31

in the journ­al Joule, the research­ers report a mile­stone in pack­ing these bac­teria (Sporo­musa ovata) into a ​

"

forest of nanowires" to achieve a record effi­ciency:

3

.

6

% of the incom­ing sol­ar energy is con­ver­ted and stored in car­bon bonds, in the form of a two-car­bon molecule called acet­ate: essen­tially acet­ic acid, or vin­eg­ar. Acet­ate molecules can serve as build­ing blocks for a range of organ­ic molecules, from fuels and plastics to drugs. Many oth­er organ­ic products could be made from acet­ate inside genet­ic­ally engin­eered organ­isms, such as bac­teria or yeast. The sys­tem works like pho­to­syn­thes­is, which plants nat­ur­ally employ to con­vert car­bon diox­ide and water to car­bon com­pounds, mostly sug­ar and car­bo­hydrates. Plants, how­ever, have a fairly low effi­ciency, typ­ic­ally con­vert­ing less than one-half per­cent of sol­ar energy to car­bon com­pounds. Yang's sys­tem is com­par­able to the plant that best con­verts

CO

2

to sug­ar: sug­ar cane, which is

4

 – 

5

% effi­cient. Yang is also work­ing on sys­tems to effi­ciently pro­duce sug­ars and car­bo­hydrates from sun­light and

CO

2

, poten­tially provid­ing food for Mars col­on­ists.
Watch the pH
When Yang and his col­leagues first demon­strated their nanowire-bac­teria hybrid react­or five years ago, the sol­ar con­ver­sion effi­ciency was only about

0

.

4

% — com­par­able to plants, but still low com­pared to typ­ic­al effi­cien­cies of

20

% or more for sil­ic­on sol­ar pan­els that con­vert light to elec­tri­city. Yang was one of the first to turn nanowires into sol­ar pan­els, some

15

years ago. The research­ers ini­tially tried to increase the effi­ciency by pack­ing more bac­teria onto the nanowires, which trans­fer elec­trons dir­ectly to the bac­teria for the chem­ic­al reac­tion. But the bac­teria sep­ar­ated from the nanowires, break­ing the cir­cuit. The research­ers even­tu­ally dis­covered that the bugs, as they pro­duced acet­ate, decreased the acid­ity of the sur­round­ing water — that is, increased a meas­ure­ment called pH — and made them detach from the nanowires. He and his stu­dents even­tu­ally found a way to keep the water slightly more acid­ic to coun­ter­act the effect of rising pH as a res­ult of con­tinu­ous acet­ate pro­duc­tion. This allowed them to pack many more bac­teria into the nanowire forest, upping the effi­ciency nearly by a factor of

10

. They were able to oper­ate the react­or, a forest of par­al­lel nanowires, for a week without the bac­teria peel­ing off. In this par­tic­u­lar exper­i­ment, the nanowires were used only as con­duct­ive wires, not as sol­ar absorbers. An extern­al sol­ar pan­el provided the energy. In a real-world sys­tem, how­ever, the nanowires would absorb light, gen­er­ate elec­trons and trans­port them to the bac­teria glommed onto the nanowires. The bac­teria take in the elec­trons and, sim­il­ar to the way plants make sug­ars, con­vert two car­bon diox­ide molecules and water into acet­ate and oxy­gen. ​

"

These sil­ic­on nanowires are essen­tially like an antenna: They cap­ture the sol­ar photon just like a sol­ar pan­el," Yang said. ​

"

With­in these sil­ic­on nanowires, they will gen­er­ate elec­trons and feed them to these bac­teria. Then the bac­teria absorb

CO

2

, do the chem­istry and spit out acet­ate." The oxy­gen is a side bene­fit and, on Mars, could replen­ish col­on­ists' arti­fi­cial atmo­sphere, which would mim­ic Earth's

21

% oxy­gen envir­on­ment. Yang has tweaked the sys­tem in oth­er ways — for example, to embed quantum dots in the bacteria's own mem­brane that act as sol­ar pan­els, absorb­ing sun­light and obvi­at­ing the need for sil­ic­on nanowires. These cyborg bac­teria also make acet­ic acid. His lab con­tin­ues to search for ways to up the effi­ciency of the biohybrid, and is also explor­ing tech­niques for genet­ic­ally engin­eer­ing the bac­teria to make them more ver­sat­ile and cap­able of pro­du­cing a vari­ety of organ­ic com­pounds. The research is sup­por­ted by a grant from

NASA

to the Cen­ter for the Util­iz­a­tion of Bio­lo­gic­al Engin­eer­ing in Space (

CUBES

), a multi-uni­ver­sity effort to devel­op tech­niques for bio­man­u­fac­tur­ing in space.

UC

Berke­ley co-authors of the paper are cur­rent or former gradu­ate stu­dents Yude Su, Stefano Ces­tel­los-Blanco and Ji Min Kim, who con­trib­uted equally to the work; and gradu­ate stu­dents Yue-xiao Shen, Qiao Kong, Dylan Lu, Chong Liu, Hao Zhang and Yuhong Cao. Source:

UC

Berkley, Media rela­tions,

31

.

03

.

2020