News
Noth­ing fishy about new way to pro­duce sun­screen pill and lotion
21.05.2015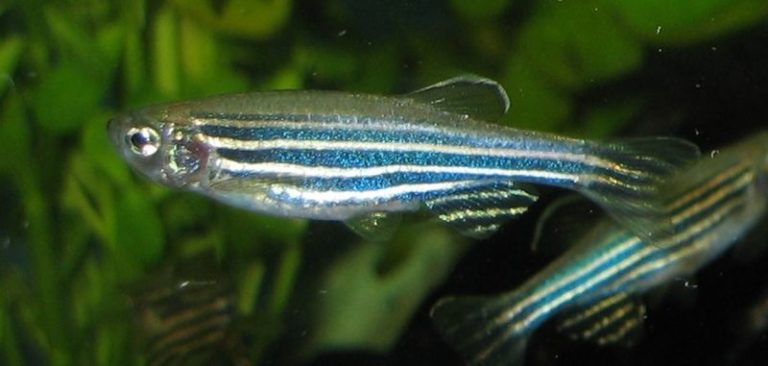 In the study pub­lished in the journ­al eLife, sci­ent­ists found that zebrafish are able to pro­duce a chem­ic­al called gadusol that pro­tects against

UV

radi­ation. They suc­cess­fully repro­duced the meth­od that zebrafish use by express­ing the rel­ev­ant genes in yeast. The find­ings open the door to large-scale pro­duc­tion of gadusol for sun­screen and as an anti­ox­id­ant in phar­ma­ceut­ic­als. ​

"

The fact that the com­pound is pro­duced by fish, as well as by oth­er anim­als includ­ing birds, makes it a safe pro­spect to ingest in pill form," says Pro­fess­or Taifo Mah­mud, lead author of the study. How­ever, fur­ther stud­ies will be needed to test if and how gadusol is absorbed, dis­trib­uted, and meta­bol­ised in the body to check its effic­acy and safety. Gadusol was ori­gin­ally iden­ti­fied in cod roe and has since been dis­covered in the eyes of the mantis shrimp, sea urchin eggs, sponges, and in the dormant eggs and newly hatched lar­vae of brine shrimps. It was pre­vi­ously thought that fish can only acquire the chem­ic­al through their diet or through a sym­bi­ot­ic rela­tion­ship with bac­teria. Mar­ine organ­isms in the upper ocean and on reefs are sub­ject to intense and often unre­lent­ing sun­light. Gadusol and related com­pounds are of great sci­entif­ic interest for their abil­ity to pro­tect against

DNA

dam­age from

UV

rays. There is evid­ence that amphi­bi­ans, rep­tiles, and birds can also pro­duce gadusol, while the genet­ic machinery is lack­ing in humans and oth­er mam­mals. The team were invest­ig­at­ing com­pounds sim­il­ar to gadusol that are used to treat dia­betes and fungal infec­tions. It was believed that the bio­syn­thet­ic enzyme com­mon to all of them,

EEVS

, was only present in bac­teria. The sci­ent­ists were sur­prised to dis­cov­er that fish and oth­er ver­teb­rates con­tain sim­il­ar genes to those that code for

EEVS

. Curi­ous about their func­tion in anim­als, they expressed the zebrafish gene in E. coli and ana­lys­is sug­ges­ted that fish com­bine

EEVS

with anoth­er pro­tein, whose pro­duc­tion may be induced by light, to pro­duce gadusol. To check that this com­bin­a­tion is really suf­fi­cient, the sci­ent­ists trans­ferred the genes to yeast and set them to work to see what they would cre­ate. This con­firmed the pro­duc­tion of gadusol. Its suc­cess­ful pro­duc­tion in yeast provides a viable route to com­mer­cial­isa­tion. As well as provid­ing

UV

pro­tec­tion, gadusol may also play a role in stress responses, in embryon­ic devel­op­ment, and as an anti­ox­id­ant. ​

"

In the future it may be pos­sible to use yeast to pro­duce large quant­it­ies of this nat­ur­al com­pound for sun­screen pills and lotions, as well as for oth­er cos­met­ics sold at your loc­al super­mar­ket or phar­macy," says Pro­fess­or Mah­mud.
Ori­gin­al publication:
The paper ​

'

De novo syn­thes­is of a sun­screen com­pound in ver­teb­rates' can be openly accessed online at http://​dx​.doi​.org/​

1

​

0

​.​

7

​

5

​

5

​

4

​/​e​L​i​f​e​.​

05919

. Con­tents, includ­ing text, fig­ures, and data, are free to re-use under a

CC

BY

4

.

0

license.
An eLife Insight, ​

'

Shed­ding light on sun­screen bio­syn­thes­is in zebrafish,' by Car­o­lyn A. Brother­ton and Emily P. Bal­skus, is avail­able at http://​dx​.doi​.org/​

1

​

0

​.​

7

​

5

​

5

​

4

​/​e​L​i​f​e​.​

07961
Source: EurekAlert!