News
Newly dis­covered plant struc­ture may lead to improved bio­fuel processing
08.02.2013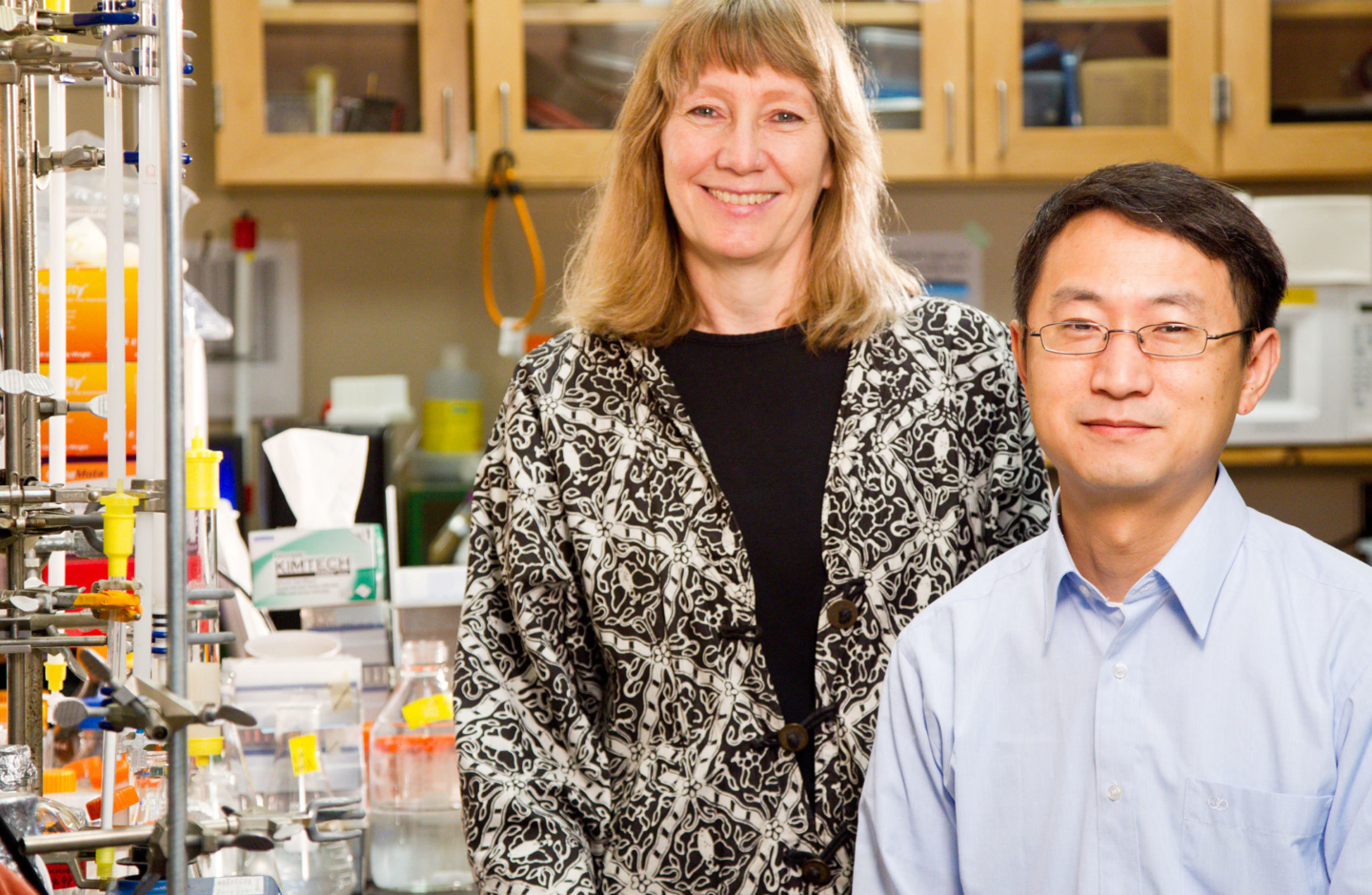 How­ever, Tan was con­vinced that his samples were pure so he and Debra Mohnen, who heads the lab, met again to pore over the data. They came to real­ize that there were hints in the data of a con­nec­tion between two dif­fer­ent types of cell wall glycans (sug­ars) and a spe­cif­ic cell wall pro­tein known as ara­binogalactan pro­tein. This con­nec­tion is not known to exist and does not con­form to the com­monly held sci­entif­ic defin­i­tions of plant cell wall struc­ture. But Tan and Mohnen, who both work as part of the BioEn­ergy Sci­ence Cen­ter, one of three U.S. Depart­ment of Energy-fun­ded research cen­ters, were per­sist­ent, and they, along with an inter­dis­cip­lin­ary team of chem­ists, molecu­lar bio­lo­gists and plant experts at

UGA

, began search­ing for answers. What they found could redefine our under­stand­ing of basic plant bio­logy, and it may lead to sig­ni­fic­ant improve­ments in the growth and pro­cessing of bio­fuel crops. ​

"

This is totally new," said Tan, a research sci­ent­ist in the Com­plex Car­bo­hydrate Research Cen­ter and lead author of a paper detail­ing the group's find­ings pub­lished Jan.

31

in an early online edi­tion of The Plant Cell. ​

"

We had nev­er seen link­ages between these struc­tures before, and we had to devel­op a vari­ety of new tests to prove that what we saw was not simply a mis­take or a con­tam­in­a­tion." The sci­entif­ic com­munity gen­er­ally agrees that com­plex sug­ars like pec­tin and xylan, which allow for cell wall struc­ture, exten­sion and growth, exist in sep­ar­ate net­works from cell wall pro­teins. But the

UGA

research­ers have iden­ti­fied a dir­ect and indis­put­able link between these two domains. ​

"

What this means is that plant sci­ent­ists' view of the plant cell wall is at least par­tially wrong," said Mohnen, pro­fess­or of bio­chem­istry and molecu­lar bio­logy and a mem­ber of UGA's Com­plex Car­bo­hydrate Research Cen­ter. ​

"

There have been hints over the last

30

or

40

years that this link might exist, but no one has been able to prove it until now." The dis­cov­ery has many far-reach­ing implic­a­tions bey­ond the ways it may change bio­logy text­books. As con­cerns about the real­ity of glob­al cli­mate change con­tin­ue to rise, sci­ent­ists are work­ing dili­gently to find use­ful altern­at­ives to fossil fuel-derived energy. Bio­fuels cre­ated from cul­tiv­ated crops like trees and grasses show great prom­ise as a car­bon-neut­ral source of eth­an­ol, but con­vert­ing plants into fuel that might be used to power auto­mo­biles or cre­ate heat for homes has proven dif­fi­cult. Mil­lions of years of evol­u­tion have made plants res­ist­ant to break­down, and the sug­ars needed for fer­ment­a­tion into eth­an­ol are locked inside their com­plex cell walls. But Tan and Mohnen are hope­ful that their dis­cov­ery com­bined with addi­tion­al research will reveal many of the secrets of plant cell wall archi­tec­ture and func­tion, mak­ing them easi­er to break down or per­haps open­ing the doors for engin­eered plants that will work bet­ter as a feed­stock for the bio­fuels industry and as bet­ter agri­cul­tur­al products. ​

"

The applic­a­tions that will emerge from this dis­cov­ery are enorm­ous," said Mohnen. ​

"

It's all going to stem from a refined under­stand­ing of how plants are put togeth­er and how they are made, but once we know that, we can start modi­fy­ing them to make them per­form in ways that are most advant­age­ous to us." ​

"

We've only just scratched the sur­face," she said. The research was fun­ded through grants from the Nation­al Sci­ence Found­a­tion and by the BioEn­ergy Sci­ence Cen­ter.
Com­plex Car­bo­hydrate Research Center
The Com­plex Car­bo­hydrate Research Cen­ter was foun­ded at the Uni­ver­sity of Geor­gia in

1985

and is one of only three cen­ters world­wide ded­ic­ated to the study of com­plex car­bo­hydrates, which play crit­ic­al roles in cel­lu­lar com­mu­nic­a­tion, gene expres­sion, immun­o­logy, organ­ism defense mech­an­isms, growth and devel­op­ment. The

140

,

000

-square-foot facil­ity is home to

17

inter­dis­cip­lin­ary research groups, includ­ing four fed­er­ally des­ig­nated cen­ters for car­bo­hydrate research. In addi­tion to

UGA

research pro­jects, the cen­ter also provides ana­lyt­ic­al ser­vices and train­ing to uni­ver­sity, gov­ern­ment and indus­tri­al sci­ent­ists inter­ested in com­plex car­bo­hydrate molecules. For more inform­a­tion about the cen­ter, see http://​www​.ccrc​.uga​.edu/. Source: Uni­ver­sity of Geor­gia (Author: James Hataway)