News
New car­bon cap­ture tech­no­logy could help industry and agri­cul­tur­al sec­tor decarbonise
17.06.2019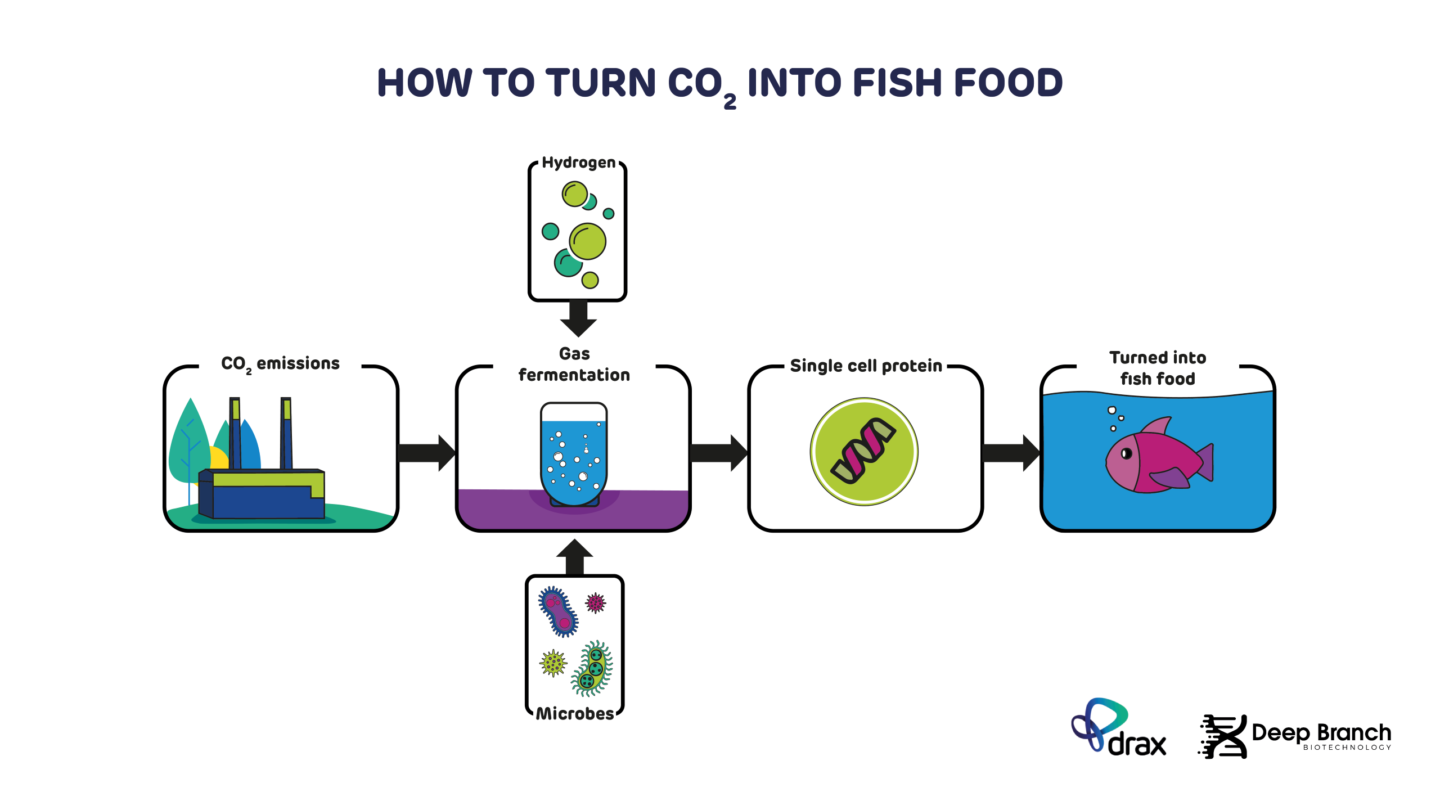 Innov­at­ive biotech start-up, Deep Branch Bio­tech­no­logy, is part­ner­ing with Drax Group on a new bioen­ergy car­bon cap­ture usage and stor­age (

BEC­CUS

) pilot which could help reduce emis­sions from the agri­cul­tur­al sector
Car­bon diox­ide will be used to cre­ate pro­tein which could replace soy and fish­meal, the main com­pon­ents in fish and live­stock feeds
The pro­ject aims to help meet the anti­cip­ated increase in glob­al demand for meat products
Glob­al mar­kets for single cell pro­teins could be worth £

9

bn by

2023
Drax is work­ing with biotech start-up Deep Branch Bio­tech­no­logy to explore the feas­ib­il­ity of using the power station's car­bon diox­ide emis­sions to make pro­teins for sus­tain­able anim­al feed products. Deep Branch Bio­tech­no­logy, a lead­ing tech start-up based at Not­ting­ham Uni­ver­sity, will place a pilot plant with­in Drax's Car­bon Cap­ture Usage and Stor­age (

CCUS

) Incub­a­tion Area at its power sta­tion in North York­shire. It will extract flue gases from the power station's renew­able elec­tri­city gen­er­a­tion to feed to microbes, which can make single cell pro­teins for use in fish food and oth­er sus­tain­able anim­al feeds.
Drax Group
CEO

Will Gardiner said: ​

"

By giv­ing part­ners like Deep Branch Bio­tech­no­logy access to our

CCUS

Incub­a­tion Area we can test emer­ging tech­no­lo­gies and explore their poten­tial in deliv­er­ing for both the cli­mate and the eco­nomy. ​

"

We want to cre­ate a clean­er envir­on­ment for future gen­er­a­tions whilst gen­er­at­ing new jobs and export oppor­tun­it­ies for Brit­ish busi­nesses. Tech­no­lo­gies like this could enable some of our more dif­fi­cult to decar­bon­ise sec­tors, like agri­cul­ture, to make pos­it­ive changes to address the cli­mate crisis." Drax Power Sta­tion is the biggest renew­able elec­tri­city gen­er­at­or in the

UK

and the largest decar­bon­isa­tion pro­ject in Europe hav­ing con­ver­ted two thirds of the plant to use sus­tain­able bio­mass instead of coal. It is explor­ing the feas­ib­il­ity of using

BEC­CUS

tech­no­lo­gies to help fur­ther reduce its emis­sions and con­trib­ute towards the

UK

meet­ing its cli­mate tar­gets. This is Drax's first incub­a­tion pro­ject explor­ing a mar­ket for car­bon diox­ide. The power sta­tion has also held dis­cus­sions with the Brit­ish Beer and Pub asso­ci­ation about the pos­sib­il­ity of cap­tured

CO

2

being used to car­bon­ate drinks. A ded­ic­ated Incub­a­tion Area has been cre­ated at the power sta­tion to give oth­er tech­no­logy com­pan­ies the oppor­tun­ity to test their pro­cesses on its car­bon diox­ide.
Chris Skid­more, Min­is­ter for Energy and Clean Growth, said:
​

"

Car­bon cap­ture, usage and stor­age tech­no­lo­gies are not only put­ting fizz in our drinks but feed­ing fish too." ​

"

As we move towards net zero emis­sions and end our con­tri­bu­tion to glob­al warm­ing, innov­at­ive pro­jects like this will help reduce agri­cul­tur­al emis­sions and meet increas­ing demand for anim­al feed, demon­strat­ing the enorm­ous glob­al poten­tial

CCUS

has to tackle cli­mate change." Peter Rowe, Deep Branch Bio­tech­no­logy

CEO

, explained that the meth­od they have developed for pro­du­cing pro­teins from

CO

2

, relies on an edible microbe that con­sumes car­bon diox­ide. When fed car­bon diox­ide, the microbes grow and repro­duce, enabling them to be con­tinu­ally har­ves­ted for pro­tein whilst main­tain­ing a grow­ing cul­ture. Under optim­al con­di­tions, up to

70

per cent of the mater­i­al pro­duced is pro­tein. The bene­fits of this pro­cess over oth­er car­bon cap­ture tech­no­lo­gies is that the CO

2

does not need to be sep­ar­ated from the power station's flue gases before being fed to the microbes.
Peter said:
​

"

Meat pro­duc­tion is set to double by

2050

as glob­al pop­u­la­tions increase, but using exist­ing meth­ods of pro­du­cing anim­al feeds to meet this grow­ing demand is com­pletely unsus­tain­able. ​

"

The tech­no­logy we've developed is an excit­ing solu­tion. We can con­vert up to

60

 – 

70

% of

CO

2

into pro­tein, help­ing to both min­im­ise the green­house gases released into the atmo­sphere dur­ing power gen­er­a­tion and oth­er indus­tri­al pro­cesses, whilst pro­du­cing pro­tein for anim­al feeds which will help reduce the impact of agri­cul­tur­al sec­tors on the envir­on­ment as well." The

USA

is the world's biggest soy pro­du­cer, pro­du­cing one third of glob­al sup­ply, and uses

97

% to pro­duce anim­al feed. Over

60

% of cer­eals grown glob­ally are being used in anim­al feeds along with

20

mil­lion tonnes of ocean-caught fish. Con­cerns about over­fish­ing have seen the aquacul­ture (farmed fish) industry boom, yet this industry uses more than

15

% of ocean-caught fish for feed, in the form of fish­meal. The new pro­teins cre­ated using the Deep Branch bio­tech­no­logy could help reduce the quant­it­ies of fish removed from the oceans. This not only min­im­ises the impact on eco­sys­tems, but decreases the amount of car­bon diox­ide in the atmo­sphere, mit­ig­at­ing the harm­ful effects of cli­mate change. The Deep Branch pilot will get under­way in the autumn, when a demon­stra­tion plant will be installed with­in the Drax

CCUS

Incub­a­tion Area. It aims to cap­ture enough

CO

2

to pro­duce

100

kg of pro­tein to be used to cre­ate feed­stocks for fish and live­stock. The pro­tein gen­er­ated from the pro­ject will be used in a tri­al pro­ject with a major feed pro­du­cer. If suc­cess­ful, Deep Branch Bio­tech­no­logy plans to build a lar­ger pro­duc­tion facil­ity by

2020

so it can pro­duce sev­er­al tonnes of pro­tein per year. Source: Drax Group, press release,

17

.

06

.

2019