News
MIT

team builds most com­plex syn­thet­ic bio­logy cir­cuit yet
12.10.2012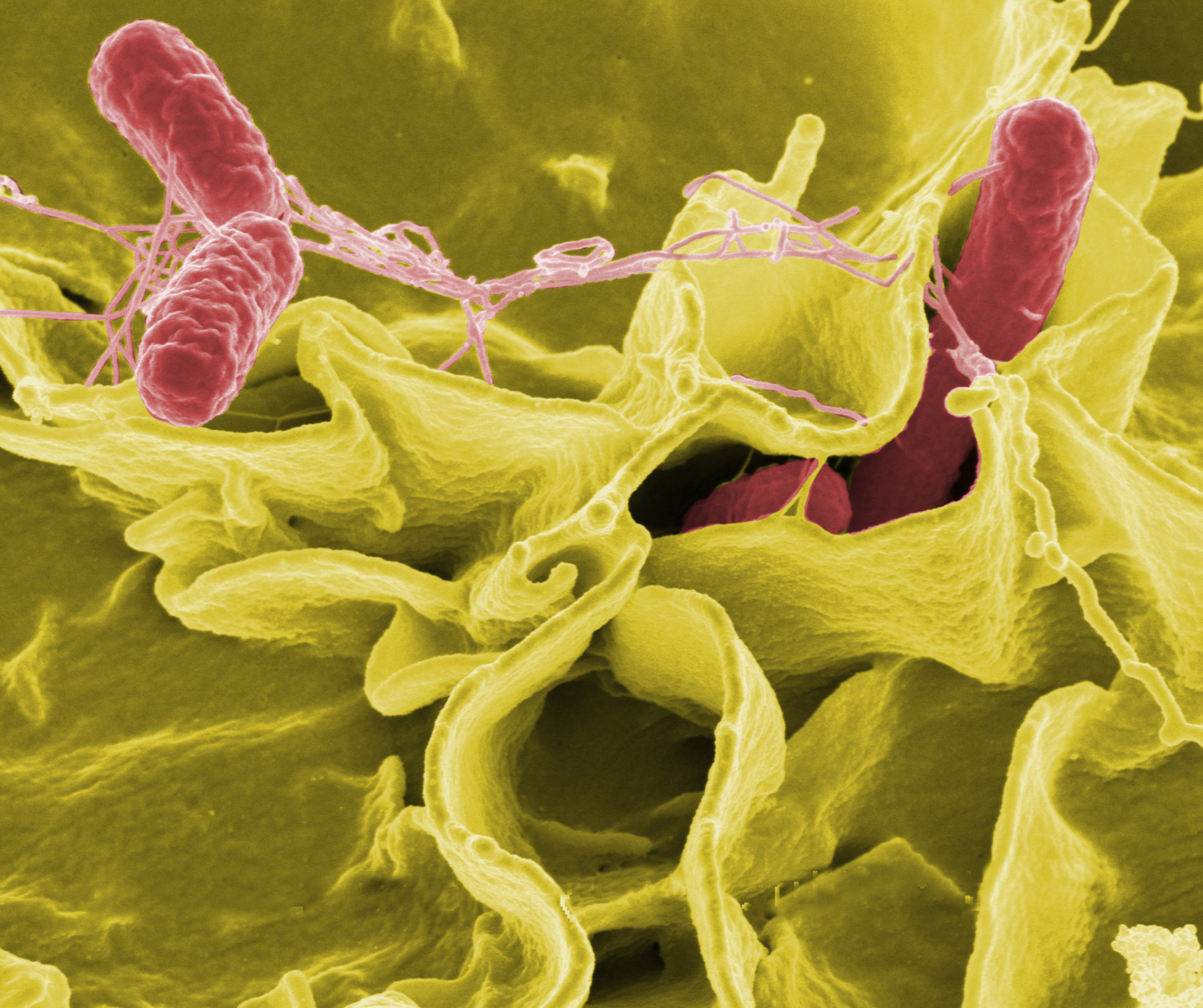 Using genes as inter­change­able parts, syn­thet­ic bio­lo­gists design cel­lu­lar cir­cuits that can per­form new func­tions, such as sens­ing envir­on­ment­al con­di­tions. How­ever, the com­plex­ity that can be achieved in such cir­cuits has been lim­ited by a crit­ic­al bot­tle­neck: the dif­fi­culty in assem­bling genet­ic com­pon­ents that don't inter­fere with each oth­er. Unlike elec­tron­ic cir­cuits on a sil­ic­on chip, bio­lo­gic­al cir­cuits inside a cell can­not be phys­ic­ally isol­ated from one anoth­er. ​

"

The cell is sort of a burrito. It has everything mixed togeth­er," says Chris­toph­er Voigt, an asso­ci­ate pro­fess­or of bio­lo­gic­al engin­eer­ing at

MIT

. Because all the cel­lu­lar machinery for read­ing genes and syn­thes­iz­ing pro­teins is jumbled togeth­er, research­ers have to be care­ful that pro­teins that con­trol one part of their syn­thet­ic cir­cuit don't hinder oth­er parts of the cir­cuit. Voigt and his stu­dents have now developed cir­cuit com­pon­ents that don't inter­fere with one anoth­er, allow­ing them to pro­duce the most com­plex syn­thet­ic cir­cuit ever built. The cir­cuit, described in the Oct.

7

issue of Nature, integ­rates four sensors for dif­fer­ent molecules. Such cir­cuits could be used in cells to pre­cisely mon­it­or their envir­on­ments and respond appro­pri­ately. ​

"

It's incred­ibly com­plex, stitch­ing togeth­er all these pieces," says Voigt, who is co-dir­ect­or of the Syn­thet­ic Bio­logy Cen­ter at

MIT

. Lar­ger cir­cuits would require com­puter pro­grams that Voigt and his stu­dents are now devel­op­ing, which should allow them to com­bine hun­dreds of cir­cuits in new and use­ful ways. Lead author of the paper is former

MIT

postdoc Tae Seok Moon, now an assist­ant pro­fess­or of energy, envir­on­ment­al and chem­ic­al engin­eer­ing at Wash­ing­ton Uni­ver­sity in St. Louis. Oth­er authors are

MIT

postdocs Chunbo Lou and Brynne Stan­ton, and Alv­in Tam­sir, a gradu­ate stu­dent at the Uni­ver­sity of Cali­for­nia at San Fran­cisco.
Expand­ing the possibilities
Pre­vi­ously, Voigt has designed bac­teria that can respond to light and cap­ture pho­to­graph­ic images, and oth­ers that can detect low oxy­gen levels and high cell dens­ity — both con­di­tions often found in tumors. How­ever, no mat­ter the end res­ult, most of his pro­jects, and those of oth­er syn­thet­ic bio­lo­gists, use a small hand­ful of known genet­ic parts. ​

"

We were just repack­aging the same cir­cuits over and over again," Voigt says. To expand the num­ber of pos­sible cir­cuits, the research­ers needed com­pon­ents that would not inter­fere with each oth­er. They star­ted out by study­ing the bac­teri­um that causes sal­mon­ella, which has a cel­lu­lar path­way that con­trols the injec­tion of pro­teins into human cells. ​

"

It's a very tightly reg­u­lated cir­cuit, which is what makes it a good syn­thet­ic cir­cuit," Voigt says. The path­way con­sists of three com­pon­ents: an activ­at­or, a pro­moter and a chap­er­one. A pro­moter is a region of

DNA

where pro­teins bind to ini­ti­ate tran­scrip­tion of a gene. An activ­at­or is one such pro­tein. Some activ­at­ors also require a chap­er­one pro­tein before they can bind to

DNA

to ini­ti­ate tran­scrip­tion. The research­ers found

60

dif­fer­ent ver­sions of this path­way in oth­er spe­cies of bac­teria, and found that most of the pro­teins involved in each were dif­fer­ent enough that they did not inter­fere with one anoth­er. How­ever, there was a small amount of crosstalk between a few of the cir­cuit com­pon­ents, so the research­ers used an approach called dir­ec­ted evol­u­tion to reduce it. Dir­ec­ted evol­u­tion is a tri­al-and-error pro­cess that involves mutat­ing a gene to cre­ate thou­sands of sim­il­ar vari­ants, then test­ing them for the desired trait. The best can­did­ates are mutated and screened again, until the optim­al gene is cre­ated.
Layered cir­cuits
To design syn­thet­ic cir­cuits so they can be layered togeth­er, their inputs and out­puts must mesh. With an elec­tric­al cir­cuit, the inputs and out­puts are always elec­tri­city. With these bio­lo­gic­al cir­cuits, the inputs and out­puts are pro­teins that con­trol the next cir­cuit (either activ­at­ors or chap­er­ones). These com­pon­ents could be use­ful for cre­at­ing cir­cuits that can sense a vari­ety of envir­on­ment­al con­di­tions. ​

"

If a cell needs to find the right microen­vir­on­ment — gluc­ose, pH, tem­per­at­ure and osmol­ar­ity [solute con­cen­tra­tion] — indi­vidu­ally they're not very spe­cif­ic, but get­ting all four of those things really nar­rows it down," Voigt says. The research­ers are now apply­ing this work to cre­ate a sensor that will allow yeast in an indus­tri­al fer­menter to mon­it­or their own envir­on­ment and adjust their out­put accord­ingly. The research was fun­ded by the U.S. Office of Nav­al Research, the Nation­al Insti­tutes of Health, Life Tech­no­lo­gies, Defense Advanced Research Pro­jects Agency and the Nation­al Sci­ence Found­a­tion. More inform­a­tion: www​.mit​.edu Source: Mas­sachu­setts Insti­tute of Tech­no­logy (Anne Trafton,

MIT

News Office) See also: ​

"

A com­plex logic cir­cuit made from bac­teri­al genes"