News
Micro­bi­al team turns corn stalks and leaves into bet­ter biofuel
28.08.2013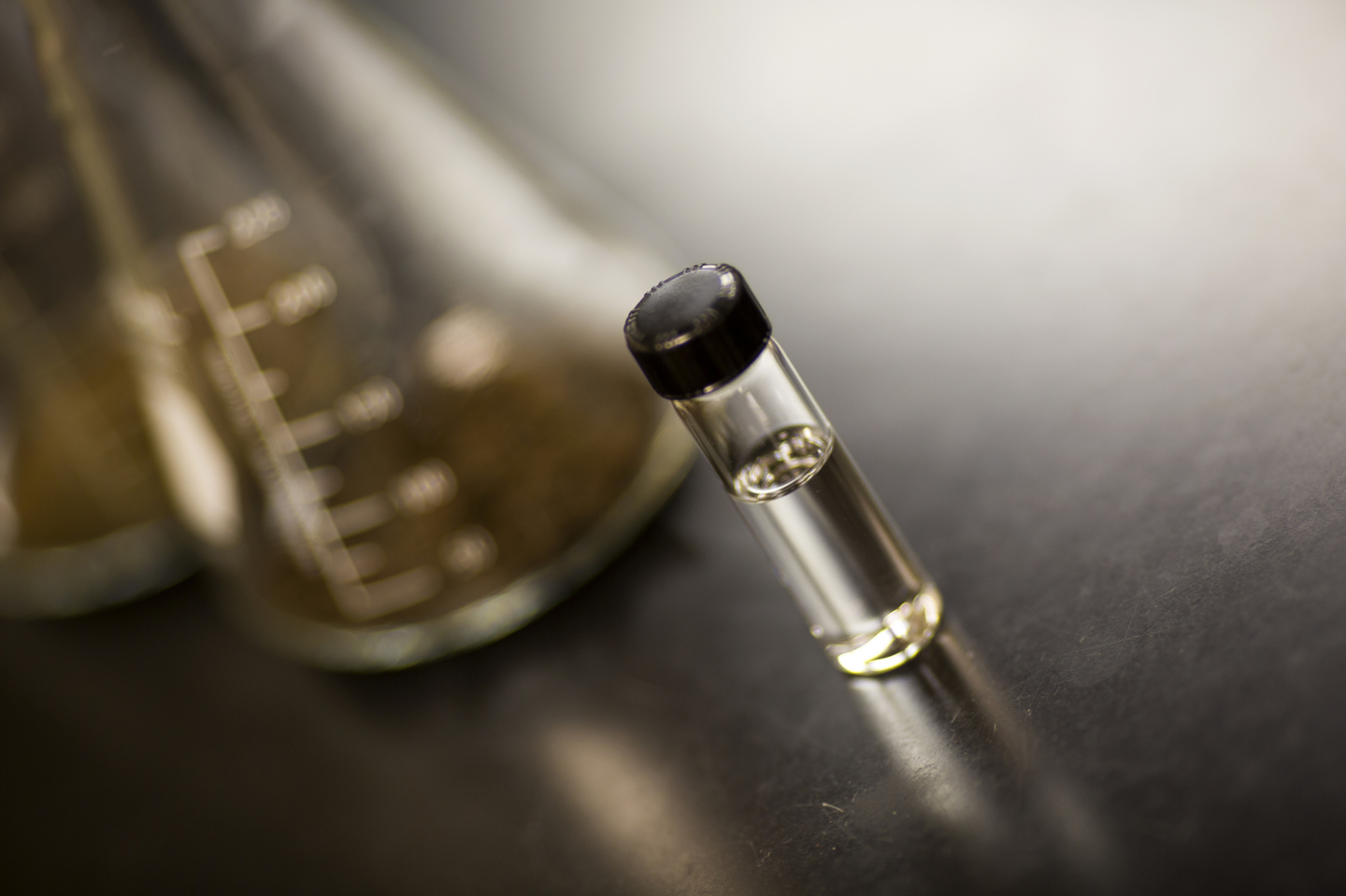 "

We're hop­ing that bio­fuels made in such an effi­cient way can even­tu­ally replace cur­rent pet­ro­leum-based fuels," said Xiaox­ia ​

"

Nina" Lin, assist­ant pro­fess­or of chem­ic­al engin­eer­ing and lead­er of the research. Gal­lon for gal­lon, isobutan­ol gives off

82

per­cent of the heat energy gas­ol­ine provides when burned, com­pared to eth­an­ol's

67

per­cent. Eth­an­ol also has a tend­ency to absorb water, cor­rod­ing pipelines and dam­aging engines, but isobutan­ol does­n't mix eas­ily with water. While eth­an­ol serves as a mix­er in the gas­ol­ine infra­struc­ture today, many research­ers argue that isobutan­ol could be a replace­ment. Equally import­ant, this sys­tem makes isobutan­ol from ined­ible plant mater­i­als, so fuel pro­duc­tion won't drive up food costs. Lin's team used corn stalks and leaves, but their eco­sys­tem should also be able to pro­cess oth­er agri­cul­tur­al byproducts and forestry waste. While much pre­vi­ous research has focused on try­ing to cre­ate a ​

"

super­bug" that could tackle the whole job of pro­cessing waste plant mater­i­als into bio­fuels, Lin and her col­leagues argue that a team of micro­bi­al spe­cial­ists can do bet­ter. The fungus Tricho­derma ree­sei is already very good at break­ing down tough plant mater­i­al into sug­ars. Escheri­chia coli, mean­while, is rel­at­ively easy for research­ers to genet­ic­ally modi­fy. James Liao's lab at the Uni­ver­sity of Cali­for­nia-Los Angeles provided E. coli bac­teria that had been engin­eered to con­vert sug­ars into isobutan­ol. The Lin group put both microbe spe­cies into a biore­act­or and served up corn stalks and leaves. Col­leagues at Michigan State Uni­ver­sity had pre-treated the roughage to make it easi­er to digest. ​

"

If you've ever had puffed rice cer­eal, it's some­what ana­log­ous," said Jeremy Minty, first author of the paper to be pub­lished in the Pro­ceed­ings of the Nation­al Academy of Sci­ences and a recent doc­tor­al gradu­ate in Lin's lab. The fungi turned the roughage into sug­ars that fed both microbe spe­cies with enough left over to pro­duce isobutan­ol. The team man­aged to get

1

.

88

grams of isobutan­ol per liter of flu­id in the eco­sys­tem, the highest con­cen­tra­tion repor­ted to date for turn­ing tough plant mater­i­als into bio­fuels. They also con­ver­ted a large pro­por­tion of the energy locked in the corn stalks and leaves to isobutan­ol — 

62

per­cent of the the­or­et­ic­al max­im­um. The har­mo­ni­ous coex­ist­ence of the fungi and bac­teria, with stable pop­u­la­tions, was a key suc­cess of the exper­i­ment
Con­vin­cing the microbes to play nicely pays off
​

"

You can put everything in one pot," Lin said. ​

"

The cap­it­al invest­ment will be much lower, and also the oper­at­ing cost will be much lower, so hope­fully this will make the whole pro­cess much more likely to become eco­nom­ic­ally viable." Lin's team used game the­ory to ana­lyze the rela­tion­ship between the fungi and bac­teria. Break­ing cel­lu­lose down into sug­ar is hard work, so T. ree­sei's tend­ency to do this and then share the spoils mark it as a cooper­at­or. Mean­while, the E. coli use the sug­ars without offer­ing the fungus any­thing in return, which makes it a cheat­er. Even so, the bac­teria did­n't take over the colony because the fungi pro­duce the sug­ars near their cell mem­branes, which gives them the first crack at using the sug­ars. The research­ers can con­trol E. coli's advant­age by tweak­ing how quickly the bac­teria grow. Minty and oth­ers in Lin's group are now try­ing to improve on their energy con­ver­sion rate and increase the tol­er­ance of the T. ree­sei and E. coli to isobutan­ol. The fuel is tox­ic, but high­er con­cen­tra­tions will drive down the cost of isol­at­ing the fuel. ​

"

We're really excited about this tech­no­logy," Minty said. ​

"

The U.S. has the poten­tial to sus­tain­ably pro­duce

1

bil­lion tons or more of bio­mass annu­ally, enough to pro­duce bio­fuels that could dis­place

30

per­cent or more of our cur­rent pet­ro­leum pro­duc­tion." Moreover, by engin­eer­ing the bac­teria dif­fer­ently, they believe their sys­tem could pro­duce a vari­ety of pet­ro­leum-based chem­ic­als in a sus­tain­able way.
Ori­gin­al publication:
Jeremy J. Minty, Marc E. Sing­er, Scott A. Scholz, Chang-Hoon Bae, Jung-Ho Ahn, Clifton E. Foster, James C. Liao, and Xiaox­ia Nina Lin. Design and char­ac­ter­iz­a­tion of syn­thet­ic fungal-bac­teri­al con­sor­tia for dir­ect pro­duc­tion of isobutan­ol from cel­lu­losic bio­mass.

PNAS

,

2013

DOI

:

10

.

1073

/pnas.

1218447110

Source: Uni­ver­sity of Michigan