News
Microbes on float­ing ocean plastics: Uncov­er­ing the secret world of the ​
'

Plas­ti­sphere'
26.02.2014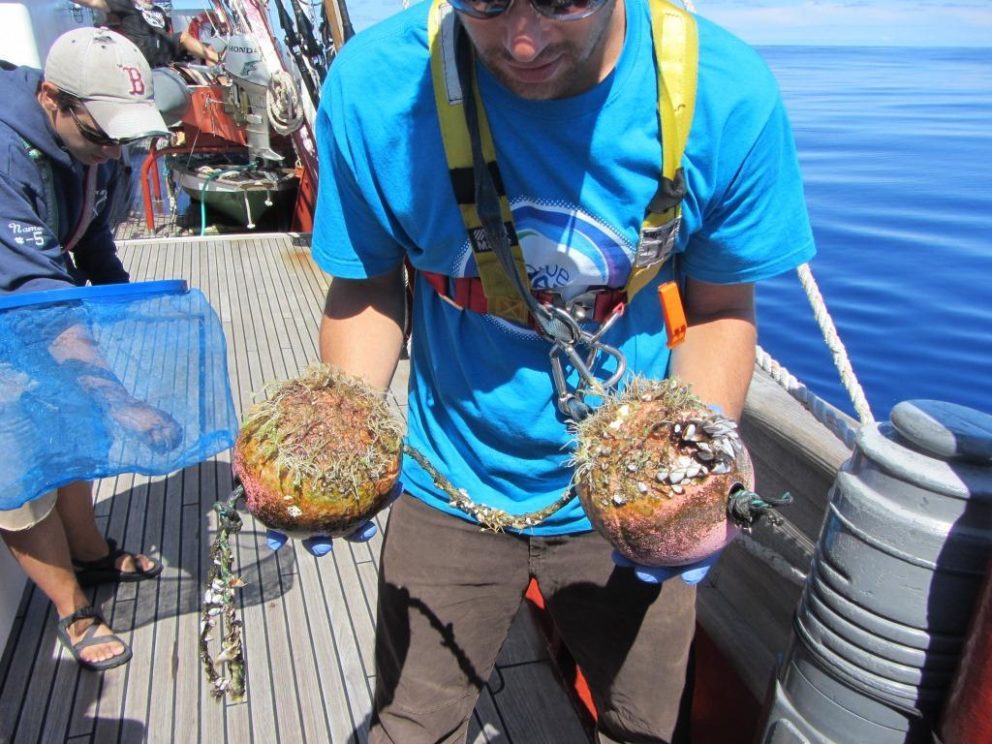 When sci­ent­ists ini­tially stud­ied the Plas­ti­sphere, they found that at least

1

,

000

dif­fer­ent types of microbes thrive on these tiny plastic islands, and that they might pose a risk to lar­ger anim­als, includ­ing inver­teb­rates and humans. The ori­gin­al stud­ies also showed that the Plastisphere's inhab­it­ants included bac­teria known to cause dis­eases in anim­als and humans. Since then, research­ers have been try­ing to fig­ure out why these poten­tially dan­ger­ous bac­teria live on the Plas­ti­sphere, how they got there and how they are affect­ing the sur­round­ing ocean. New evid­ence sug­gests that ​

"

super-col­on­izers" form detect­able clusters on the plastic in minutes. Oth­er find­ings indic­ate that some types of harm­ful bac­teria favor plastics more than oth­ers. And, sci­ent­ists are explor­ing if fish or oth­er ocean anim­als may be help­ing these patho­gens thrive by ingest­ing the plastic. That could allow bac­teria to acquire addi­tion­al nutri­ents as they pass through the guts of the fish, said Tracy Min­cer, an asso­ci­ate sci­ent­ist at Woods Hole Ocean­o­graph­ic Insti­tu­tion in Woods Hole, Mas­sachus­setts. Reveal­ing this inform­a­tion could help sci­ent­ists bet­ter under­stand how much of a poten­tial threat these harm­ful bac­teria pose and the role the Plas­ti­sphere plays in the lar­ger ocean eco­sys­tem, includ­ing its poten­tial to alter nutri­ents in the water. That inform­a­tion could also help reduce the impact of plastic pol­lu­tion in the ocean – for instance, if plastics man­u­fac­tur­ers learned how to make their products so they degrade at an optim­al rate, Min­cer said. ​

"

One of the bene­fits of under­stand­ing the Plas­ti­sphere right now and how it inter­acts with biota in gen­er­al, is that we are bet­ter able to inform mater­i­als sci­ent­ists on how to make bet­ter mater­i­als and, if they do get out to sea, have the low­est impact pos­sible," said Min­cer, who dis­covered the Plas­ti­sphere last year along with Linda Amaral-Zettler at the Mar­ine Bio­lo­gic­al Labor­at­ory (

MBL

) and Erik Zettler at the

SEA

Edu­ca­tion Asso­ci­ation, both also in Woods Hole. Oth­er new res­ults include dis­cov­er­ies about how the plastic is col­on­ized and how it inter­acts with oth­er mar­ine organ­isms. Yet addi­tion­al find­ings shed light on the sim­il­ar­it­ies and dif­fer­ences between Plas­ti­sphere com­munit­ies in dif­fer­ent loc­a­tions and on dif­fer­ent types of plastic. This research could help sci­ent­ists determ­ine the age of plastic float­ing in the ocean, which could help them fig­ure out how it breaks down in the water. It could also poten­tially aid in determ­in­ing where the plastic debris came from, and how the plastic and the microbes that live on board could impact organ­isms that come into con­tact with them, the sci­ent­ists said. ​

"

It is clear," said Amaral-Zettler, ​

"

that the Plas­ti­sphere def­in­itely has a func­tion out there in the ocean" and these exper­i­ments seek to quanti­fy what it is. Below are present­a­tions from the Ocean Sci­ences Meet­ing (

24

Feb­ru­ary

2014

). The present­a­tions were part of Ses­sion

140

: The Sci­ence of Plastic Mar­ine Debris and oth­er Anthro­po­gen­ic Influences.
Title: Com­par­at­ive Micro­bi­al Com­munity Struc­ture and Biogeo­graphy of Atlantic and Pacific ​

"

Plas­ti­sphere" Communities
Title: Micro­bi­al Suc­ces­sion on Plastic Mar­ine Debris: Devel­op­ment of the ​

"

Plas­ti­sphere" Community
Title: Invest­ig­a­tion of Micro­bi­al Adher­ence and Vir­ulence Factors Asso­ci­ated with Open-Ocean Derived Plastic Mar­ine Debris: Vibrio Bac­teria as a Mod­el System
Source: Amer­ic­an Geo­phys­ic­al Union