News
Genet­ic poten­tial of oil-eat­ing bac­teria from the
BP

oil spill decoded
06.06.2016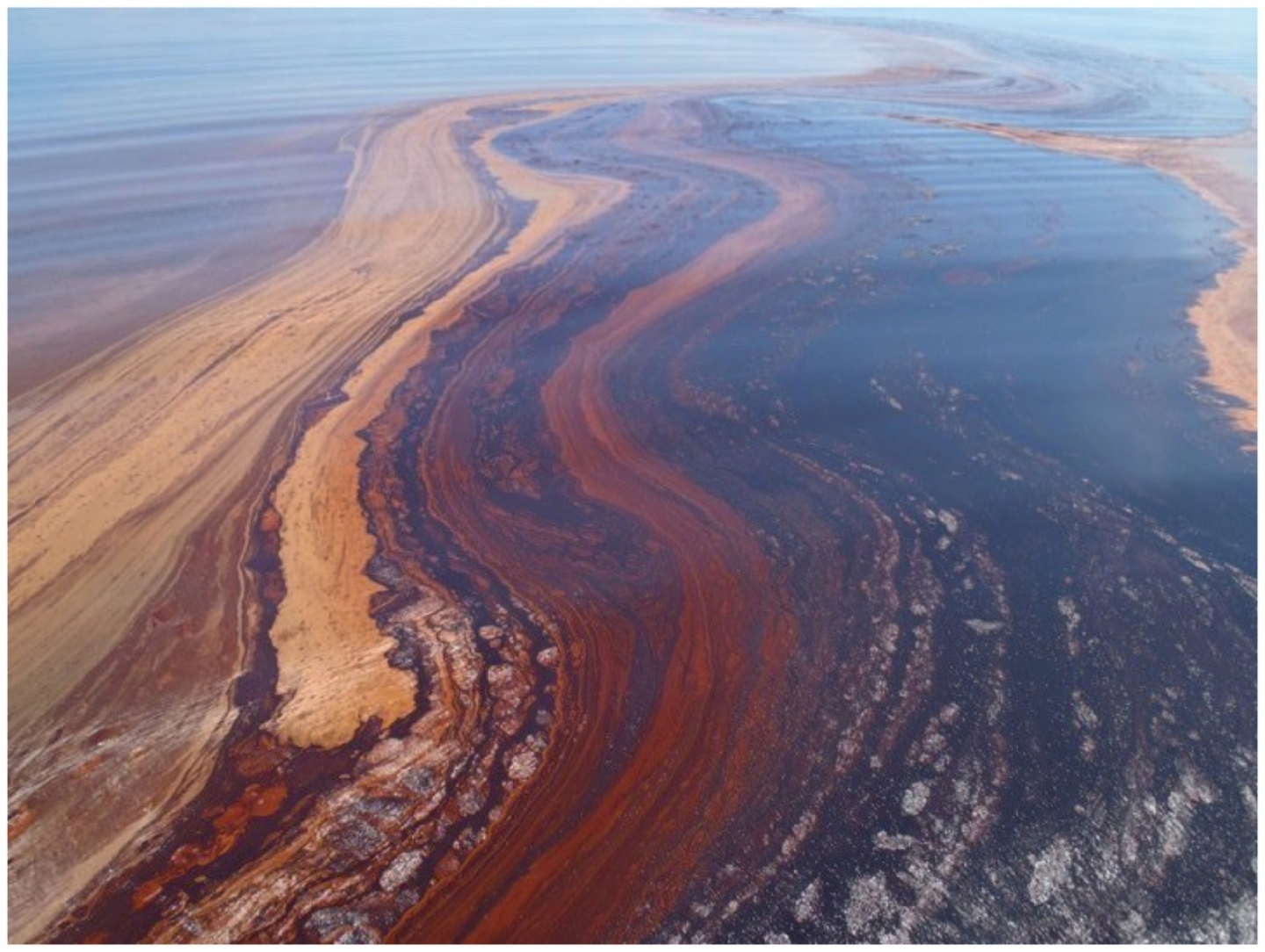 The find­ings, pub­lished in the journ­al Nature Micro­bi­o­logy, reveal that some bac­teria have far great­er poten­tial for con­sum­ing oil than was pre­vi­ously known. The research also has applic­a­tions for respond­ing to future oil spills and oth­er eco­lo­gic­al dis­asters, while shed­ding light on the ways in which tiny microbes played an out­sized role in lim­it­ing dam­age from the

2010

spill caused by the explo­sion of a

BP

oil rig. Since the spill in the Gulf of Mex­ico, sci­ent­ists have stud­ied how com­munit­ies of bac­teria that grew expo­nen­tially after the dis­aster helped to eat away at the vast range of chem­ic­als there, but little was known about the genet­ic under­pin­nings of the pro­cess. Brett Baker, an assist­ant pro­fess­or in the Depart­ment of Mar­ine Sci­ence; Nina Dom­browski, a postdoc­tor­al research­er in his lab at The Uni­ver­sity of Texas Mar­ine Sci­ence Insti­tute; and col­leagues sequenced the

DNA

of oil-munch­ing microbes to reveal the genet­ic poten­tial in dif­fer­ent bac­teri­al spe­cies, includ­ing ones newly iden­ti­fied as import­ant to the cleanup task. ​

"

Oil is extremely com­plic­ated but it has two major com­pounds: alkanes, which are rel­at­ively easy for bac­teria to break down, and aro­mat­ic hydro­car­bons, which are much trick­i­er to get rid of," Dom­browski said. ​

"

We found a num­ber of bac­teria sur­pris­ingly cap­able of deal­ing with the more dan­ger­ous com­pounds. This has implic­a­tions for future oil spills and how we take advant­age of the nat­ur­al envir­on­ment­al response." One bac­teri­um known to have oil-eat­ing abil­it­ies, Alcani­vor­ax, was pre­vi­ously thought incap­able of con­sum­ing the more stable hydro­car­bons the spill left behind. Oth­ers, like Nep­tuniibac­ter, wer­en't known to be involved with degrad­ing oil in the Gulf. Not only did the gene sequen­cing show sev­er­al bac­teria could break down aro­mat­ic hydro­car­bons, it illu­min­ated how vari­ous spe­cies worked togeth­er to max­im­ize the genet­ic poten­tial of the whole micro­bi­al com­munity. ​

"

We used new meth­ods to obtain gen­omes of bac­teria that haven't been grown in the lab to enhance our under­stand­ing of how bac­teria con­sume oil in nature," Baker said. The sci­ent­ists cata­logued the genes of numer­ous bac­teria from the Deep­wa­ter Hori­zon oil spill to fig­ure out how microbes gobble up the com­plex mix found in oil, which con­sists of as many as

1

,

000

types of chem­ic­al com­pounds. The research­ers pin­pointed spe­cif­ic path­ways where mem­bers of the com­plex, nat­ive bac­teri­al com­munity work togeth­er to con­sume oil. ​

"

It's equi­val­ent to a con­cert," Dom­browski said. ​

"

All the musi­cians have to work togeth­er to make a piece of beau­ti­ful music. After the spill, all bac­teria must work togeth­er to effi­ciently degrade oil." The sci­ent­ists even found that some bac­teria might assist with ​

"

cleanup after the cleanup," mean­ing they also could eat what humans pour into the water to clean up the oil. These dis­pers­ants can cause envir­on­ment­al prob­lems them­selves. The

DNA

sequen­cing revealed evid­ence that some bac­teria can degrade sul­fur-con­tain­ing com­pounds such as those found in dis­pers­ants used after the Deep­wa­ter Hori­zon spill. Not all bac­teria respond well to dis­pers­ants, how­ever, and Dom­browski says the import­ance of ​

"

bac­teria-friendly" dis­pers­ants that will not inter­fere with this micro­bi­al team­work is clear. Under­stand­ing how bac­teria are genet­ic­ally pro­grammed to eat oil provides sci­ent­ists with clues for how to cre­ate bet­ter dis­pers­ants and ocean cleanup strategies. ​

"

Bac­teri­al com­munit­ies already present at the site of an oil spill can respond in a rap­id and effi­cient man­ner, becom­ing abund­ant dur­ing the spill and act­ively degrad­ing oil com­pounds," Dom­browski said. ​

"

This illus­trates the import­ance of main­tain­ing a healthy and diverse bac­teri­al com­munity, and why we need to be care­ful to make sure our response to a spill does­n't inter­fere with this nat­ur­al response." In addi­tion to Baker and Dom­browski, the paper­'s authors were Port­land State Uni­ver­sity under­gradu­ate John Donaho,

UT

Aus­tin gradu­ate stu­dent Kiley Seitz, Tony Guti­er­rez of Heri­ot-Watt Uni­ver­sity in Edin­burgh and Andreas Teske of the Uni­ver­sity of North Car­o­lina at Chapel Hill. The research was sup­por­ted by a Mar­ie Curie Inter­na­tion­al Out­go­ing Fel­low­ship and by the Nation­al Sci­ence Found­a­tion.
Ori­gin­al publication
Nina Dom­browski, John A. Donaho, Tony Guti­er­rez, Kiley W. Seitz, Andreas P. Teske, Brett J. Baker. Recon­struct­ing meta­bol­ic path­ways of hydro­car­bon-degrad­ing bac­teria from the Deep­wa­ter Hori­zon oil spill. Nature Micro­bi­o­logy,

2016

;

16057

DOI

:

10

.

1038

/

NMICROBIOL

.

2016

.

57

Source: Uni­ver­sity of Texas at Aus­tin. ​

"

Genet­ic poten­tial of oil-eat­ing bac­teria from the

BP

oil spill decoded." Sci­en­ceDaily. Sci­en­ceDaily,

9

May

2016

. www​.sci​en​cedaily​.com/​r​e​l​e​a​s​e​s​/​

2

​

0

​

1

​

6

​/​

0

​

5

​/​

1

​

6

​

0

​

5

​

0

​

9

​

1

​

1

​

5

​

5

​

5

​

6

.htm.