News
FKuR: Head­ing for a cir­cu­lar eco­nomy and sus­tain­ab­il­ity with biobased and bio­de­grad­able plastics
06.04.2019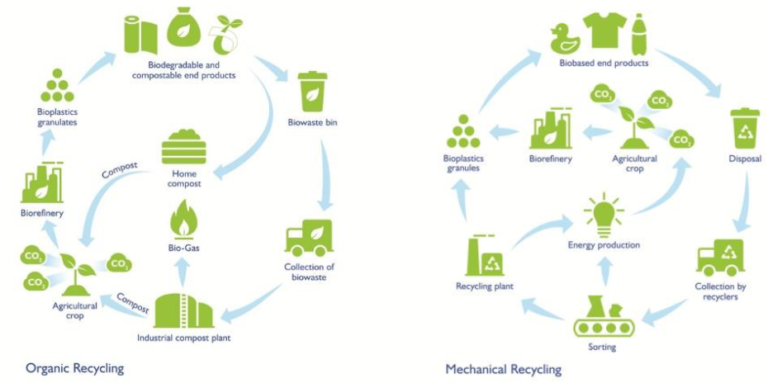 Car­men Michels, Man­aging Dir­ect­or of FKuR, said: ​

"

For dec­ades, plastics have made a sig­ni­fic­ant con­tri­bu­tion to bet­ter liv­ing con­di­tions, more sus­tain­able products and waste pre­ven­tion with their unique com­bin­a­tion of light weight, ver­sat­il­ity, per­form­ance, dur­ab­il­ity and cost-effect­ive­ness. How­ever, in the face of their omni­pres­ence, industry, com­merce and con­sumers alike are chal­lenged to use, reuse, dis­pose of, recycle them and ulti­mately prop­erly util­ize them in a respons­ible way. Biobased and bio­de­grad­able plastics offer attract­ive oppor­tun­it­ies to meet all aspects of this require­ment." Clos­ing loops with bioplastics A key ele­ment of the European Com­mis­sion's Cir­cu­lar Eco­nomy Pack­age pub­lished in Decem­ber

2015

is the shift from a lin­ear eco­nom­ic mod­el to a cir­cu­lar eco­nomy. As a res­ult, at the begin­ning of

2018

the Com­mis­sion developed a ​

"

EU

Strategy for Plastics in the Cir­cu­lar Eco­nomy". Accord­ing to these plans, from

2030

all plastic pack­aging on the

EU

mar­ket will be recyc­lable and the con­sump­tion of dis­pos­able plastics will be reduced. For Patrick Zim­mer­mann, Dir­ect­or of Sales

&

Mar­ket­ing at FKuR, bioplastics play a key role in the imple­ment­a­tion of the

EU

dir­ect­ives: ​

"

Espe­cially with drop-in bioplastics it is pos­sible to imple­ment sus­tain­able con­cepts in two ways, firstly the bioplastic product itself is made from renew­able raw mater­i­als and secondly, it can be recycled after use via exist­ing recyc­ling sys­tems. Thus, not only are fossil resources saved but pack­aging, for example, can also become a valu­able mater­i­al for the man­u­fac­ture of oth­er products. We there­fore warmly wel­come the EU's request to the Mem­ber States to sup­port the use of biobased mater­i­als in the man­u­fac­ture of pack­aging and to improve the mar­ket con­di­tions for such products." Organ­ic and mat­ri­al recyc­ling are work­able ways For bioplastics, both mater­i­al and organ­ic recyc­ling can prove use­ful.
The resource-sav­ing mater­i­al recyc­ling estab­lished for con­ven­tion­al (pet­ro­leum-based) plastics can also be used, without any restric­tions, for the biobased altern­at­ives which are often used as dir­ect drop-in products (such as Bio-PE or Bio-PET). Recyc­lates can be returned to the recyc­ling cycle as often as pos­sible products can be used and, in the end, will have to be ulti­mately used for energy recov­ery. Thus, biobased plastics can be used to gen­er­ate renew­able energy that does not pro­duce any addi­tion­al harm­ful CO

2

, a closed CO

2

cycle, which is in-line with nature's model.
Bio­de­grad­able plastics that com­ply with the stand­ard for indus­tri­al com­posta­bil­ity (e.g.

EN

13432

) can be organ­ic­ally recycled. This is par­tic­u­larly use­ful when plastic products are con­tam­in­ated with food where mater­i­al recyc­ling would be unreas­on­ably expens­ive. Simple and hygien­ic hand­ling of biowaste using com­postable bags for example, ensures that less valu­able waste is dis­posed of via the resid­ual waste bin. This gives the poten­tial to increase the amount of biowaste col­lec­ted sep­ar­ately, and at the same time, increases the yield of valu­able com­post. This can be used later as fer­til­izer for those crops that are at the begin­ning of this cycle.
Full ser­vice for customers As a full-range sup­pli­er with a broad product port­fo­lio, FKuR also advises on the selec­tion of the most suit­able biobased or bio­de­grad­able plastic for spe­cif­ic require­ments. In addi­tion, the com­pany offers extens­ive tech­nic­al sup­port in the imple­ment­a­tion phase of pro­jects and can advise on mar­ket­ing tak­ing into account spe­cial con­sid­er­a­tion of the bioplastic aspects. FKuR works togeth­er with its cus­tom­ers on solu­tions to make plastic products suit­able for recyc­ling. In addi­tion, by con­tinu­ously improv­ing the mater­i­al prop­er­ties, it is also pos­sible to reduce the required thick­ness of film products. Source: FKuR, Press release, March

15

th

2019