News
Engin­eer­ing E. coli for bio­fuel and bioproduct production
10.11.2016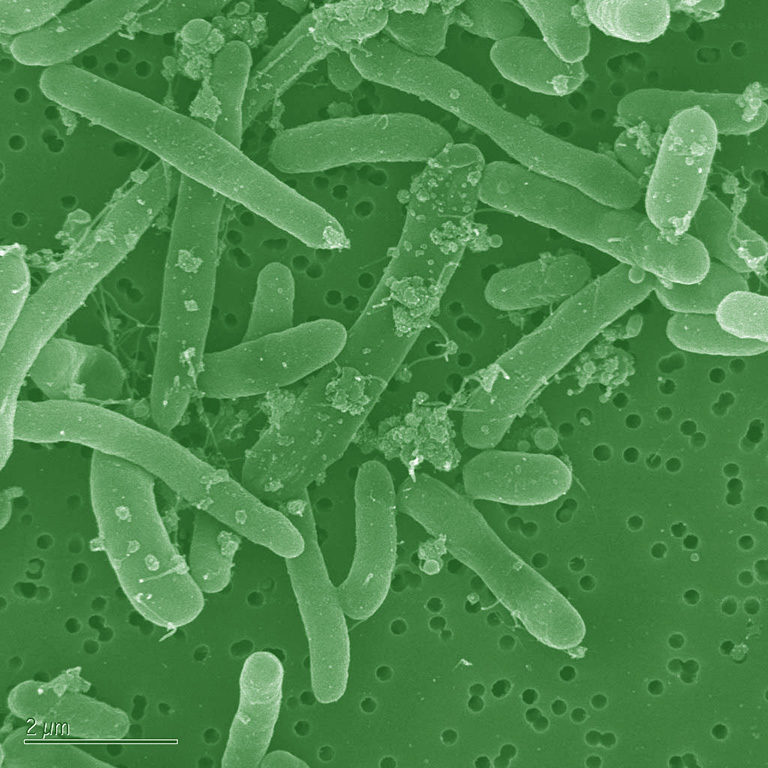 Valu­able chem­ic­als and fuels have been pro­duced in engin­eered strains of Escheri­chia coli (E. coli) by dereg­u­lat­ing this organism's fatty acid syn­thase (

FAS

), caus­ing the microor­gan­ism to pump out chem­ic­als. For example, E. coli pro­duces chem­ic­als used to man­u­fac­ture deter­gents and lub­ric­ants as well as methyl ketones that have prom­ising fuel prop­er­ties. Pre­vi­ous micro­bi­al pro­duc­tion meth­ods have been based on highly reg­u­lated enzymat­ic pro­cesses that can lim­it yield. Research­ers developed an altern­at­ive

FAS

sys­tem in which enzymes from oth­er organ­isms work with the nat­ive

FAS

in E. coli to improve the microbe's capa­city for chem­ic­al pro­duc­tion. Although the fatty alco­hols can be gen­er­ated from pet­ro­leum, plant, and anim­al sources, micro­bi­al syn­thes­is of such chem­ic­als is a more sus­tain­able pro­duc­tion path. Fur­ther optim­iz­a­tion of this sys­tem could lead to strains with more effi­cient con­ver­sion of bio­mass into fuels and desired products. As a vital ele­ment of meta­bol­ism,

FAS

is strin­gently reg­u­lated in bac­teria. To bypass this reg­u­la­tion, research­ers at the U.S. Depart­ment of Energy's Joint BioEn­ergy Insti­tute demon­strated the recom­bin­ant expres­sion and activ­ity of sev­er­al type

1

FAS

enzymes that func­tioned in par­al­lel with the nat­ive E. coli

FAS

. The most act­ive het­ero­log­ous

FAS

expressed in E. coli was Coryne­bac­teri­um glutamic­um FAS

1

A, which was lever­aged to pro­duce oleo­chem­ic­als includ­ing fatty alco­hols and methyl ketones. This work is believed to be the first example of in vivo func­tion of het­ero­log­ous

FAS

in E. coli. Using FAS

1

enzymes for bio­fuel and bioproduct pro­duc­tion could lead to more effi­cient con­ver­sion of bio­mass. Addi­tion­ally, func­tion­al expres­sion of these large enzyme com­plexes in E. coli will enable their study without the need to cul­ture the nat­ive organ­isms. This work was part of the U.S. Depart­ment of Energy's (

DOE

's) Joint BioEn­ergy Insti­tute sup­por­ted by the Office of Bio­lo­gic­al and Envir­on­ment­al Research with­in

DOE

's Office of Sci­ence through Con­tract DE-AC

02

-

05

CH

1123

between Lawrence Berke­ley Nation­al Labor­at­ory and

DOE

.
Ori­gin­al publication
Robert W. Haush­al­ter, Dan Groff, Samuel Deutsch, Lion­adi The, Ted A. Chavkin, Simon F. Brun­ner, Leonard Katz, Jay D. Keasling. Devel­op­ment of an ortho­gon­al fatty acid bio­syn­thes­is sys­tem in E. coli for oleo­chem­ic­al pro­duc­tion. Meta­bol­ic Engin­eer­ing,

2015

;

30

:

1

DOI

:

10

.

1016

/j.ymben.

2015

.

04

.

003

Source: U.S. Depart­ment of Energy