News
Doing the impossible: Enzyme-cata­lyzed Diels-Alder reaction
14.04.2015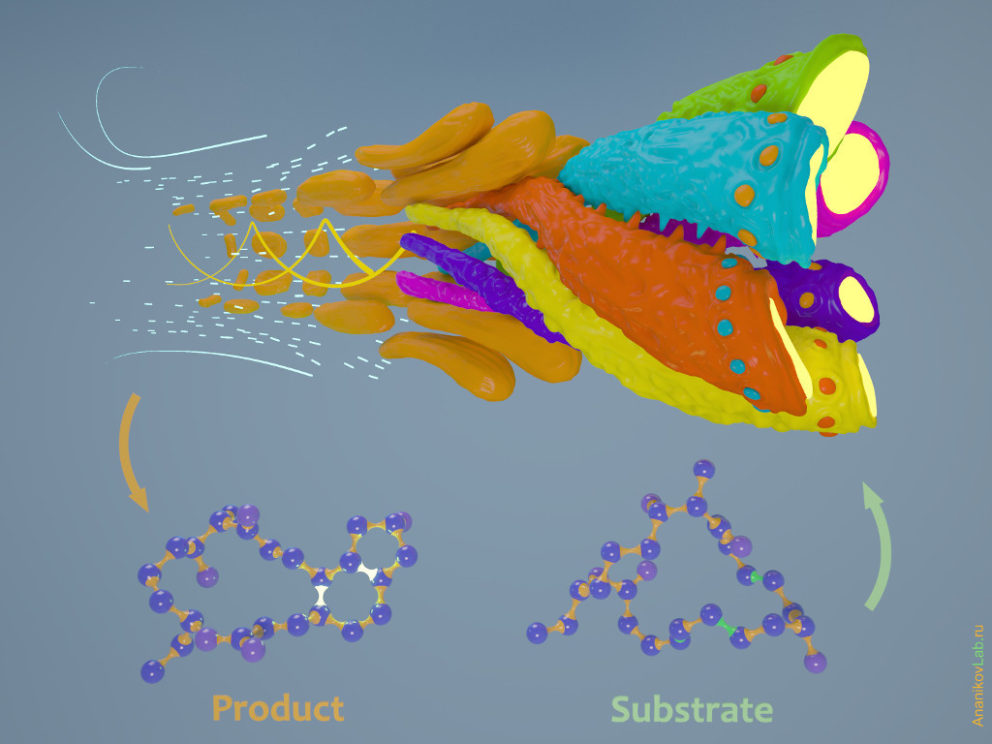 Until recently it was assumed that cyc­load­di­tion reac­tions (also widely known as the Diels-Alder reac­tions) do not occur in nature, since cor­res­pond­ing enzymes were nev­er dis­covered. How­ever, it was later found out that some microor­gan­isms are cap­able of cata­lyz­ing chal­len­ging intramolecu­lar [

4

+

2

] cyc­load­di­tion reac­tion. Liv­ing organ­isms have learned to apply such a pro­cess: enzyme SpnF was shown to cata­lyze intramolecu­lar Diels-Alder reac­tion lead­ing to form­a­tion of nat­ur­al insect­icide Spino­syn A. Spino­syn A is a tet­ra­cyc­lic nat­ur­al insect­icide pro­duced by the cells of the bac­teri­um Sac­char­o­poly­spora spinosa. Indeed, [

4

+

2

] cyc­load­di­tion rep­res­ents the main reac­tion core for assem­bling of poly­cyc­lic build­ing block of Spino­syn A in this transformation. When car­ried out in chem­ic­al labor­at­or­ies, these kind of trans­form­a­tions are known to require harsh reac­tion con­di­tions. For instance, high tem­per­at­ures of around

80

 – 

120

°C are needed, which can­not be achieved in the liv­ing cells. Enzymat­ic cata­lys­is has a unique fea­ture – abil­ity to accel­er­ate chem­ic­al reac­tions with out­stand­ing oppor­tun­ity to carry out desired trans­form­a­tions at much lower tem­per­at­ure. In such reac­tion, cata­lyst is a sub­stance that dir­ects chem­ic­al pro­cesses of con­ver­sion of sub­strate into product in a way that requires less activ­a­tion energy for its imple­ment­a­tion. As a res­ult of cata­lys­is, the reac­tion runs much faster than the cor­res­pond­ing non-cata­lyt­ic pro­cess. Des­pite catalyst's act­ive par­ti­cip­a­tion in a chem­ic­al reac­tion, it com­pletely restores its struc­ture and suc­cess­fully per­forms accel­er­a­tion again. In the clas­sic­al mod­el of enzymat­ic cata­lys­is one stage of non-cata­lyt­ic reac­tion with high activ­a­tion energy is replaced by multistage cata­lyt­ic pro­cess with sev­er­al low energy trans­ition states and inter­me­di­ate com­pounds. Accord­ing to this well-known energy sur­face, it was not pos­sible to explain cata­lyt­ic cyc­load­di­tion reac­tions in the syn­thes­is of Spino­syn A. Com­pu­ta­tion­al mod­el­ing has shown only a small decrease in activ­a­tion energy, thus, mak­ing notice­able increase in reac­tion rate rather unlikely. A new mech­an­ist­ic path­way of the enzymat­ic reac­tion of form­a­tion of Spino­syn A has been revealed and the­or­et­ic­ally eval­u­ated in the study of Prof. V.P. Ananikov and col­leagues in Zel­in­sky Insti­tute of Organ­ic Chem­istry. The authors pro­posed a new path­way of enzyme cata­lys­is in order to explain a great­er cata­lyt­ic effect. The mod­el assumes that the flex­ible cyc­lic molecule of the sub­strate may be con­strained under the influ­ence of the enzyme envir­on­ment, res­ult­ing in the con­ver­gence of diene and dien­o­phile frag­ments of the molecule to a cer­tain geo­metry that is closer to the trans­ition state. How­ever, molecule's energy increases as a res­ult of such com­pres­sion. This increase in energy is com­pensated by the hydro­gen bond­ing of the sub­strate with amino acid residues of the act­ive cen­ter of the enzyme. Due to sev­er­al steps of such compression/​compensation, total energy of the sys­tem slightly changes, but the struc­ture of the sub­strate sub­stan­tially approaches the trans­ition state. Only minor dis­place­ments of the atoms are needed in the react­ing molecule in order to reach the point of trans­ition state and turn it into the product of reac­tion. Thus, the over­all pro­cess involves sev­er­al inter­me­di­ate com­pounds with only one trans­ition state. Ener­get­ic­ally bal­anced reac­tion coordin­ate provides a pos­sib­il­ity to syn­thes­ize the product by reach­ing much activ­a­tion bar­ri­er com­pared to a reg­u­lar non-cata­lyt­ic reac­tion path­way. It is import­ant to note that such reac­tion path­way takes place only through a single trans­ition state. These res­ults advance our under­stand­ing of enzymat­ic cata­lys­is and open new oppor­tun­it­ies for design of new cata­lyt­ic reac­tions. The art­icle «Com­pu­ta­tion­al Study of a Mod­el Sys­tem of Enzyme-Medi­ated [

4

+

2

] Cyc­load­di­tion Reac­tion» by Evgen­iy G. Gordeev, and Valentine P. Ananikov was pub­lished in

PLOS

ONE

journ­al.
Pub­lic­a­tion
Evgen­iy G. Gordeev, Valentine P. Ananikov. Com­pu­ta­tion­al Study of a Mod­el Sys­tem of Enzyme-Medi­ated [

4

2

] Cyc­load­di­tion Reac­tion.

PLOS

ONE

,

2015

;

10

(

4

): e

0119984

DOI

:

10

.

1371

/journal.pone.

0119984

Source: EurekAlert!/Zelinsky Insti­tute of Organ­ic Chem­istry, Rus­si­an Academy of Sciences