News
Clariant's Advanced Den­im tech­no­logy honored with pres­ti­gi­ous innov­a­tion award
26.10.2012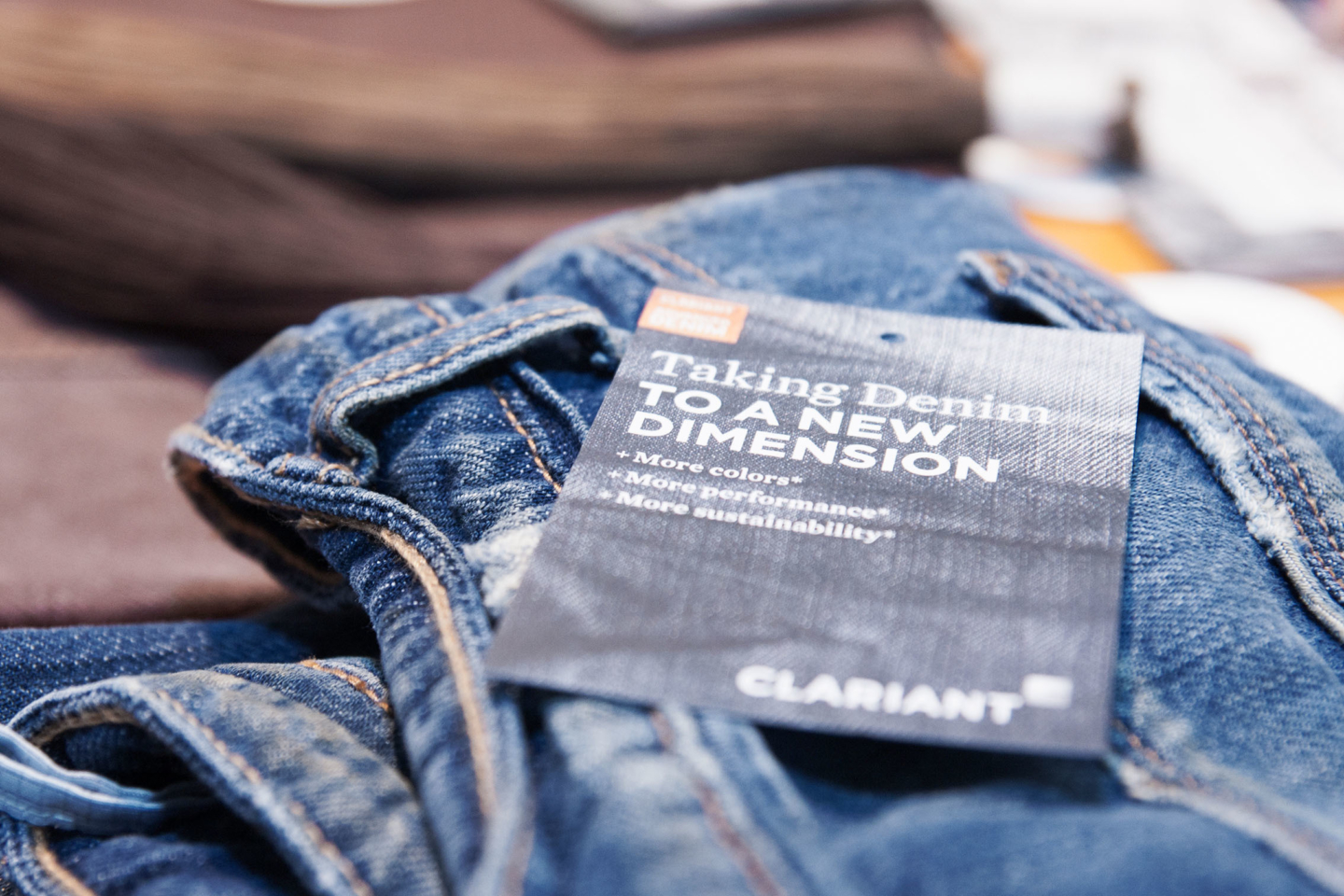 Designed and developed by the Spe­cial Dyes spe­cial­ist team of Clariant's Busi­ness Unit Tex­tile Chem­ic­als in Cas­tell­bis­bal, near Bar­celona, Spain, the two

ICIS

awards acknow­ledge that, even with a den­im pro­duc­tion pro­cess that had seen no sig­ni­fic­ant evol­u­tion in more than

150

years, a revolu­tion is pos­sible – an envir­on­ment­al one in this case made by Clari­ant. The pro­duc­tion of den­im fab­ric usu­ally involves huge quant­it­ies of water. Clariant's Advanced Den­im tech­no­logy sim­pli­fies the fin­ish­ing and dye­ing of a fab­ric that accounts for some

14

% of glob­al cot­ton pro­duc­tion. In total, when employ­ing the Clariant's Advanced Den­im pro­cesses, Den­im-Ox and Pad/​Sizing Ox, water con­sump­tion can be reduced by as much as

92

%, while

63

% of the usu­al cot­ton waste is avoided and around

30

% can be saved in energy costs too com­pared to a tra­di­tion­al den­im pro­cesses. Clari­ant cal­cu­lated that if Clariant's Advanced Den­im tech­no­logy were adop­ted in the pro­duc­tion of

25

% of jeans world­wide, it would save

62

mil­lion m³ of water/​year, the equi­val­ent of the water con­sump­tion of

1

.

7

mil­lion people. The tech­no­logy would also elim­in­ate the need to treat

8

.

3

mil­lion m³/​year of wastewa­ter,

220

mil­lion kWh of power would be saved and the car­bon foot­print of the industry and its users in CO

2

emis­sions reduced accord­ingly. Clari­ant was one of the first com­pan­ies to be awar­ded an

EU

Eco­l­a­bel* for its illus­tra­tion col­lec­tion of jeans in recog­ni­tion of the sus­tain­ab­il­ity bene­fits of Advanced Den­im. For more inform­a­tion, please vis­it: www​.advanced​den​im​.clari​ant​.com.
Industry lead­er­ship
Clariant's Advanced Den­im is a remark­able illus­tra­tion of the company's com­mit­ment to devel­op­ing and intro­du­cing solu­tions for a more sus­tain­able tex­tile industry. This com­mit­ment led to the recent launch of its new sus­tain­able ser­vice:

ONE

WAY

. Clariant's

ONE

WAY

will help tex­tile mills, brands and retail­ers to devel­op innov­at­ive solu­tions that are both more eco­lo­gic­ally and eco­nom­ic­ally sus­tain­able by provid­ing a fast, meas­ur­able and reli­able approach to the selec­tion of chem­ic­al products and pro­cess solu­tions. Based on strin­gent stand­ards and a sys­tem­at­ic approach with a unique set of soph­ist­ic­ated tools, Clariant's

ONE

WAY

will allow cus­tom­ers to make an informed decision by deliv­er­ing the over­all cost and per­form­ance pro­file of a giv­en tex­tile solu­tion, as well as its impact against key eco­lo­gic­al per­form­ance indic­at­ors, such as

COD

,

BOD

, CO

2

emis­sions, energy and water. Clariant's

ONE

WAY

aims to raise industry aware­ness and efforts to cre­ate a more sus­tain­able glob­al tex­tile value chain by devel­op­ing and intro­du­cing innov­at­ive tex­tile solu­tions that bal­ance the twin object­ives of eco­logy and eco­nomy. For more inform­a­tion, please vis­it: www​.tex​tiles​.clari​ant​.com.
Innov­a­tion and sus­tain­ab­il­ity rooted in Clariant's strategy
It is the second year in a row that Clari­ant is honored by the lead­ing inter­na­tion­al inform­a­tion pro­vider for the chem­ic­al industry. In

2011

, Clari­ant received a spe­cial men­tion for its Easy­White Tan pro­cess, a fun­da­ment­al advance in tan­ning allow­ing a sim­pler, safer way to tan leath­er while redu­cing water and chem­ic­al con­sump­tion and waste water salin­ity, com­pared to estab­lished tan­ning tech­no­lo­gies. This pro­cess allows a heavy met­al free** tan­ning of leath­er answer­ing requests by the final con­sumers for an envir­on­ment­al sound product. Advanced Den­im and Easy­White Tan are only two examples of Clariant's con­stant flow of innov­a­tions that are safer for the user and gentler on the envir­on­ment. Des­pite the chal­len­ging eco­nom­ic envir­on­ment, Clari­ant intens­i­fied its efforts in

2011

to achieve sus­tain­able man­age­ment. The group is optim­iz­ing a large num­ber of activ­it­ies to meet sus­tain­ab­il­ity object­ives and, accord­ingly, in

2011

Clari­ant achieved fur­ther goals to reduce emis­sions and pro­tect the envir­on­ment. In addi­tion, Clari­ant has set itself con­crete envir­on­ment­al goals and aims to reduce by

2020

energy con­sump­tion in the Clari­ant Group by

30

per­cent and CO

2

emis­sions and waste accu­mu­la­tion by

45

per­cent, each com­pared with

2005

levels. For more inform­a­tion, please vis­it: www​.clari​ant​.com. * Cer­ti­fic­ate num­ber:

ES-CA

/

016

/

007


** below lim­its of detec­tion Source: Clari­ant On the right, you will find a bro­chure of Clariant's Advanced Den­im tech­no­logy in german.