News
Cell cir­cuits remem­ber their history
14.02.2013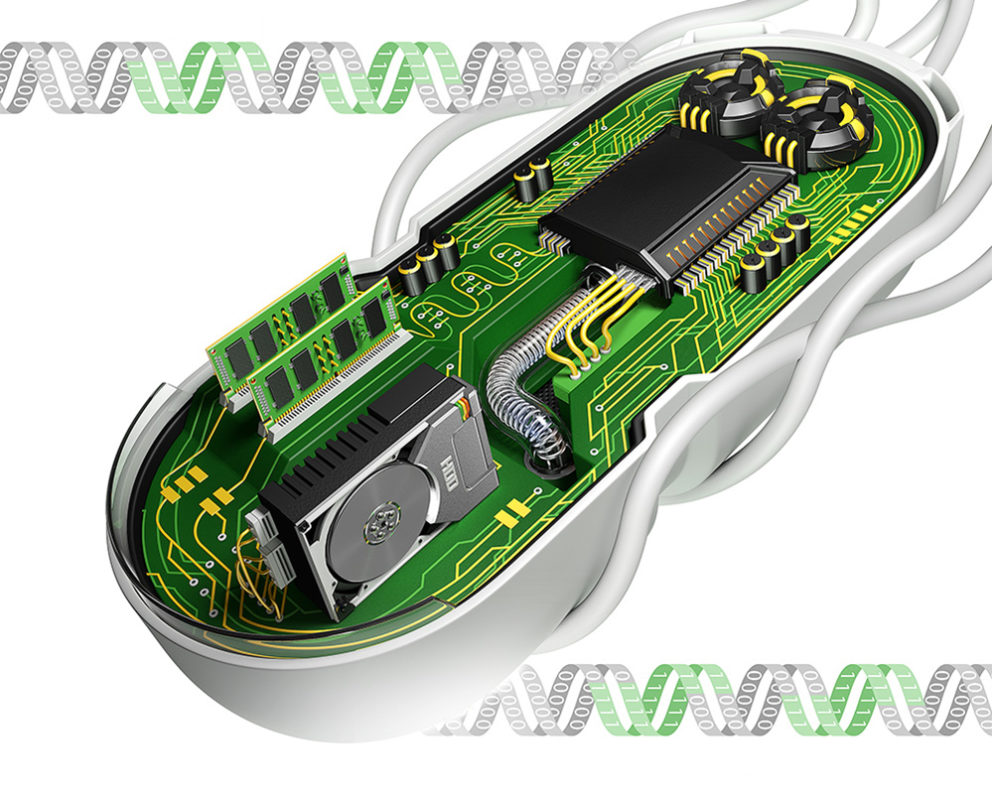 MIT

engin­eers have cre­ated genet­ic cir­cuits in bac­teri­al cells that not only per­form logic func­tions, but also remem­ber the res­ults, which are encoded in the cell's

DNA

and passed on for dozens of gen­er­a­tions. The cir­cuits, described in the Feb.

10

online edi­tion of Nature Bio­tech­no­logy, could be used as long-term envir­on­ment­al sensors, effi­cient con­trols for bio­man­u­fac­tur­ing, or to pro­gram stem cells to dif­fer­en­ti­ate into oth­er cell types.
​

"

Almost all of the pre­vi­ous work in syn­thet­ic bio­logy that we're aware of has either focused on logic com­pon­ents or on memory mod­ules that just encode memory. We think com­plex com­pu­ta­tion will involve com­bin­ing both logic and memory, and that's why we built this par­tic­u­lar frame­work to do so," says Timothy Lu, an

MIT

assist­ant pro­fess­or of elec­tric­al engin­eer­ing and com­puter sci­ence and bio­lo­gic­al engin­eer­ing and seni­or author of the Nature Bio­tech­no­logy paper.
More than logic
Syn­thet­ic bio­lo­gists use inter­change­able genet­ic parts to design cir­cuits that per­form a spe­cif­ic func­tion, such as detect­ing a chem­ic­al in the envir­on­ment. In that type of cir­cuit, the tar­get chem­ic­al would gen­er­ate a spe­cif­ic response, such as pro­duc­tion of green fluor­es­cent pro­tein (

GFP

). Cir­cuits can also be designed for any type of Boolean logic func­tion, such as

AND

gates and

OR

gates. Using those kinds of gates, cir­cuits can detect mul­tiple inputs. In most of the pre­vi­ously engin­eered cel­lu­lar logic cir­cuits, the end product is gen­er­ated only as long as the ori­gin­al stim­uli are present: Once they dis­ap­pear, the cir­cuit shuts off until anoth­er stim­u­lus comes along. Lu and his col­leagues set out to design a cir­cuit that would be irre­vers­ibly altered by the ori­gin­al stim­u­lus, cre­at­ing a per­man­ent memory of the event. To do this, they drew on memory cir­cuits that Lu and col­leagues designed in

2009

. Those cir­cuits depend on enzymes known as recom­binases, which can cut out stretches of

DNA

, flip them, or insert them. Sequen­tial activ­a­tion of those enzymes allows the cir­cuits to count events hap­pen­ing inside a cell. Lu designed the new cir­cuits so that the memory func­tion is built into the logic gate itself. With a typ­ic­al cel­lu­lar

AND

gate, the two neces­sary inputs activ­ate pro­teins that togeth­er turn on expres­sion of an out­put gene. How­ever, in the new cir­cuits, the inputs stably alter regions of

DNA

that con­trol

GFP

pro­duc­tion. These regions, known as pro­moters, recruit the cel­lu­lar pro­teins respons­ible for tran­scrib­ing the

GFP

gene into mes­sen­ger

RNA

, which then dir­ects pro­tein assembly. For example, in one cir­cuit described in the paper, two

DNA

sequences called ter­min­at­ors are inter­posed between the pro­moter and the out­put gene (

GFP

, in this case). Each of these ter­min­at­ors inhib­its the tran­scrip­tion of the out­put gene and can be flipped by a dif­fer­ent recom­binase enzyme, mak­ing the ter­min­at­or inact­ive. Each of the circuit's two inputs turns on pro­duc­tion of one of the recom­binase enzymes needed to flip a ter­min­at­or. In the absence of either input,

GFP

pro­duc­tion is blocked. If both are present, both ter­min­at­ors are flipped, res­ult­ing in their inac­tiv­a­tion and sub­sequent pro­duc­tion of

GFP

. Once the

DNA

ter­min­at­or sequences are flipped, they can't return to their ori­gin­al state — the memory of the logic gate activ­a­tion is per­man­ently stored in the

DNA

sequence. The sequence also gets passed on for at least

90

gen­er­a­tions. Sci­ent­ists want­ing to read the cell's his­tory can either meas­ure its

GFP

out­put, which will stay on con­tinu­ously, or if the cell has died, they can retrieve the memory by sequen­cing its

DNA

. Using this design strategy, the research­ers can cre­ate all two-input logic gates and imple­ment sequen­tial logic sys­tems. ​

"

It's really easy to swap things in and out," says Lu, who is also a mem­ber of

MIT

's Syn­thet­ic Bio­logy Cen­ter. ​

"

If you start off with a stand­ard parts lib­rary, you can use a one-step reac­tion to assemble any kind of func­tion that you want."
Long-term memory
Such cir­cuits could also be used to cre­ate a type of cir­cuit known as a digit­al-to-ana­log con­vert­er. This kind of cir­cuit takes digit­al inputs — for example, the pres­ence or absence of single chem­ic­als — and con­verts them to an ana­log out­put, which can be a range of val­ues, such as con­tinu­ous levels of gene expres­sion. For example, if the cell has two cir­cuits, each of which expresses

GFP

at dif­fer­ent levels when they are activ­ated by their spe­cif­ic input, those inputs can pro­duce four dif­fer­ent ana­log out­put levels. Moreover, by meas­ur­ing how much

GFP

is pro­duced, the research­ers can fig­ure out which of the inputs were present. That type of cir­cuit could offer bet­ter con­trol over the pro­duc­tion of cells that gen­er­ate bio­fuels, drugs or oth­er use­ful com­pounds. Instead of cre­at­ing cir­cuits that are always on, or using pro­moters that need con­tinu­ous inputs to con­trol their out­put levels, sci­ent­ists could tran­si­ently pro­gram the cir­cuit to pro­duce at a cer­tain level. The cells and their pro­geny would always remem­ber that level, without need­ing any more inform­a­tion. Used as envir­on­ment­al sensors, such cir­cuits could also provide very pre­cise long-term memory. ​

"

You could have dif­fer­ent digit­al sig­nals you wanted to sense, and just have one ana­log out­put that sum­mar­izes everything that was hap­pen­ing inside," Lu says. This plat­form could also allow sci­ent­ists to more accur­ately con­trol the fate of stem cells as they devel­op into oth­er cell types. Lu is now work­ing on engin­eer­ing cells to fol­low sequen­tial devel­op­ment steps, depend­ing on what kinds of inputs they receive from the envir­on­ment. Michael Jew­ett, an assist­ant pro­fess­or of chem­ic­al and bio­lo­gic­al engin­eer­ing at North­west­ern Uni­ver­sity, says the new design rep­res­ents a ​

"

huge advance­ment in DNA-encoded memory stor­age." ​

"

I anti­cip­ate that the innov­a­tions repor­ted here will help to inspire lar­ger syn­thet­ic bio­logy efforts that push the lim­its of engin­eered bio­lo­gic­al sys­tems," says Jew­ett, who was not involved in the research. The research was fun­ded by the Office of Nav­al Research and the Defense Advanced Research Pro­jects Agency. Source: Mas­sachu­setts Insti­tute of tech­no­logy (

MIT

), Anne Trafton