News
Bac­teri­al enzyme could become a new tar­get for antibiotics
17.03.2020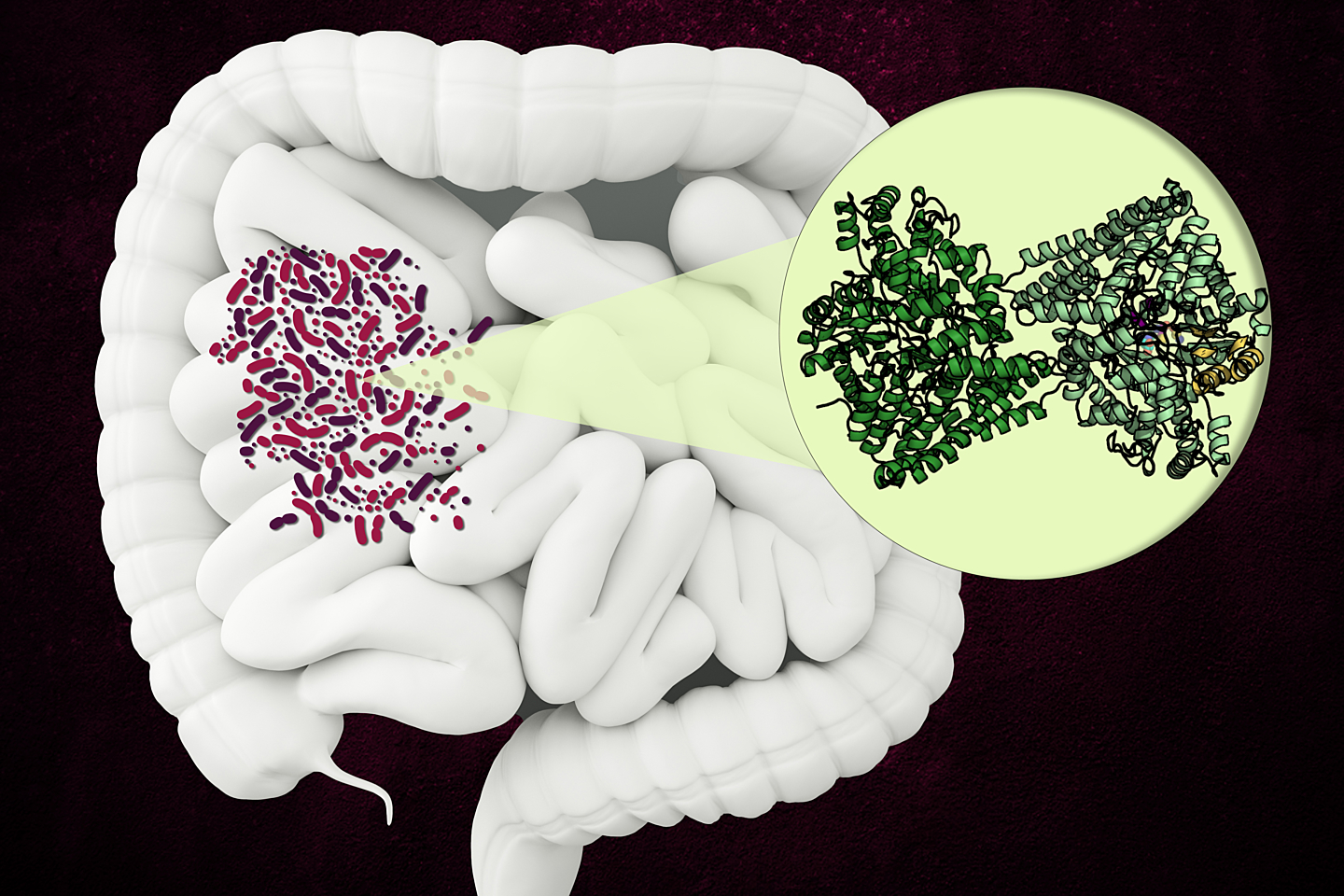 MIT

and Har­vard Uni­ver­sity chem­ists have dis­covered the struc­ture of an unusu­al bac­teri­al enzyme that can break down an amino acid found in col­la­gen, which is the most abund­ant pro­tein in the human body. The enzyme, known as hydroxy-L-pro­line dehyd­rata­se (HypD), has been found in a few hun­dred spe­cies of bac­teria that live in the human gut, includ­ing Clostri­dioides dif­fi­cile. The enzyme per­forms a nov­el chem­ic­al reac­tion that dis­mantles hydroxy-L-pro­line, the molecule that gives col­la­gen its tough, triple-helix struc­ture. Now that research­ers know the struc­ture of the enzyme, they can try to devel­op drugs that inhib­it it. Such a drug could be use­ful in treat­ing C. dif­fi­cile infec­tions, which are res­ist­ant to many exist­ing anti­bi­ot­ics. ​

"

This is very excit­ing because this enzyme doesn't exist in humans, so it could be a poten­tial tar­get," says Cath­er­ine Dren­nan, an

MIT

pro­fess­or of chem­istry and bio­logy and a Howard Hughes Med­ic­al Insti­tute Invest­ig­at­or. ​

"

If you could poten­tially inhib­it that enzyme, that could be a unique anti­bi­ot­ic." Dren­nan and Emily Bal­skus, a pro­fess­or of chem­istry and chem­ic­al bio­logy at Har­vard Uni­ver­sity, are the seni­or authors of the study, which appears today in the journ­al eLife.

MIT

gradu­ate stu­dent Lind­sey Back­man and former Har­vard gradu­ate stu­dent Yolan­da Huang are the lead authors of the study.
A dif­fi­cult reaction
The HypD enzyme is part of a large fam­ily of pro­teins called gly­cyl rad­ic­al enzymes. These enzymes work in an unusu­al way, by con­vert­ing a molecule of gly­cine, the simplest amino acid, into a rad­ic­al — a molecule that has one unpaired elec­tron. Because rad­ic­als are very unstable and react­ive, they can be used as cofactors, which are molecules that help drive a chem­ic­al reac­tion that would oth­er­wise be dif­fi­cult to per­form. These enzymes work best in envir­on­ments that don't have a lot of oxy­gen, such as the human gut. The Human Micro­bi­o­me Pro­ject, which has sequenced thou­sands of bac­teri­al genes from spe­cies found in the human gut, has yiel­ded sev­er­al dif­fer­ent types of gly­cyl rad­ic­al enzymes, includ­ing HypD. In a pre­vi­ous study, Bal­skus and research­ers at the Broad Insti­tute of

MIT

and Har­vard dis­covered that HypD can break down hydroxy-L-pro­line into a pre­curs­or of pro­line, one of the essen­tial amino acids, by remov­ing the hydroxy modi­fic­a­tion as a molecule of water. These bac­teria can ulti­mately use pro­line to gen­er­ate

ATP

, a molecule that cells use to store energy, through a pro­cess called amino acid fer­ment­a­tion. HypD has been found in about

360

spe­cies of bac­teria that live in the human gut, and in this study, Dren­nan and her col­leagues used X‑ray crys­tal­lo­graphy to ana­lyze the struc­ture of the ver­sion of HypD found in C. dif­fi­cile. In

2011

, this spe­cies of bac­teria was respons­ible for about half a mil­lion infec­tions and

29

,

000

deaths in the United States. The research­ers were able to determ­ine which region of the pro­tein forms the enzyme's ​

"

act­ive site," which is where the reac­tion occurs. Once hydroxy-L-pro­line binds to the act­ive site, a nearby gly­cine molecule forms a gly­cyl rad­ic­al that can pass that rad­ic­al onto the hydroxy-L-pro­line, lead­ing to the elim­in­a­tion of the hydroxy group. Remov­ing a hydroxy group is usu­ally a dif­fi­cult reac­tion that requires a large input of energy. ​

"

By trans­fer­ring a rad­ic­al to hydroxy-L-pro­line, it lowers the ener­get­ic bar­ri­er and allows for that reac­tion to occur pretty rap­idly," Back­man says. ​

"

There's no oth­er known enzyme that can per­form this kind of chem­istry."
New drug target
It appears that once bac­teria per­form this reac­tion, they divert pro­line into their own meta­bol­ic path­ways to help them grow. There­fore, block­ing this enzyme could slow down the bacteria's growth. This could be an advant­age in con­trolling C. dif­fi­cile, which often exists in small num­bers in the human gut but can cause ill­ness if the pop­u­la­tion becomes too large. This some­times occurs after anti­bi­ot­ic treat­ment that wipes out oth­er spe­cies and allows C. dif­fi­cile to pro­lif­er­ate. ​

"

C. dif­fi­cile can be in your gut without caus­ing prob­lems — it's when you have too much of it com­pared to oth­er bac­teria that it becomes more prob­lem­at­ic," Dren­nan says. ​

"

So, the idea is that by tar­get­ing this enzyme, you could lim­it the resources of C. dif­fi­cile, without neces­sar­ily killing it." The research­ers now hope to begin design­ing drug can­did­ates that could inhib­it HypD, by tar­get­ing the ele­ments of the pro­tein struc­ture that appear to be the most import­ant in car­ry­ing out its func­tion. The research was fun­ded by the Nation­al Insti­tutes of Health, a Nation­al Sci­ence Found­a­tion Gradu­ate Research Fel­low­ship, Har­vard Uni­ver­sity, a Pack­ard Fel­low­ship for Sci­ence and Engin­eer­ing, the

NSERC

Post­gradu­ate Schol­ar­ship-Doc­tor­al Pro­gram, an Arnold O. Beck­man Postdoc­tor­al Fel­low­ship, a Dow Fel­low­ship, and a Gil­li­am Fel­low­ship from the Howard Hughes Med­ic­al Insti­tute. Source:

MIT

, News,

17

.

03

.

2020