News
AMSilk Relo­cate Offices to Sup­port Expan­sion Plans
27.10.2022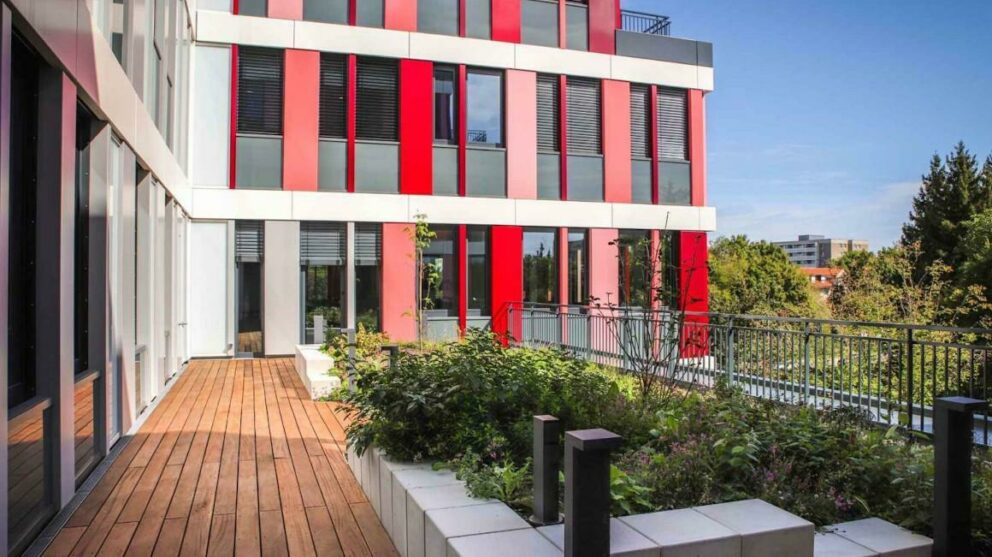 AMSilk GmbH ("AMSilk"), a world lead­er in sup­ply­ing innov­at­ive high-per­form­ance bio-based silk mater­i­als, announces its relo­ca­tion to a new biotech lab and office space cov­er­ing more than 2000m2 on the recently con­struc­ted Cam­pus Neur­ied in Munich, Ger­many, to sup­port its expan­sion into pro­duc­tion net­works out­side of Europe.
The new Com­pany offices at Cam­pus Neur­ied, which began devel­op­ment in August 2019, have been pur­pose built to suit the indi­vidu­al needs and require­ments of AMSilk. At more than 2000m2, its new office space is triple the size of its pre­vi­ous res­id­ence at IZB, sup­port­ing the Company's next phase of devel­op­ment as it aims to scale-up pro­duc­tion, reach­ing sev­er­al thou­sand tons per year with­in the next 3 to 5 years.
AMSilk places sus­tain­ab­il­ity and per­form­ance at the heart of its vis­ion with an envir­on­ment­ally friendly man­u­fac­tur­ing pro­cess. Its innov­at­ive and scal­able bio­tech­no­lo­gic­al plat­form can provide large quant­it­ies of premi­um biofab­ric­ated silk mater­i­als of a con­stant quality.
As demand for decar­bon­isa­tion across indus­tries increases, biofab­ric­a­tion has been widely estab­lished as the solu­tion to sus­tain­able mater­i­als for the future. Being vegan, com­pletely bio­de­grad­able, pro­duced only with renew­able plant-based raw mater­i­als and micro­plastic free, AMSilk's fibers can influ­ence a pos­it­ive change.
Ulrich Scher­bel, Chief Exec­ut­ive Officer at AMSilk, said: ​"AMSilk is focused on break­ing down lim­it­a­tions and bound­ar­ies by provid­ing bio-bet­ter­ing solu­tions on an indus­tri­al scale, improv­ing products and cre­at­ing a pos­it­ive impact on the envir­on­ment across vari­ous indus­tries. The move to our new offices, with improved tech­no­lo­gic­al equip­ment, a unique prox­im­ity to the enlarged labor­at­ory and spe­cially designed pilot plants, enable the grow­ing team of lead­ing experts and top industry pro­fes­sion­als to sat­is­fy cus­tom­er needs faster and better."
Dr. Wolfgang Col­berg, Chair­man and Indus­tri­al Part­ner of AMSilk's Advis­ory Board, added: ​"AMSilk has made some strong devel­op­ments this year towards scal­ing up its pro­duc­tion to sev­er­al thou­sand tons for exist­ing cli­ents with­in Europe and new cli­ents out­side of Europe. Its move to these unique new offices will enable AMSilk to keep up with the demand we fore­see increas­ing over the next few years, as it aims to make smart per­form­ing biotech mater­i­als part of every­day life and make a sig­ni­fic­ant con­tri­bu­tion to a zero-waste society."
Source