News
Pre­vent­ing infec­tions with the help of silk implant coatings
22.02.2022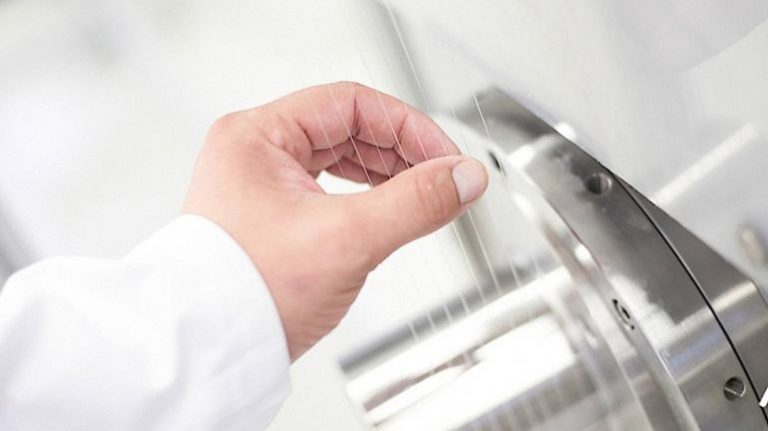 AMSilk GmbH (AMSilk), a world lead­er in sup­ply­ing innov­at­ive high-per­form­ance bio-based silk mater­i­als, today notes a study pub­lished in MRS Com­mu­nic­a­tions in June 2021 which demon­strates that AMSilk engin­eered spider silk coat­ings have the poten­tial to pre­vent inflam­ma­tion and to reduce post-oper­at­ive com­plic­a­tions of implants.
The study, led by Prof Thomas Schei­bel, Pro­fess­or of Bio­ma­ter­i­als and Head of the Depart­ment at the Uni­ver­sity of Bayreuth, Ger­many, and his team, tested the microbe repel­lence of AMSilk engin­eered spider silk coat­ings on a num­ber of sil­ic­one implant mater­i­als against bac­teri­al strains B. diminuta, R. pick­et­tii, S. aure­us and P. acnes. Res­ults showed repel­lence prop­er­ties of AMSilk's silk coat­ings reduced micro­bi­al adher­ence up to 99.7% in com­par­is­on to uncoated sil­ic­one sur­faces and scan­ning elec­tron micro­scope (SEM) images showed a sig­ni­fic­ant decrease in biofilm form­a­tion after 24 hours of incubation.
AMSilk engin­eered spider silk coat­ings work by cre­at­ing a ​'bioshield', a non-stick sur­face which has an ​'anti-adhes­ive' effect to bac­teria so that it does not adhere to the implant sur­face. AMSilk silk tech­no­logy is com­pletely safe: non-immun­o­gen­ic, non-inflam­mat­ory, non-tox­ic and ​'bio­har­mon­ic' for the human body and the immune sys­tem. It provides phys­ic­al func­tion­al­ity only and has been tested in vitro, in vivo, and in human med­ic­al stud­ies, con­sist­ently demon­strat­ing excel­lent biocompatibility.
Togeth­er with its biocom­pat­ib­il­ity and bio­de­grad­ab­il­ity prop­er­ties, spider silk has the poten­tial to be part of a strategy to pre­vent infec­tion-caused inflam­ma­tion and to reduce com­plic­a­tions of implant applic­a­tions post-surgery.
Tilmann Petersen, Head of Busi­ness Devel­op­ment Medtech & Cor­por­ate Plan­ning at AMSilk, said: ​"We are very encour­aged by the study res­ults, which sup­ports the out­stand­ing bene­fits and safety of our silk tech­no­logy. AMSilk silk pro­teins can be applied as coat­ing on med­ic­al devices such as implants or sur­gic­al mesh, or used in gel or spray form for wound care and med­ic­al skin care amongst many oth­er applic­a­tions. The bene­fits range from bet­ter device per­form­ance, com­plete biocom­pat­ib­il­ity and reduced biofilm form­a­tion, to easi­er hand­ling for sur­geons and a reduced risk of infec­tion for the patient."
Pro­fess­or Thomas Schei­bel who run the study adds: ​"In the near future, we will need new dir­ec­tions con­cern­ing the fight against infec­tions, which have to be far bey­ond the simple use of anti­bi­ot­ics. In this respect, coat­ings made of AMSilk silk pro­teins are one import­ant step towards a new gen­er­a­tion of anti-foul­ing and at the same time biocom­pat­ible surfaces."
AMSilk coat­ings are biocom­pat­ible and safe, mak­ing them suit­able for vari­ous med­ic­al applic­a­tions, includ­ing in par­tic­u­lar the coat­ing of med­ic­al products that are in con­tact with soft tis­sue in the human body (breast implants, coch­lear implants, gluc­ose sensors, ortho­ped­ic implants with con­tact to soft tis­sue, her­nia meshes, wound band­ages) as well as applic­a­tions such as dermal fillers, scaf­folds in tis­sue regen­er­a­tion and cell ther­apy, bioprint­ing, bone and car­til­age grow­ing tem­plates, smart drug deliv­ery sys­tems, bio­sensors and sur­gic­al meshes.
Source