News
Cut­ting onions without tears
06.02.2022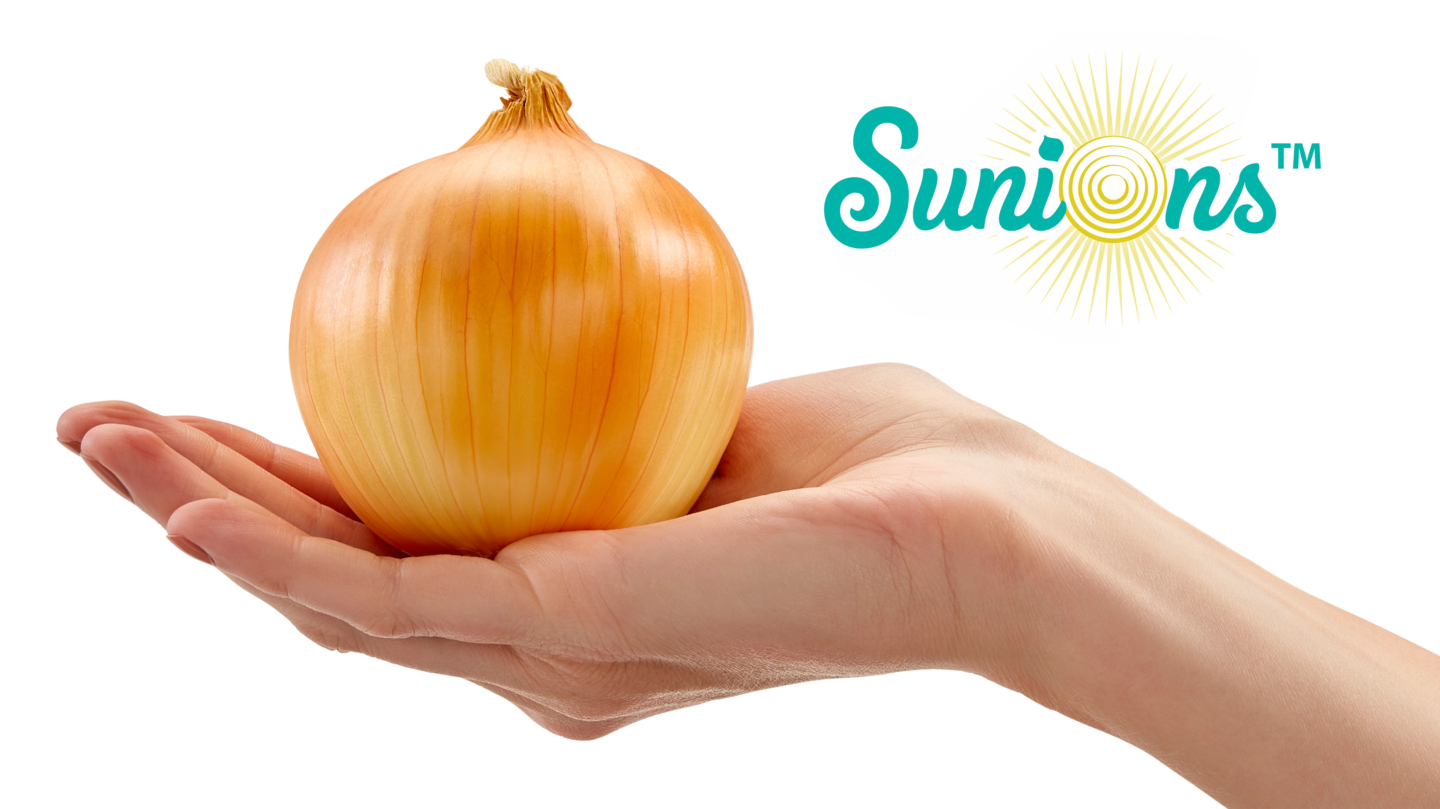 BASF's veget­able seeds busi­ness developed a tear­less onion vari­ety which has now been launched at super­mar­kets in France, Ger­many, Italy, and United King­dom. The yel­low onion vari­ety con­sti­tutes a break­through in veget­able innov­a­tion and is a real gamechanger as the first tear­less onion avail­able to the mar­ket. It is a res­ult of more than three dec­ades of con­ven­tion­al breed­ing efforts. Its bene­fit: while onions usu­ally become more pun­gent while being stored, this vari­ety becomes milder and sweeter over time.
Pilot sales of Sunions® star­ted in Italy in Decem­ber 2021 and in the UK and France in Janu­ary 2022. In and Ger­many, it will hit super­mar­ket shelves from Feb­ru­ary. It was already launched in the U.S. and Canada in 2017 and in Spain in 2020. The fresh onions will be mar­keted by trad­ing part­ners under the brand name Sunions®.
"The tear­less onion is a clear example of our ambi­tion to make healthy eat­ing enjoy­able", says Bil­ge­han Suer, Region­al Crop Lead at Veget­able Seeds and pro­ject lead­er for Sunions Europe. ​"Dif­fer­ent con­sumer stud­ies con­firmed that con­sumers love to eat Sunions® raw as much as baked, stir-fried and cooked".
Grown from a seed vari­ety from the Nun­hems® port­fo­lio, Sunions® have been intro­duced to the mar­ket in col­lab­or­a­tion with value chain part­ners, with BASF provid­ing the seeds, grow­ing recom­mend­a­tions, qual­ity assur­ance and con­nect­ing the chain part­ners from ​'farm to fork'. The use of the brand name is part of the cooper­a­tion agreement.
In this pilot phase, Sunions® are only delivered to a reduced num­ber of stores inside a lim­ited num­ber of super­mar­ket chains in France, Ger­many, Italy and United Kingdom.
"If the pilot pro­jects reveal suc­cess with con­sumers, dis­tri­bu­tion will be exten­ded next sea­son", says Suer. ​"What coun­tries will be con­sidered next depends on loc­al interest from con­sumers and the avail­able sup­ply options."
Source