News
VER­BIO

starts bio­fuel pro­duc­tion in the

US

state of Iowa
20.12.2021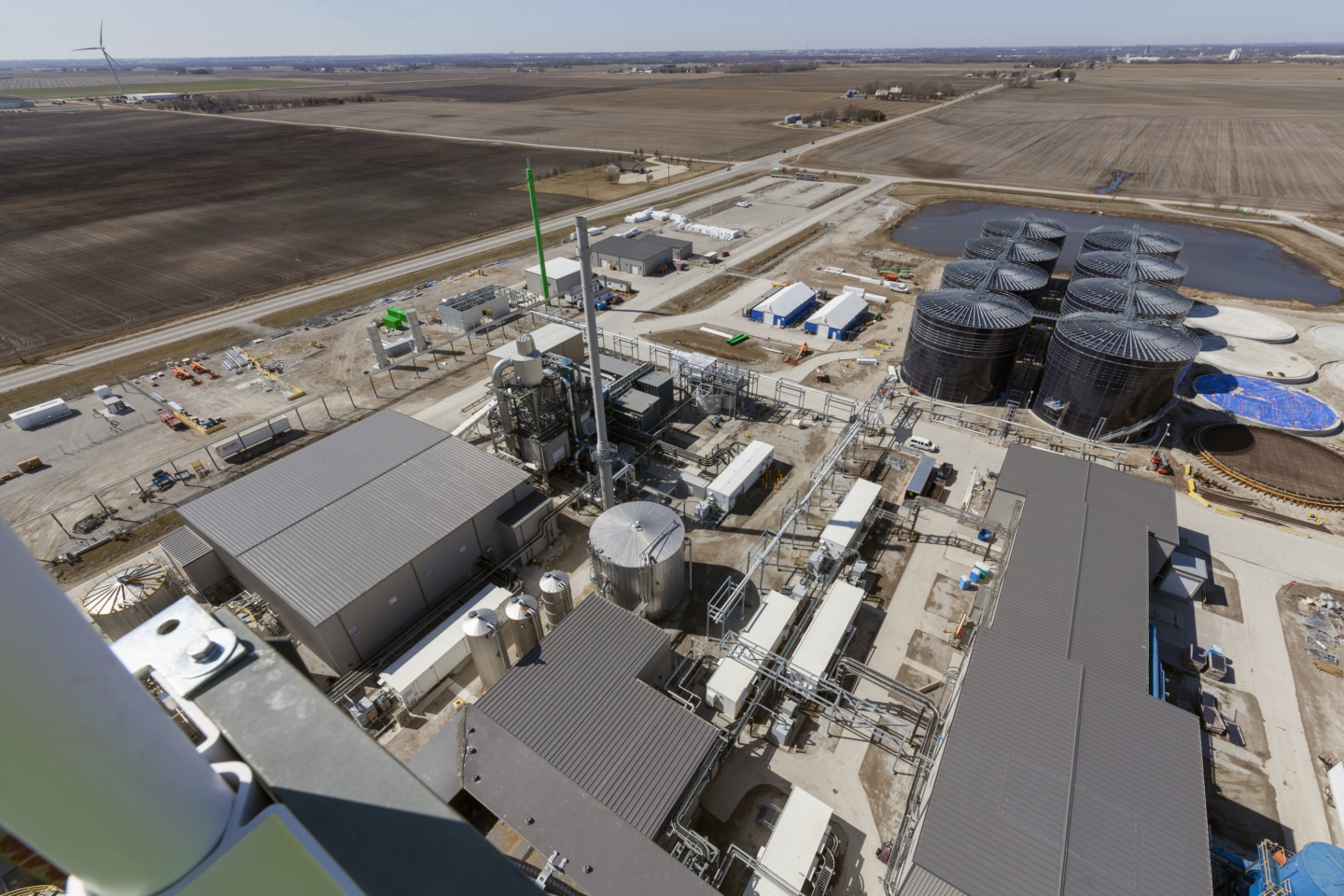 VER­BIO has com­mis­sioned a new pro­duc­tion plant at its site in Nevada (Iowa, USA). The plant pro­duces bio­meth­ane from corn straw. It is the first large-scale indus­tri­al plant in the USA to rely on the tech­no­logy developed by VER­BIO. After a con­struc­tion peri­od of 2.5 years, Greg Faith, gen­er­al man­ager at VER­BIO Nevada LLC, is pleased with the mile­stone achieved: ​"Our biore­finery plant is now feed­ing bio­meth­ane into the gas grid of util­ity Alli­ant Energy for sale via pipeline to CNG fuel­ing sta­tions and truck­ing com­pan­ies nation­wide. This is a great day for us and for our part­ners in agri­cul­ture. We thank the City of Nevada, the Iowa Eco­nom­ic Devel­op­ment Author­ity, Des Moines Area Com­munity Col­lege and Alli­ant Energy for help­ing us make our pro­ject a reality."
Proven VER­BIO tech­no­logy for the U.S. market
VER­BIO already pur­chased the decom­mis­sioned cel­lu­losic eth­an­ol plant from oper­at­or DuPont at the end of 2018. Claus Saut­er, CEO of VER­BIO AG, recalls, ​"It was our first major invest­ment abroad and the step into the North Amer­ic­an mar­ket. We expan­ded the plant to include bio­meth­ane pro­duc­tion based on the mod­el of our Ger­man sites and now we are provid­ing green fuel from sur­plus corn straw for the Amer­ic­an mar­ket. Our tech­no­logy not only pro­duces a cli­mate-friendly fuel and a high-qual­ity humus fer­til­izer, it also pre­vents agri­cul­tur­al emis­sions caused by the rot­ting of corn straw in the field. This turns driv­ing into cli­mate protection."
The suc­cess­ful com­mis­sion­ing of the pro­duc­tion plant in the Mid­w­est of the USA is the start­ing point for fur­ther expan­sion plans of VER­BIO in the USA. In the first phase, the plant will be ramped up to a capa­city of 20 MW and will then be able to pro­cess up to 100,000 tons of straw into bio­meth­ane annu­ally. By the end of 2022, the site will then be expan­ded into a VER­BIO biore­finery modeled on the Ger­man plants with com­bined bioeth­an­ol-bio­meth­ane production.
Bio­meth­ane com­pletes the bio­fuel port­fo­lio in Iowa
Iowa has been a lead­er in renew­able fuel pro­duc­tion since the U.S. Renew­able Fuel Stand­ard (RFS) legis­la­tion was passed in 2005 and amended in 2007. The VER­BIO plant will now add bio­meth­ane (BioCNG) to the state's bio­fuels port­fo­lio and fur­ther expand the part­ner­ship between agri­cul­ture and the renew­able energy industry. ​"VER­BIO is a world-class com­pany, and I am pleased they have chosen to build this new biore­finery facil­ity in Iowa," said Debi Durham, exec­ut­ive dir­ect­or of the Iowa Eco­nom­ic Devel­op­ment Author­ity and the Iowa Fin­ance Author­ity. ​"This import­ant renew­able energy pro­ject exem­pli­fies our eco­nom­ic devel­op­ment strategy in Iowa, which is about attract­ing innov­at­ive indus­tries and cre­at­ing attract­ive jobs that will raise liv­ing stand­ards and cre­ate wealth in our state."
Claus Saut­er: Tre­mend­ous feed­stock poten­tial in agri­cul­ture-heavy Iowa.
"While the intro­duc­tion of the Renew­able Fuel Stand­ard (RFS) has been a great suc­cess for the U.S. mar­ket, the share of advanced bio­fuels made from resid­ual and waste mater­i­als is still far behind tar­get. How­ever, more than 80 per­cent of these residue-based bio­fuels come from land­fill and sewage gas, but only a rel­at­ively small amount from agri­cul­tur­al residues and oth­er cel­lu­losic sources. Yet the vast agri­cul­tur­al lands in the Mid­west­ern U.S. offer enorm­ous feed­stock poten­tial in agri­cul­tur­al com­mod­it­ies and residues that can be used to decar­bon­ize trans­port­a­tion. We want to lever­age this poten­tial with our tech­no­logy," says VER­BIO CEO Claus Saut­er, explain­ing the mar­ket poten­tial and VER­BIO's strategy. In addi­tion, there is the grow­ing demand for cli­mate-friendly logist­ics: ​"In Amer­ica, truck trans­port on long-dis­tance routes plays a more import­ant role than in Ger­many. Bio­meth­ane in the form of BioCNG and Bio­LNG is also attract­ive to U.S. freight for­ward­ers as a cli­mate-friendly and long-range altern­at­ive," the VER­BIO CEO is convinced.
Sen­at­or Grass­ley wel­comes VER­BIO to Iowa.
"I am pleased to wel­come VER­BIO to Iowa. This is a sig­ni­fic­ant invest­ment in Nevada that will have an impact on oth­er pro­jects across the state. Iowa offers an excel­lent pool of skilled work­ers and is a great place to work and live," said Sen­at­or Grass­ley (R‑IA). ​"Iowa is mov­ing for­ward and com­mit­ted to renew­able fuels; this new facil­ity is cut­ting-edge tech­no­logy that will advance renew­able energy across the country."

Source