News
UPM

: The evol­u­tion from a tra­di­tion­al paper man­u­fac­turer to a pro­du­cer of mater­i­als for every­day products made from wood components
30.03.2022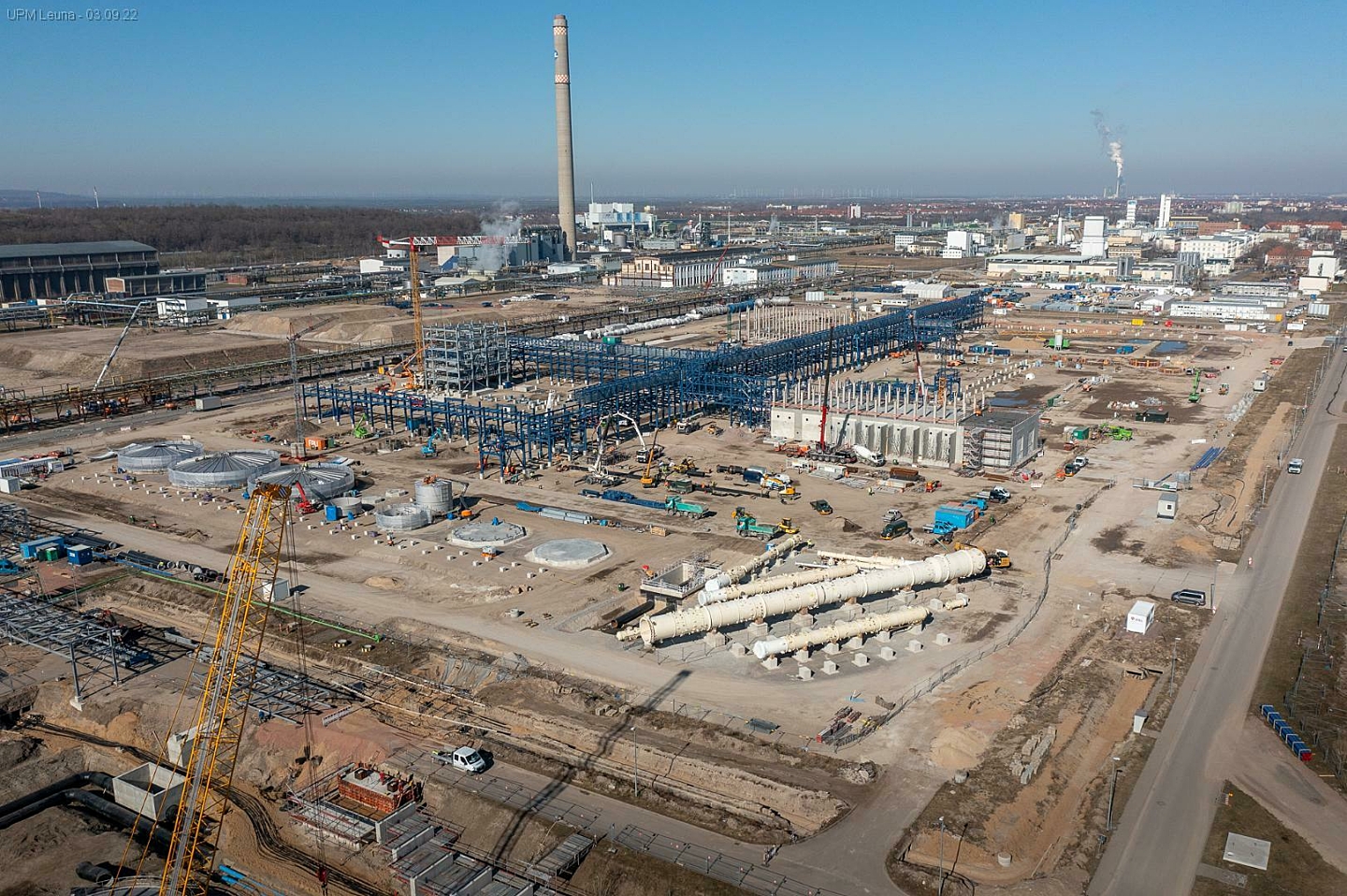 UPM stands for United Paper Mills and is a Finnish com­pany with 54 plants and 17,000 employ­ees world­wide, and is a lead­er in the forest, pulp and paper industry. As the mar­ket for graph­ic paper con­tin­ues to shrink, with less and less graph­ic paper being used and there­fore less recovered paper being avail­able, UPM is open­ing up numer­ous new markets.
These include the bio­fuels sec­tor as well as the bio­chem­ic­als sec­tor. For the lat­ter, the Group has now recently star­ted to con­struct a large biore­finery in Leuna (Sax­ony-Anhalt) for the pro­duc­tion of bio­chem­ic­als, mainly mono­ethyl­ene glycol and renew­able fillers as a sub­sti­tute for indus­tri­al car­bon black, from sus­tain­ably sourced hard­wood for the man­u­fac­ture of recyc­lable every­day items and mater­i­als. These can be used, for example, for applic­a­tions in the fields of pack­aging, tex­tiles, plastics, rub­ber, and cos­met­ics. For this pro­cess, only wood is used that accu­mu­lates dur­ing the sus­tain­able man­age­ment of forests and is not oth­er­wise recycled, as well as resid­ual mater­i­als from saw­mills. By its com­ple­tion at the end of 2023, the use of these products will sig­ni­fic­antly reduce the con­sump­tion of fossil raw mater­i­als and thus CO2 emis­sions. The Group announces: ​"We deliv­er renew­able and respons­ible solu­tions as well as innov­a­tions for a future without fossil raw materials."
Dur­ing a vis­it to the site, Vice Pres­id­ent of UPM Bio­chem­ic­als Busi­ness, Dr. Michael Duetsch, gave us a com­pre­hens­ive inter­view on cur­rent top­ics and the Group's ambitions.
1. Please explain UPM's ​"Biofore strategy" in a few words. How sig­ni­fic­ant will the con­tri­bu­tion of this strategy be now and in a future without fossil fuels? How do you assess the need for trans­ition­al solutions?
"UPM is pur­su­ing its own trans­form­a­tion pro­cess from a paper to a bio­ma­ter­i­al pro­du­cer with the so-called ​"Biofore strategy. ​"Biofore" is a made-up word deriv­ing from vari­ous terms such as ​"bio", ​"look­ing for­ward", but also ​"forest industry". Des­pite the steady decline in the graph­ic paper mar­ket, the com­pany has man­aged to main­tain a con­stant turnover (around EUR 10 bil­lion) for the last 10 years. This has been made pos­sible by open­ing up new busi­ness fields (includ­ing pulp, labels, bio­fuels, bio-naph­tha). These new product fields sig­ni­fic­antly con­trib­ute to a suc­cess­ful cir­cu­lar eco­nomy and act­ively help to redefine value chains. UPM suc­cess­fully oper­ates large-scale indus­tri­al plants and under­stands the import­ance of energy effi­ciency not only for a com­pet­it­ive cost base but also for lower green­house gas emis­sions. UPM has joined ​"The Cli­mate Pleg­de" with a com­mit­ment to achieve cli­mate neut­ral­ity by 2040. If the pro­cesses of a biore­finery are oper­ated with renew­able energy in the future, the car­bon foot­print will be fur­ther improved. CO2-neut­ral or even CO2-neg­at­ive products are then with­in reach. The chem­ic­al site oper­ated by Infra-Leuna GmbH is char­ac­ter­ized by a mix of low-CO2 steam gen­er­a­tion (heat recov­ery from chem­ic­al pro­cesses, waste incin­er­a­tion). And this is being fur­ther improved: In this con­text, a gas-fired power plant has been planned that can quickly reg­u­late its out­put depend­ing on demand. Trans­ition­al solu­tions of this kind will con­tinu­ously be required to remain com­pet­it­ive and to provide a basis for new invest­ments. At the same time, how­ever, tech­no­lo­gies such as green hydro­gen (e.g., from Linde AG) or pos­sib­il­it­ies for energy stor­age of tem­por­ar­ily avail­able sol­ar or wind energy must be increas­ingly taken into account."
2. What is UPM's under­stand­ing of sustainability?
"Sus­tain­ab­il­ity is in our DNA and for UPM it means much more than cli­mate pro­tec­tion and sav­ing CO2. Since the com­pany man­ages about 1 mil­lion hec­tares of forest world­wide (Fin­land, Uruguay, USA) and wood is the raw mater­i­al for numer­ous pro­cesses, the Group is pay­ing increased atten­tion not only to increas­ing biod­iversity and main­tain­ing the age struc­ture in the forests, but also to ensure that the forests them­selves remain healthy, cli­mate-stable and usable in the long run (FSC/PEFC cer­ti­fic­a­tion). To achieve this, it is also import­ant to adhere to guidelines such as the Code of Con­duct, the Sup­ply Chain Act and the Code of Sup­pli­ers (e.g., pro­hib­i­tion of child labor in the sup­ply chains). UPM has already won numer­ous awards in the field of sus­tain­ab­il­ity and sup­ports well-known pro­jects, such as the goal set out in the Par­is Cli­mate Agree­ment to lim­it glob­al warm­ing to 1.5 °C, or to achieve the 17 UN Glob­al Com­pact Sus­tain­able Devel­op­ment Goals (SDGs) and to oper­ate in a CO2-neut­ral man­ner by 2040. But it's not just about avoid­ing green­house gases. From the 17 SDGs, we have iden­ti­fied the goals where our neg­at­ive impact is the strongest and the goals where we can make the strongest pos­it­ive con­tri­bu­tion. These are the fol­low­ing six: Goal 3: Health and well-being, Goal 8: Decent work and eco­nom­ic growth, Goal 9: Industry, innov­a­tion and infra­struc­ture, Goal 12: Sus­tain­able con­sump­tion and pro­duc­tion, Goal 13: Cli­mate action, Goal 15: Liv­ing on land. Oth­er SDGs are also rel­ev­ant to us but have a lower pri­or­ity or affect us only indir­ectly. In addi­tion, we par­ti­cip­ate in inter­na­tion­al pro­jects such as the UN Glob­al Com­pact LEAD and work with vari­ous expert organ­iz­a­tions to pro­mote and imple­ment the SDGs.
UPM oper­ates large indus­tri­al pro­cesses for pro­cessing bio­mass and thus nat­ur­ally leaves an envir­on­ment­ally rel­ev­ant foot­print — in addi­tion to CO2 emis­sions, for example, water use. We reg­u­larly pub­lish the cur­rent impact, respect­ive reduc­tion tar­gets and pro­gress towards achiev­ing them in our annu­al report. We must always remem­ber: Sus­tain­ab­il­ity con­sists of three dimen­sions: eco­lo­gic­al, eco­nom­ic, and social. It can­'t work in the long term without one of the three."
3. How import­ant are forests, forestry, and agri­cul­ture for bioeconomy and sustainability?
"In the future post-fossil era, only three main car­bon sources for mater­i­al use remain con­ceiv­able: Bio­mass, end-of-life mater­i­als and CO2 — none of which alone can replace the total car­bon demand. This requires an intel­li­gent inter­play in which sus­tain­able forestry and agri­cul­ture play an import­ant role in repla­cing fossil car­bon, for example in plastics. Recyc­ling of old mater­i­als is anoth­er main­stay with great poten­tial. Losses always occur, but if these are replaced by sus­tain­ably pro­duced mater­i­als, a per­fect sus­tain­able cir­cu­lar eco­nomy would be achieved.
The rethink­ing of sus­tain­able growth is also increas­ingly deman­ded by soci­ety. Nev­er­the­less, these con­ver­sion pro­cesses need a lot of time — there­fore intens­ive research and devel­op­ment will remain import­ant in the future and must even be fur­ther expan­ded, for example for the use of car­bon from CO2. In addi­tion, con­ven­tion­ally pro­duced plastics must be pre­ven­ted from know­ingly enter­ing the envir­on­ment, as in the case of mulch films or trim­mer fil­a­ments. For these applic­a­tions, sus­tain­able, bio­de­grad­able mater­i­als should already be used in a timely manner."
4. What kind of sus­tain­able eco­nomy is needed in Ger­many that is both, envir­on­ment­ally friendly and not borne by our competitiveness?
"The pro­cesses of the UPM biore­finery and espe­cially their com­bin­a­tion are new. To assess com­pet­it­ive­ness, one must not only con­sider pro­duc­tion costs alone, e.g., in com­par­is­on with MEG pro­duc­tion based on naph­tha, but con­sider that bio-MEG is chem­ic­ally the same, how­ever sig­ni­fic­antly more advant­age­ous in terms of its CO2 foot­print. UPM is invest­ing EUR 550 mil­lion in the new biore­finery because we are con­vinced that we will be very prof­it­able, espe­cially once the plant is oper­at­ing at full capa­city. The over­whelm­ing interest from poten­tial cus­tom­ers in all products of UPM's biore­finery in Leuna con­firms our assump­tions so far.
In the future, it will become increas­ingly import­ant to price CO2 to cre­ate incent­ives to oper­ate more eco­lo­gic­ally and sus­tain­ably. To elim­in­ate a com­pet­it­ive dis­ad­vant­age com­pared to goods pro­duced under cli­mate-dam­aging con­di­tions in oth­er regions, a so-called car­bon bor­der tax must be introduced.
The gly­cols pro­duced in the Leuna biore­finery have the same phys­ic­al prop­er­ties as con­ven­tion­al products (drop-ins) but are not pro­duced in the con­ven­tion­al way. The renew­able, func­tion­al fillers pro­duced from lignin have dif­fer­ent, largely super­i­or prop­er­ties com­pared to fossil fillers (in this case, indus­tri­al car­bon black, silic­ate); for example, a sig­ni­fic­antly reduced dens­ity or that they are elec­tric­ally non-con­duct­ive, both of which are crit­ic­al advant­ages when used in rub­ber products (e.g., seal­ing tapes). They also have an unpre­ced­en­ted low car­bon foot­print — ulti­mately all val­ues that are paid for.
If biobased products are to be man­u­fac­tured, the ori­gin of the bio­mass must also be per­man­ently main­tained. It goes without say­ing that UPM pro­cures wood only from sus­tain­ably man­aged forests and thus pre­served in the long term. This is the only way to ensure that they will con­tin­ue to provide raw mater­i­als in 50 years or more. And only then does an invest­ment like the one we are mak­ing in Leuna make sense. Sus­tain­able forestry is there­fore an import­ant seg­ment for com­pet­it­ive­ness. In this con­text, more tax incent­ives should be cre­ated to mobil­ize the wood reserves from private forests (double-digit per­cent­age in Ger­many). For the time being, tim­ber har­vest­ing is not worth­while for private small forest owners."
5. How is the concept of sus­tain­ab­il­ity and recyc­ling imple­men­ted at the new biore­finery in Leuna?
"At the new biore­finery in Leuna, it is import­ant that the raw mater­i­al sources, primar­ily mixed and decidu­ous forests, are man­aged sus­tain­ably. We also cal­cu­late the car­bon foot­print and have these val­ues audited extern­ally. In this way, we can clearly demon­strate that our products have an advant­age over tra­di­tion­al fossil fuels and thus help our cus­tom­ers to achieve their sus­tain­ab­il­ity goals with a focus on great­er cli­mate pro­tec­tion. Almost all brand man­u­fac­tur­ers have prom­ised very ambi­tious cli­mate neut­ral­ity tar­gets for the dec­ade to come and see this as one of the essen­tial pre­requis­ites for their future busi­ness success.
The closed-loop concept is imple­men­ted in that the glycol pro­duced is used primar­ily in poly­es­ters. Poly­es­ter products can be recycled in a vari­ety of ways (mech­an­ic­ally, chem­ic­ally, and enzymat­ic­ally). Espe­cially in PET bottles, Ger­many has already reached a high level with a col­lec­tion rate of 94%. The small amount lost could then be replaced by biobased, sus­tain­ably pro­duced mater­i­als from the biore­finery industry.
6. How does the Leuna plant fit into UPM's exist­ing busi­ness struc­ture? What makes the biore­finery in Leuna unique world­wide? What have been the biggest obstacles in site selec­tion and con­struc­tion so far?
"UPM now con­sists of six busi­ness fields: Print­ing Paper, Pulp, Self-adhes­ive Labels, Spe­cialty Paper, Energy Pro­duc­tion and Trad­ing as well as Ply­wood. UPM occu­pies lead­ing pos­i­tions in many fields, e.g., magazine paper, ply­wood, or labels. Start­ing with mac­ro­scale wood and mov­ing on to micro­scale cel­lu­lose fibers, UPM has made its way up to the molecu­lar level and is now also act­ive in the field of bio-based fuels and chemicals.
The unique­ness of the biore­finery lies not only in the fact that chem­ic­als are pro­duced from wood, but also in the fact that all wood com­pon­ents are used as mater­i­als. For example, glycol is pro­duced from cel­lu­lose via sug­ar, hemi­cel­lu­lose is pro­cessed into indus­tri­al sug­ar, and lignin is used to make fillers. This is the first fully integ­rated wood-based biore­finery in the world that breaks down a single bio­ma­ter­i­al and uses it entirely as a material.
Import­ant cri­ter­ia for the site selec­tion were the avail­ab­il­ity of suf­fi­cient space (25 hec­tares) and exist­ing infra­struc­ture at an exist­ing chem­ic­al site. In addi­tion, it was enorm­ously import­ant to build the biore­finery near sus­tain­ably man­aged hard­wood forests. This is giv­en in Leuna by the forests in east­ern Ger­many, Hesse, Bav­aria, and the Czech Repub­lic. Logist­ics also play a major role con­cern­ing trans­port­a­tion to and from the site — the Leuna plants, with their rail con­nec­tion, provide an optim­al sup­ply. The frame­work con­di­tions for the adapt­a­tion of the exist­ing infra­struc­ture were also extremely flex­ible and the capa­cit­ies in the field of energy (steam, elec­tric power) and water (pro­cess water, cool­ing water, waste water treat­ment) were avail­able and very com­pet­it­ive. The region has a long his­tory in the chem­ic­al industry and has a good edu­ca­tion net­work, with renowned uni­ver­sit­ies and col­leges in the fields of nat­ur­al sci­ences, chem­ic­al engin­eer­ing, and pro­cess engin­eer­ing, but also for the edu­ca­tion of pro­fes­sion­als in pro­duc­tion. Although the labor mar­ket is tight, most vacant pos­i­tions can nev­er­the­less be adequately filled in a timely man­ner due to the scale and scope of the pro­ject. Our exper­i­ence is that many new employ­ees have made a con­scious decision to join UPM to help build a future-ori­ented sus­tain­able chem­ic­al production."
7. What does UPM expect from par­ti­cip­at­ing at ISEF (Inter­na­tion­al Sus­tain­able Eco­nomy For­um)? How can large com­pan­ies like UPM bene­fit most from such an event?
"By par­ti­cip­at­ing at ISEF, UPM expects a high dens­ity of com­pan­ies that care about sus­tain­able busi­ness. Bioeconomy also means build­ing bridges between dif­fer­ent industry sec­tors, such as the forestry, chem­ic­al and bever­age indus­tries — for this, an event like ISEF is enorm­ously import­ant. Moreover, far too few stake­hold­ers still know what the bioeconomy really is about. To get stake­hold­ers from all sec­tors excited about the bioeconomy, it is import­ant to com­mu­nic­ate innov­a­tions and tech­no­lo­gies in a prag­mat­ic and solu­tion-ori­ented way. ISEF will help to find cre­at­ive solu­tions on how to pro­mote bioeconomy — and not only through fin­an­cial means."