Events
The Impact Festival
30.06.2023
13. ‐ 14. Sep 2023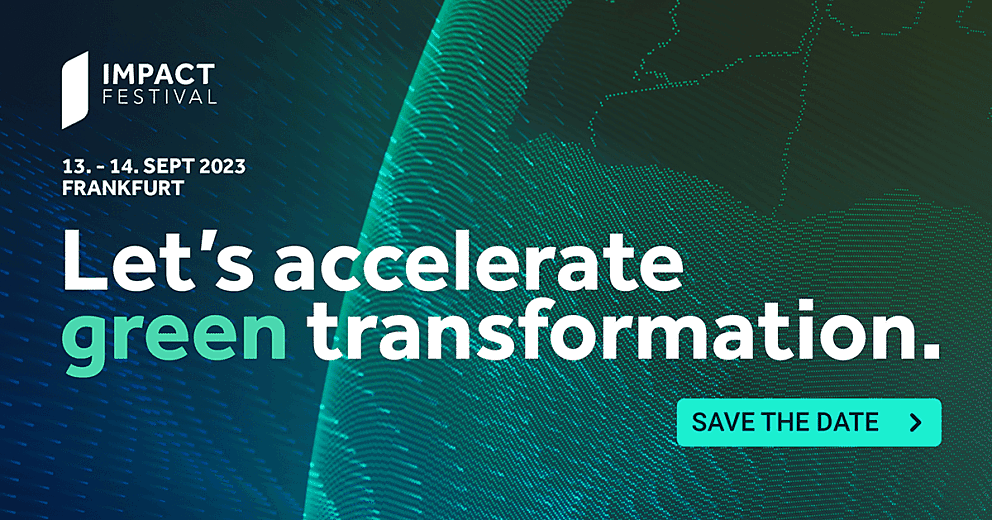 The IMPACT FEST­IV­AL is Europe's first com­munity-based plat­form and the largest B2B event for every­one who is pas­sion­ate about sus­tain­able solu­tions in the B2B sec­tor. Not only do we talk about sus­tain­ab­il­ity, but at the Impact Fest­iv­al we bring togeth­er the most import­ant start-ups and scale-ups with entre­pren­eurs and investors to drive the digit­al and sus­tain­able restruc­tur­ing of the busi­ness world.
With an extens­ive pro­gramme, the IMPACT FEST­IV­AL pur­sues the goal of sig­ni­fic­antly accel­er­at­ing the sus­tain­able trans­form­a­tion of our economy.
To this end, on 13 and 14 Septem­ber 2023, for the third time in a row, investors and com­pan­ies will meet innov­at­ive solu­tions from start-ups and, for the first time in 2023, small and medi­um-sized enter­prises (SMEs) offer­ing innov­at­ive solu­tions. Vis­it­ors to the event will be able to find inspir­a­tion in the exhib­i­tion area and exchange inform­a­tion and ideas with oth­er com­pany rep­res­ent­at­ives about trans­form­at­ive busi­ness mod­els and their pos­sible applic­a­tions and examples. The IMPACT FEST­IV­AL thus offers start-ups and SMEs a plat­form to cre­ate syn­er­gies through net­work­ing, products and ser­vices. In addi­tion, investors and start-ups net­work at the event and thus lay the fin­an­cial found­a­tion for the scal­ing and fur­ther suc­cess of their busi­ness goals. The most prom­ising start-ups and SMEs will once again be hon­oured by the fest­iv­al with the IMPACT AWARD. High­lights of the event will be presen­ted to the organ­isers in guided exhib­i­tion tours aimed at investors, com­pan­ies and media representatives.
A new addi­tion this year is the Trans­form­a­tion Stage, which provides vis­it­ors with tar­geted best prac­tices and con­tent on sus­tain­able trans­form­a­tion in com­pan­ies. This stage com­ple­ments the Impact Stage, where opin­ion lead­ers and experts share their know­ledge in key­notes and pan­els. On the third stage, the Innov­a­tion Stage, the exhib­it­ing start-ups pitch their solu­tions for sus­tain­able change and answer ques­tions from selec­ted investors.
For the third edi­tion, the IMPACT FEST­IV­AL expects around 200 exhib­it­ors, 80 speak­ers and 3,000 vis­it­ors. An extens­ive sup­port­ing pro­gramme as well as inform­at­ive formats such as the pod­cast IMPACT TALK and the IMPACT COM­MUNITY, where inter­ested parties can net­work and exchange ideas through­out the year, com­ple­ment the event.
Source