News
Spin-off ionys­is devel­ops sus­tain­able core com­pon­ents for the hydro­gen economy
15.09.2022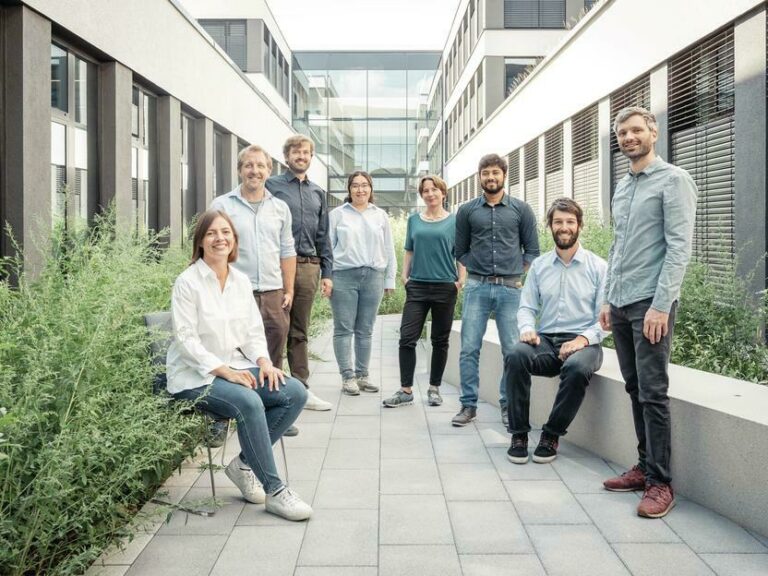 A team from the ​"Elec­tro­chem­ic­al Energy Sys­tems" divi­sion at Hahn-Schick­ard in Freiburg, with the sup­port of the Uni­ver­sity of Freiburg, has foun­ded ​"ionys­is GmbH". The goal is to devel­op and com­mer­cial­ize more effi­cient mem­brane elec­trode assem­blies for fuel cells to mar­ket matur­ity with the help of strong stra­tegic partners.
To achieve the cli­mate tar­gets, sus­tain­able mobil­ity must also become a real­ity for heavy-duty com­mer­cial vehicles. ionys­is GmbH devel­ops highly effi­cient, emis­sion-free and sus­tain­able core com­pon­ents for fuel cells. This includes that the so-called ​"mem­brane elec­trode assem­blies" have a sig­ni­fic­antly reduced con­tent of per­flu­or­in­ated sub­stances — a prob­lem­at­ic com­pon­ent that is increas­ingly being banned world­wide due to its envir­on­ment­al impact. ​"Togeth­er with inter­na­tion­al part­ners, we were able to devel­op nov­el fuel cells that match state of the art per­form­ance for the first time. Moreover, they can be more effi­cient and oper­ated at high­er tem­per­at­ures in the future," explains Dr. Mat­thi­as Breit­wieser, Chief Tech­no­logy Officer of ionys­is GmbH. ​"This makes them par­tic­u­larly suit­able for heavy com­mer­cial vehicles or applic­a­tions in aviation."

On Septem­ber 1, 2022, ionys­is star­ted oper­a­tions with a team of eight people and plans to grow fur­ther already in the first months. In addi­tion to Dr. Mat­thi­as Breit­wieser (Chief Tech­no­logy Officer), Dr. Flori­an Lom­beck (Chief Sci­ent­ist) and Dr. Sever­in Vier­rath (Sci­entif­ic Advisor) — act­ive or former employ­ees of Hahn-Schick­ard and the Uni­ver­sity of Freiburg — Dr. Andreas Büchler (Chief Oper­a­tion Officer) and Lisa Langer (Chief Fin­an­cial Officer) com­ple­ment the tech­nic­al found­ing team. More Hahn-Schick­ard employ­ees joined the com­pany with the oper­a­tion­al start.

The aim is to fur­ther devel­op nov­el, more envir­on­ment­ally friendly mem­brane elec­trode assem­blies and also to demon­strate their tech­nic­al feas­ib­il­ity on a large scale. As anoth­er start-up in the field of hydro­gen and decar­bon­iz­a­tion tech­no­lo­gies, ionys­is GmbH com­ple­ments the strong ​"green tech" found­ing scene in Freiburg. The found­a­tion for the spin-off was laid with­in the frame­work of sev­er­al pub­licly fun­ded research pro­jects: Both the state of Baden-Württem­berg ("Dir­ect­MEA") and the Ger­man Fed­er­al Min­istry of Eco­nom­ic Affairs and Cli­mate Action ("Dir­ect­Stack", FKZ: 03ETB024D) provided fin­an­cial sup­port for the work. In addi­tion, the Fed­er­al Min­istry of Edu­ca­tion and Research provided fund­ing tailored to the Ger­man-Cana­dian exchange with­in the frame­work of the pro­jects ​"Flex­Coat" (FKZ: 01DM19008A) and ​"FC-CAT" (FKZ: 03SF0579B). This par­tic­u­larly enabled intens­ive tech­nic­al col­lab­or­a­tion with the ​"hydro­gen hub" Van­couver. Two strong investors have now been acquired for the spin-off, who are not only con­trib­ut­ing the fin­an­cial resources: ​"Through our investors, we have valu­able access to industry know-how and busi­ness devel­op­ment sup­port in addi­tion to sub­stan­tial fin­an­cing in the mid-single-digit mil­lion range," says Lisa Langer.

ionys­is is the eighth spin-off from the envir­on­ment of Prof. Dr. Roland Zengerle, a Hahn-Schick­ard insti­tute dir­ect­or and hold­er of the pro­fess­or­ship for MEMS applic­a­tions at the Depart­ment of Microsys­tems Engin­eer­ing at the Uni­ver­sity of Freiburg. These spin-offs have since cre­ated about 335 high-tech jobs in Freiburg. The first spin-off from the field of ​"Elec­tro­chem­ic­al Energy Sys­tems" expands this start-up net­work now from life sci­ences to energy and sus­tain­ab­il­ity. With Dr. Mat­thi­as Breit­wieser­'s change to the man­age­ment of ionys­is, Dr. Car­olin Klose takes over the co-man­age­ment of the Hahn-Schick­ard divi­sion with Dr. Sever­in Vier­rath: ​"I am very much look­ing for­ward to my new role and to devel­op­ing the group fur­ther. ionys­is is a great motiv­a­tion for our work and offers an excel­lent per­spect­ive for fur­ther syn­er­gies and col­lab­or­a­tions in the future."
Source