News
Södra first in the world with fossil-free biomethanol
20.02.2020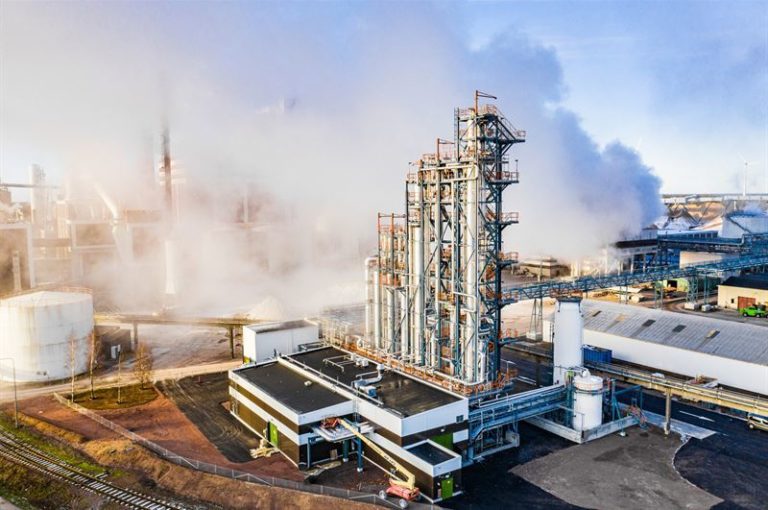 Södra decided to invest in a bio­meth­an­ol pro­duc­tion facil­ity in

2017

. This ini­ti­at­ive shows that Södra is work­ing towards a cir­cu­lar eco­nomy, resource-effi­ciency and being fossil-fuel free. ​

"

It is with pride that we have now star­ted up the first com­mer­cial plant in the world for bio­meth­an­ol. The trans­ition to a bioeconomy means that all raw mater­i­als must be used effi­ciently. Bio­meth­an­ol is pro­duced from the crude meth­an­ol recovered from the man­u­fac­tur­ing pro­cess at Södra's pulp mills. It is part of the cir­cu­lar pro­cess that already exists in Södra's mills, in which all parts of forest products are used for the best pos­sible effect. With this step, we are show­ing the way to a fossil-free soci­ety, and it is fully in line with our own strategy for fossil-free trans­port­a­tion by

2030

," said Hen­rik Brod­in, Stra­tegic Busi­ness Devel­op­ment Man­ager at Södra.
The invest­ment is also broad­en­ing Södra's product port­fo­lio with a new bioproduct.
​

"

More and more people are real­ising why we need to switch to fossil-free altern­at­ives. That's why it feels so great that we can bring bio­meth­an­ol to the mar­ket as a sub­sti­tute for fossil meth­an­ol in the trans­port sec­tor as well as a chem­ic­al base. Demand for bio-based products is favour­able and we have long exper­i­ence in deliv­er­ing oth­er bioproducts to the fuel and chem­ic­al indus­tries. As we now con­tin­ue to build on that, it feels par­tic­u­larly grat­i­fy­ing to have made a first pilot deliv­ery to our cus­tom­er Emmelev A/S. We are now look­ing for­ward to con­tinu­ing the devel­op­ment of the product togeth­er with our cus­tom­ers," said Vikt­or Oden­brink, Sales Man­ager at Södra Cell Bioproducts. Emmelev A/S is a Dan­ish fam­ily-owned agri­cul­tur­al com­pany that has developed large-scale biod­ies­el pro­duc­tion from loc­al can­ola, but uses fossil meth­an­ol as a raw mater­i­al in pro­duc­tion. ​

"

Biod­ies­el will play a key role in the trans­ition to a fossil-free Den­mark and we are very happy that Swedish bio­meth­an­ol will now be used in pro­duc­tion. Our biod­ies­el will be

100

% renew­able and based on loc­ally sourced raw mater­i­als. Biod­ies­el pro­duced from Dan­ish can­ola and Swedish forests can secure fuel sup­plies for heavy road trans­port, as well as buses and con­struc­tion machinery. This will be cru­cial for a trans­form­a­tion of the energy sec­tor. We emphas­ise loc­al and region­al pro­duc­tion and con­sider Sweden part of our loc­al area, and we have good rela­tion­ships with Swedish com­pan­ies. It there­fore feels nat­ur­al to be enter­ing into an agree­ment with Södra," said Morten Simon­sen, co-own­er of Emmelev A/S. Source: Södra, Press release,

20

.

02

.

2020