News
EUR

20

mil­lion in Series A for

INERATEC
25.01.2022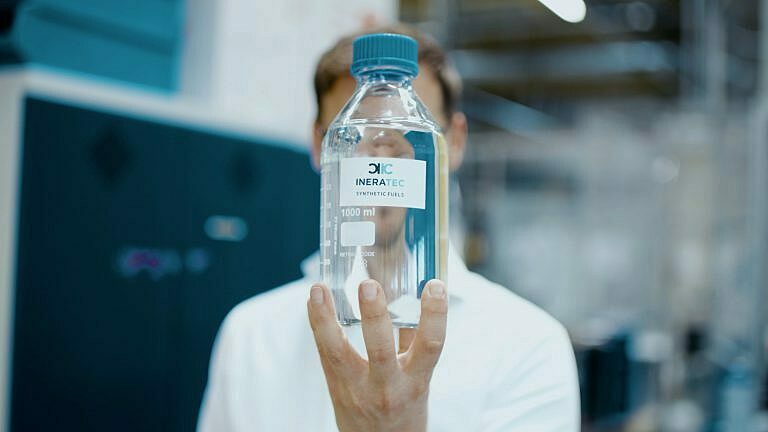 INER­ATEC wins stra­tegic investors to increase pro­duc­tion capa­cit­ies for syn­thet­ic fuels from CO2 and green hydro­gen into the mega­ton range. With the new share­hold­ers from the energy, avi­ation and ship­ping indus­tries, INER­ATEC cre­ates the frame­work for sig­ni­fic­ant cor­por­ate growth.

INER­ATEC has already opened the world's largest pilot plant for the pro­duc­tion of sus­tain­able e‑kerosene in Ems­land, Lower Sax­ony, in 2021. Now the com­pany is plan­ning an indus­tri­al pion­eer­ing plant for the pro­duc­tion of sus­tain­able syn­thet­ic fuels near Frank­furt Air­port from 2022. Up to 4.6 mil­lion liters of INER­ATEC e‑Fuels will be pro­duced annu­ally from up to 10,000 tons of bio­gen­ic CO2 and renew­able elec­tri­city. The com­pany will fur­ther expand its lead­ing pos­i­tion in the field of power-to-liquid.

INER­ATEC is mak­ing a sig­ni­fic­ant con­tri­bu­tion to achiev­ing the Par­is cli­mate tar­gets by offer­ing a sus­tain­able solu­tion for the avi­ation, ship­ping, auto­mot­ive and chem­ic­al indus­tries. With sus­tain­able e‑Fuels, these sec­tors can be defos­sil­ized. To turn this vis­ion into real­ity, there needs to be more rap­id expan­sion of pro­duc­tion capa­city for CO2-neut­ral fuels and chemicals.

United by the mis­sion to meet cli­mate targets
With Engie, Safran and MPC, INER­ATEC wel­comes stra­tegic part­ners from industry to com­ple­ment the exist­ing investor port­fo­lio con­sist­ing of Extan­tia, Plan­et A, High-Tech Gründer­fonds, FO Hold­ing and the Karls­ruhe Insti­tute of Tech­no­logy. All part­ners are united by the mis­sion to achieve cli­mate goals. ​"This is a tre­mend­ous boost for our com­pany. We will provide sus­tain­able, afford­able e‑fuels and mater­i­als for every­one," said CEO and INER­ATEC founder Dr.-Ing. Tim Böltken.

​"Safran is focused on this import­ant area to make avi­ation car­bon neut­ral by 2050. INER­ATEC's lead­ing-edge tech­no­lo­gies will strengthen the tech­nic­al expert­ise needed to devel­op a cer­ti­fied pro­cess for avi­ation," said Eric Dal­biès, seni­or exec­ut­ive vice pres­id­ent, strategy, tech­no­logy and innov­a­tion at Safran. Safran's invest­ment demon­strates the com­pany's broad com­mit­ment to accel­er­at­ing the devel­op­ment of sus­tain­able avi­ation fuel pro­duc­tion capa­city.

​"We are proud to invest in a start-up that com­bines innov­a­tion with the goal of accel­er­at­ing the trans­ition to car­bon-free avi­ation. Hydro­gen and e‑fuels will play a key role in the decar­bon­iz­a­tion of heavy mobil­ity, such as ship­ping, rail and avi­ation," added Olivi­er Sala, Engie Vice-Pres­id­ent, Research and Innov­a­tion. ​"This invest­ment will sup­port Engie's ambi­tious strategy to pro­duce 4 GW of green hydro­gen by 2030."

Jan Chris­toph Gras, Part­ner at Plan­et A Ven­tures, announces, ​"The exist­ing investors are pleased to fur­ther invest in INER­ATEC and sup­port the com­pany on its path to defos­sil­ize key indus­tries. The new investors bring the neces­sary expert­ise and inter­na­tion­al struc­tures to INER­ATEC to build a true glob­al play­er in sus­tain­able eFuels."

​"The way is paved for syn­thet­ic fuels in the avi­ation industry. With this new invest­ment round, INER­ATEC will con­sol­id­ate its lead­ing pos­i­tion in this import­ant seg­ment to be decar­bon­ized," said Sebasti­an Heit­mann, part­ner and co-founder of Extantia.

Source