News
Enzymes in cage
03.03.2022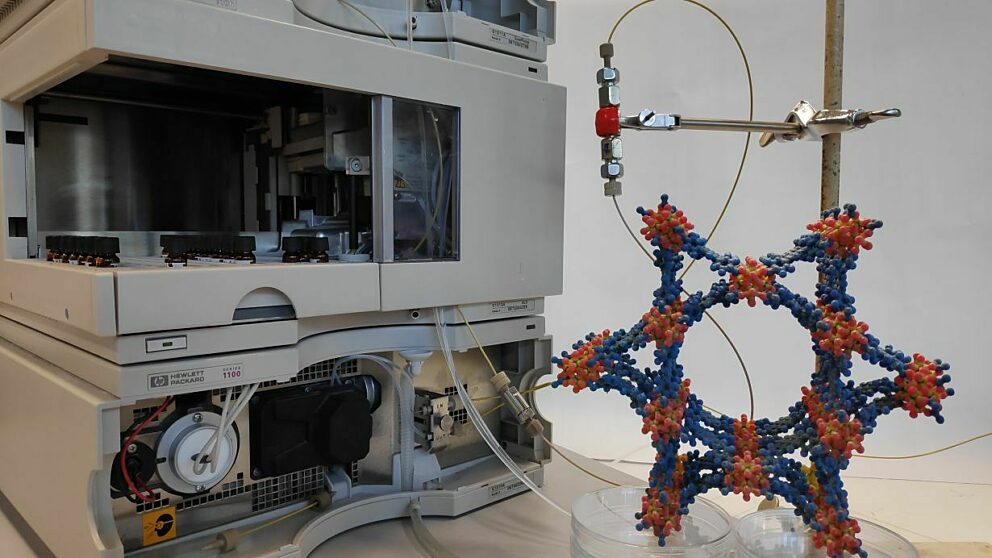 As biocata­lysts, enzymes accel­er­ate many chem­ic­al reac­tions. Research­ers at the Karls­ruhe Insti­tute of Tech­no­logy (KIT) have now incor­por­ated enzymes into met­al-organ­ic cages (MOFs). They then demon­strated for the first time that the sta­bil­iz­a­tion provided by these frame­work struc­tures is even suf­fi­cient for use of the enzymes in a con­tinu­ously oper­ated react­or. Also new: The enzymes embed­ded in MOFs can be used not only in aqueous solvents, but also in organ­ic solvents. The research­ers report in the journ­al ​"Ange­wandte Chemie".


They are con­sidered to be true mul­ti­func­tion­al tal­ents: as cata­lysts, enzymes accel­er­ate many chem­ic­al reac­tions. In organ­isms, they are involved in vital pro­cesses. In tech­no­logy and industry, they are tools of white bio­tech­no­logy that help save energy and con­serve resources. Enzymes in deter­gents, for example, dis­solve dirt at low tem­per­at­ures. Enzymes are also used in envir­on­ment­al tech­no­logy, food pro­cessing, drug pro­duc­tion, med­ic­al dia­gnostics and many oth­er areas.


Enzymes are mostly pro­teins. In order to exploit the poten­tial of these giant molecules out­side bio­lo­gic­al con­texts in so-called cell-free bio­tech­no­logy, they must be sta­bil­ized and integ­rated into effi­cient react­or sys­tems. This chal­lenge, which is cent­ral to white bio­tech­no­logy, has already been over­come in many cases in aqueous solvents. In organ­ic solvents, on the oth­er hand, destabil­iz­a­tion or denat­ur­a­tion often occurs — the cata­lyt­ic prop­er­ties are lost.

Research­ers at the Insti­tut für Funk­tion­elle Gren­zflächen (

IFG

), at the Insti­tute of Nan­o­tech­no­logy and the Insti­tute of Bio­lo­gic­al Inter­faces

1

 — Bio­molecu­lar Micro- and Nano­struc­tures of

KIT

have now suc­ceeded in sta­bil­iz­ing enzymes in such a way that they can be used in both aqueous and organ­ic solvents. Thus, they were able to demon­strate for the first time a con­tinu­ous enzyme react­or sys­tem with high pro­ductiv­ity and sta­bil­ity. The sci­ent­ists report on this in the journ­al ​

"

Ange­wandte Chemie".



MOFs sim­pli­fy sep­ar­a­tion of cata­lysts and products

The innov­at­ive react­or sys­tem is based on met­al-organ­ic frame­works (MOFs). These are frame­works con­sist­ing of metal­lic nodes and organ­ic con­nect­ing struts, which are char­ac­ter­ized by crys­tal­line struc­tures and defined pore sizes. Through dif­fer­ent com­bin­a­tions of met­al build­ing blocks and organ­ic lig­ands as well as vari­ations in pore size, MOFs can be tailored for very dif­fer­ent applic­a­tions. When used cell-free with enzymes, they act like cages. ​"We get the enzymes to dif­fuse indi­vidu­ally into the pores of the MOFs, that is, to slip into the cage vol­un­tar­ily, so to speak," explains Pro­fess­or Chris­tof Wöll, head of the IFG. ​"The MOFs act as armor, pro­tect­ing these sens­it­ive bio­molecules and pre­vent­ing denat­ur­a­tion." Thanks to the poros­ity of MOFs, the trans­port of react­ants, the sub­stances con­sumed dur­ing chem­ic­al reac­tions, and products formed in the pro­cess can be bet­ter con­trolled. In addi­tion, MOFs sim­pli­fy the labor­i­ous sep­ar­a­tion of cata­lyst and products, as explained by Pro­fess­or Mat­thi­as Fran­zreb, deputy dir­ect­or of the IFG and co-author of the study.


The Karls­ruhe research­ers demon­strated the time- and cost-effi­cient fab­ric­a­tion of an enzyme

MOF

flow react­or. In this pro­cess, the sta­bil­ity of the immob­il­ized enzyme was about

30

times high­er than that of the free enzyme. The cata­lyt­ic activ­ity was about

30

per­cent com­pared to the free enzyme — quite a high value con­sid­er­ing the deform­a­tion of the enzyme embed­ded in the

MOF

pores. The study was con­duc­ted in the con­text of the Cluster of Excel­lence ​

"

3

D Mat­ter Made to Order" of

KIT

and Heidel­berg Uni­ver­sity and the Helm­holtz pro­gram ​

"

Mater­i­als Sys­tems Engin­eer­ing". In fur­ther work on the top­ic, it is planned to use com­puter-based meth­ods to modi­fy the MOFs in such a way that deform­a­tion through the pores does not lead to a reduc­tion but to an increase in activ­ity.

As ​

"

The Research Uni­ver­sity in the Helm­holtz Asso­ci­ation",

KIT

cre­ates and com­mu­nic­ates know­ledge for soci­ety and the envir­on­ment. Its goal is to make sig­ni­fic­ant con­tri­bu­tions to glob­al chal­lenges in the fields of energy, mobil­ity, and inform­a­tion. To this end, about

9

,

800

employ­ees cooper­ate on a broad dis­cip­lin­ary basis in nat­ur­al sci­ences, engin­eer­ing, eco­nom­ics, and human­it­ies and social sci­ences.

KIT

pre­pares its

22

,

300

stu­dents for respons­ible tasks in soci­ety, industry, and sci­ence through research-ori­ented uni­ver­sity stud­ies. KIT's innov­at­ive activ­it­ies bridge the gap between know­ledge and applic­a­tion for the bene­fit of soci­ety, eco­nom­ic prosper­ity, and the pre­ser­va­tion of our nat­ur­al resources.

KIT

is one of the Ger­man uni­ver­sit­ies of excellence.



Source
Ori­gin­al pub­lic­a­tion (Open Access):
Raphael Gre­ifen­stein, Tim Ball­weg, Tawheed Hashem, Eric Got­twald, Dav­id Achauer, Frank Kirsch­höfer, Michael Nusser, Ger­ald Bren­ner-Weiß, Ela­heh Sedgham­iz, Wolfgang Wen­zel, Esth­er Mittmann, Ker­sten S. Rabe, Chris­tof M. Niemey­er, Mat­thi­as Fran­zreb, Chris­tof Wöll: MOF-hos­ted enzymes for con­tinu­ous flow cata­lys­is in aqueous and organ­ic solvents. Ange­wandte Chemie, Inter­na­tion­al Edi­tion. 2022. DOI: 10.1002/anie.202117144
https://​onlinelib​rary​.wiley​.com/​d​o​i​/​1​0​.​1​0​0​2​/​a​n​i​e​.​2​0​2​1​17144