News
A fairy-like robot flies by the power of wind and light
31.01.2023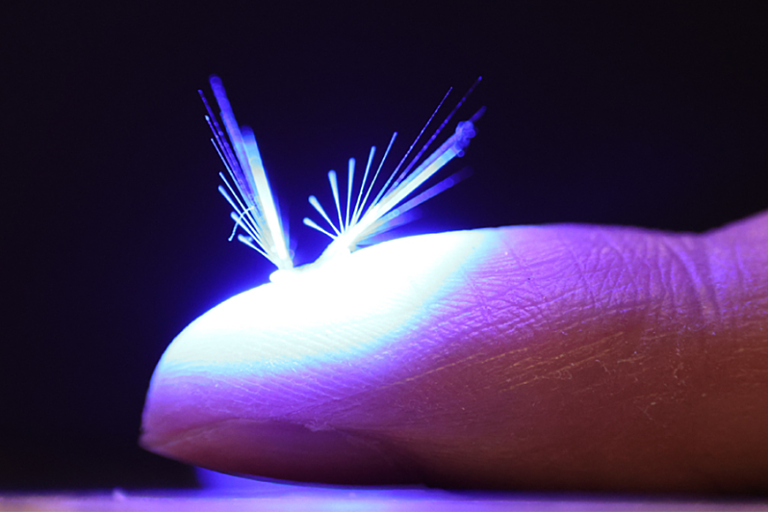 The devel­op­ment of stim­uli-respons­ive poly­mers has brought about a wealth of mater­i­al-related oppor­tun­it­ies for next-gen­er­a­tion small-scale, wire­lessly con­trolled soft-bod­ied robots. For some time now, engin­eers have known how to use these mater­i­als to make small robots that can walk, swim and jump. So far, no one has been able to make them fly.
Research­ers of the Light Robots group at Tampere Uni­ver­sity are now research­ing how to make smart mater­i­al fly. Hao Zeng, Academy Research Fel­low and the group lead­er, and Jian­feng Yang, a doc­tor­al research­er, have come up with a new design for their pro­ject called FAIRY – Fly­ing Aero-robots based on Light Respons­ive Mater­i­als Assembly. They have developed a poly­mer-assembly robot that flies by wind and is con­trolled by light.
"Super­i­or to its nat­ur­al coun­ter­parts, this arti­fi­cial seed is equipped with a soft actu­at­or. The actu­at­or is made of light-respons­ive liquid crys­tal­line elast­omer, which induces open­ing or clos­ing actions of the bristles upon vis­ible light excit­a­tion," explains Hao Zeng.


The arti­fi­cial fairy is con­trolled by light
The arti­fi­cial fairy developed by Zeng and Yang has sev­er­al bio­mi­met­ic fea­tures. Because of its high poros­ity (0.95) and light­weight (1.2 mg) struc­ture, it can eas­ily float in the air dir­ec­ted by the wind. What is more, a stable sep­ar­ated vor­tex ring gen­er­a­tion enables long-dis­tance wind-assisted travelling.
"The fairy can be powered and con­trolled by a light source, such as a laser beam or LED," Zeng says.
This means that light can be used to change the shape of the tiny dan­deli­on seed-like struc­ture. The fairy can adapt manu­ally to wind dir­ec­tion and force by chan­ging its shape. A light beam can also be used to con­trol the take-off and land­ing actions of this poly­mer assembly.


Poten­tial applic­a­tion oppor­tun­it­ies in agriculture
Next, the research­ers will focus on improv­ing the mater­i­al sens­it­iv­ity to enable the oper­a­tion of the device in sun­light. In addi­tion, they will up-scale the struc­ture so that it can carry micro-elec­tron­ic devices such as GPS and sensors as well as bio­chem­ic­al compounds.
Accord­ing to Zeng, there is poten­tial for even more sig­ni­fic­ant applications.
"It sounds like sci­ence fic­tion, but the proof-of-concept exper­i­ments included in our research show that the robot we have developed provides an import­ant step towards real­ist­ic applic­a­tions suit­able for arti­fi­cial pol­lin­a­tion," he reveals.
In the future, mil­lions of arti­fi­cial dan­deli­on seeds car­ry­ing pol­len could be dis­persed freely by nat­ur­al winds and then steered by light toward spe­cif­ic areas with trees await­ing pollination.
"This would have a huge impact on agri­cul­ture glob­ally since the loss of pol­lin­at­ors due to glob­al warm­ing has become a ser­i­ous threat to biod­iversity and food pro­duc­tion," Zeng says.

Many ques­tions remain to be answered
How­ever, many prob­lems need to be solved first. For example, how to con­trol the land­ing spot in a pre­cise way? How to reuse the devices and make them bio­de­grad­able? These issues require close col­lab­or­a­tion with mater­i­als sci­ent­ists and people work­ing on microrobotics.
The FAIRY pro­ject star­ted in Septem­ber 2021 and will last until August 2026. It is fun­ded by the Academy of Fin­land. The fly­ing robot is researched in cooper­a­tion with Dr. Wen­qi Hu from Max Planck Insti­tute for Intel­li­gent Sys­tems (Ger­many) and Dr. Hang Zhang from Aalto University.