News
Dan­deli­on rubber
23.11.2021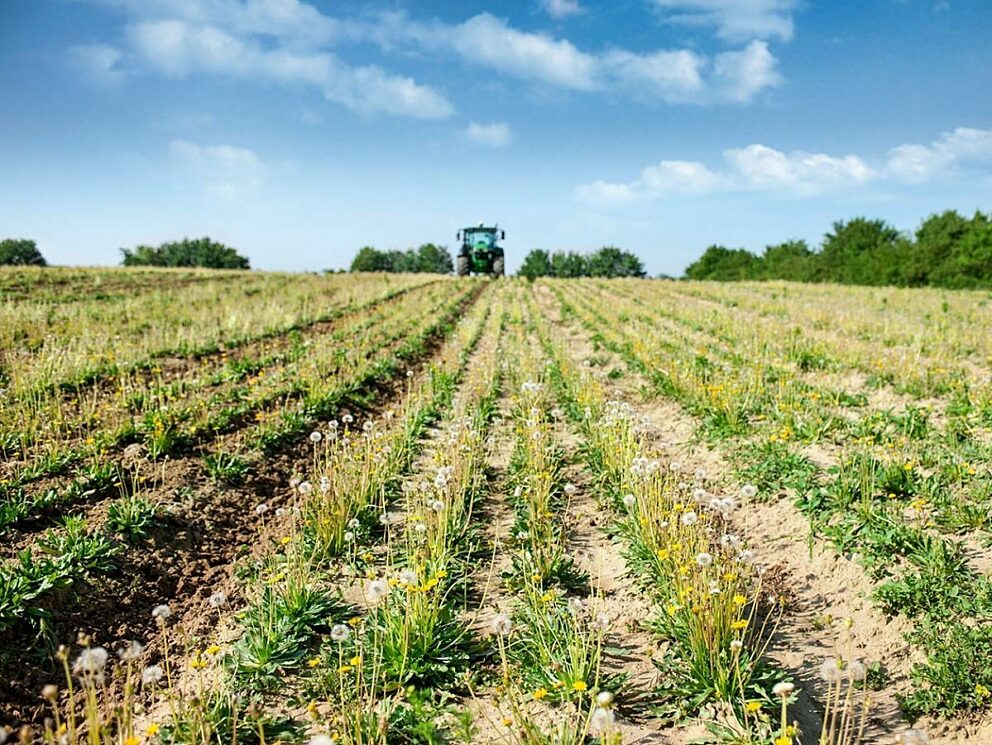 The idea is not really new. In fact, it is almost 100 years old and dates back to a time when there was no syn­thet­ic rub­ber. Back then, Stal­in tasked Rus­si­an bot­an­ists with find­ing a plant that also pro­duced rub­ber. In what is now Kaza­kh­stan, in the Tian Shan Moun­tains, the research­ers finally found the Rus­si­an dan­deli­on. The plant looks quite sim­il­ar to the dan­deli­on nat­ive here, but pro­duces much lar­ger amounts of rub­ber in its roots.
So far, there is a lot to be said for grow­ing Rus­si­an dan­deli­on (Tarax­acum kok­saghyz) in our lat­it­udes as well. ​"Unlike the rub­ber tree, Rus­si­an dan­deli­on copes excel­lently with the con­di­tions of our tem­per­ate cli­mate, con­tains appre­ciable amounts of rub­ber in its milky sap, requires no addi­tion­al fer­til­iz­a­tion, and is ready for har­vest­ing with­in a year after sow­ing," says Katja Thiele of the Juli­us Kühn Institute.
The JKI is research­ing the eco­nom­ic poten­tial of the Rus­si­an dan­deli­on in a col­lab­or­a­tion with Con­tin­ent­al Reifen Deutsch­land GmbH and the Fraunhofer Insti­tute for Molecu­lar Bio­logy and Applied Eco­logy. They have already developed tires made from dan­deli­on rub­ber in the Taraxagum Lab in Ank­lam. They have also been nom­in­ated for the Ger­man Future Prize in 2021.
In 2012, the research­ers already held the first grams of the brown dan­deli­on rub­ber in their hands, in 2014 the first pro­to­types of a pas­sen­ger car tire were pro­duced in Aachen, and in 2016 the first truck tire with treads made of dan­deli­on rub­ber. The new tires have passed extens­ive road and bench tests. The dan­deli­on rub­ber has the same qual­ity and can replace the pre­vi­ous nat­ur­al rub­ber from the rub­ber trees in the trop­ics one-to-one. This has led to a high-pres­sure switch in pro­duc­tion. In 2018, the com­pany intro­duced tires with rub­ber from region­al cul­tiv­a­tion for the first time.



Because of their high mech­an­ic­al load, car tires today are high-per­form­ance tires. They must be elast­ic, res­ist­ant to trac­tion and flex­ible at low tem­per­at­ures. Require­ments that until now only nat­ur­al rub­ber has met. In order to pro­duce its 150 mil­lion tires per year, the world's fourth-largest tire man­u­fac­turer, Con­tin­ent­al AG in Han­over, Ger­many, needs many mil­lions of tons of nat­ur­al rub­ber every year. And one ton of nat­ur­al rub­ber requires one hec­tare of cul­tiv­ated land.
At present, rub­ber is obtained exclus­ively from the sap of the rub­ber tree. The sap, also called latex, con­tains 25 to 30 per­cent rub­ber. Ten years after plant­ing, the tree can be har­ves­ted for the first time. Rub­ber trees only grow in the trop­ics or sub­trop­ics, where valu­able rain­forests are being turned into mono­cul­tures because the West has cheap plant-based raw mater­i­als such as palm oil, soy or rub­ber pro­duced there. This not only means that a pain­ful decline in biod­iversity is being accep­ted, since 50 per­cent of all known spe­cies are at home in these primev­al forests. Cur­rent cli­mate change is also being fueled by the clear­ing of vir­gin forests, so there are numer­ous argu­ments in favor of sup­ple­ment­ing rub­ber pro­duc­tion in the long term with the help of the weed dan­deli­on. In the future, the yield per hec­tare could well keep pace with rub­ber tree plant­a­tions in the trop­ics and subtropics.
Source