News
Bay­er to Invest
EUR

220

Mil­lion in New R

&

D Facil­ity at its Mon­heim Site
04.09.2023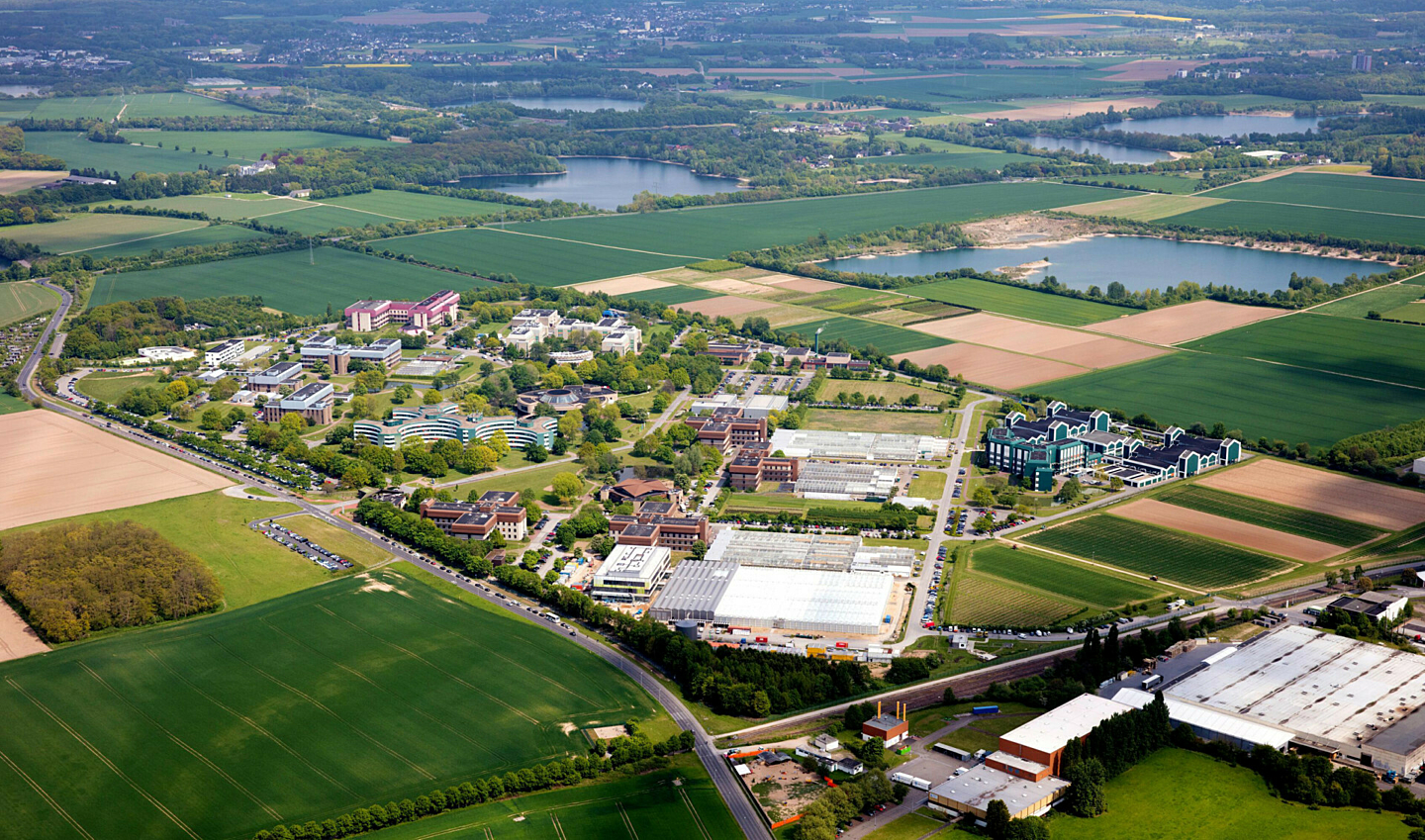 "Look­ing into the future, we must rad­ic­ally trans­form today's farm­ing sys­tems and switch to regen­er­at­ive agri­cul­ture prac­tices that pro­duce more with less, while restor­ing more. There is a high demand for push­ing bey­ond estab­lished stand­ards in safety to unlock break­through innov­a­tion and Crop Pro­tec­tion solu­tions with bet­ter envir­on­ment­al pro­files," said Dr. Robert Reit­er, Head of R&D at Bayer's Crop Sci­ence Divi­sion. ​"The live­li­hoods of farm­ers and the com­munit­ies they serve around the world are in no small meas­ure depend­ent on the accept­ance of our products by con­sumers, law­makers, and reg­u­lat­ors around the world. We are con­vinced that with this sig­ni­fic­ant invest­ment we are not only help­ing to accel­er­ate the devel­op­ment of the next gen­er­a­tion of Crop Pro­tec­tion but also under­scor­ing our deep com­mit­ment to trans­par­ency and dialog."
The invest­ment is also a clear com­mit­ment to Europe as a base of oper­a­tions as well as one import­ant corner­stone of Bayer's Future Concept for Ger­many. ​"Even in times of eco­nom­ic uncer­tainty, we are laser-focused on innov­a­tion and future tech­no­lo­gies," Dirk Back­haus, Head of Product Sup­ply at Crop Sci­ence, poin­ted out. ​"We have a long track record of invest­ing into research, devel­op­ment, and pro­duc­tion of safe chem­ic­al products for agri­cul­ture, and we're eager to lever­age our world class expert­ise in Ger­many to shape the future of regen­er­at­ive agri­cul­ture here and around the world. The new facil­ity at our Mon­heim site is a shin­ing example of pre­cisely that: Invest­ments in future tech­no­lo­gies, mod­ern facil­it­ies, and, most import­antly, our people." Over the past three years, Bay­er has inves­ted EUR 180 mil­lion at its Dormagen site, with a focus on expand­ing pro­duc­tion capa­cit­ies for mod­ern Crop Protection.
Sci­ence-based innov­a­tion is key to a sus­tain­able and highly pro­duct­ive agri­cul­ture sys­tem that is able to feed an ever-increas­ing world pop­u­la­tion. Crop Pro­tec­tion safe­guards around 30 per­cent of yields world­wide. That's the equi­val­ent of food for more than 2 bil­lion people and lim­its fur­ther land use change from nat­ur­al hab­it­ats. The oppor­tun­ity to invent bet­ter, cli­mate neut­ral and envir­on­ment­ally benign Crop Pro­tec­tion products is huge and aims to strengthen Bayer's glob­al com­pet­it­ive­ness. As such, this invest­ment also reflects Bay­er­'s com­mit­ment to the innov­at­ive capa­city of Ger­many and Europe. The anti­cip­ated con­struc­tion peri­od of the new Mon­heim facil­ity will be around 3 years. Full com­mis­sion­ing is planned for 2026.
Envir­on­ment­al pro­tec­tion trans­forms estab­lished safety assessments
In Europe as well as in oth­er regions, strict policy and reg­u­lat­ory frame­works ensure that plant pro­tec­tion products are safe, when used in accord­ance with the label instruc­tions, and that they have no unac­cept­able effects on the envir­on­ment. ​"To sup­port the safety of our products, we address all con­cerns of reg­u­lat­ors using high-qual­ity meta­bol­ism, human and envir­on­ment­al data pack­ages for thor­ough risk assess­ments," Dr. Axel Traut­wein, Head of Reg­u­lat­ory Sci­ence at Crop Sci­ence, poin­ted out. ​"The new build­ing will allow tests and stud­ies to be con­duc­ted accord­ing to reg­u­lat­ory stand­ards and under more real­ist­ic con­di­tions sim­il­ar to those in nature."

In addi­tion to residue ana­lyt­ics and meta­bol­ism stud­ies in tar­get crops, rota­tion­al crops and live­stock for human safety, the key focus area will be on envir­on­ment­al safety. This includes expos­ure stud­ies in dif­fer­ent envir­on­ment­al com­part­ments as well as safety stud­ies on non-tar­get organ­isms such as aquat­ic and soil organ­isms, wild birds and mam­mals, and pol­lin­at­ors like honey bees and bumble bees to gen­er­ate a hol­ist­ic under­stand­ing of envir­on­ment­al expos­ure and effects of Crop Pro­tec­tion products. In addi­tion, the flex­ible lab design enables future adjust­ments to the dynam­ic glob­al reg­u­lat­ory landscape.
Arti­fi­cial Intel­li­gence helps Bay­er design the next gen­er­a­tion of Crop Protection
The new R&D facil­it­ies will be an import­ant corner­stone of Bayer's new innov­a­tion approach for Crop Pro­tec­tion. Already today, Bayer's product port­fo­lio ranks very well in terms of envir­on­ment­al impact. But the com­pany is strongly com­mit­ted to redu­cing it even fur­ther and push­ing bey­ond estab­lished standards.
"With our new dis­rupt­ive innov­a­tion approach – what we call Crop­Key – we are now design­ing molecules instead of select­ing them," said Rachel Rama, Head of Small Molecules at Crop Sci­ence. ​"This is based on a dis­cov­ery concept which allows us to cre­ate solu­tions based on the pre­defined safety and sus­tain­ab­il­ity pro­files that go above and bey­ond cur­rent stand­ards." Data sci­ence, early safety screen­ings, mod­el­ing and arti­fi­cial intel­li­gence are cru­cial ele­ments that enable our top sci­ent­ists to cre­ate the next gen­er­a­tion of Crop Pro­tec­tion, tak­ing advant­age of massive amounts of data and machine learn­ing and set­ting a new bench­mark. ​"With our invest­ment in Mon­heim, we are now build­ing a new data power­house in a high-tech work envir­on­ment that will be highly attract­ive for our research­ers and future top tal­ents."

The new innov­a­tion approach to Crop Pro­tec­tion is also clearly aligned with Bayer's sus­tain­ab­il­ity com­mit­ment to reduce the envir­on­ment­al impact of Crop Pro­tec­tion products by 30% by 2030.
Source