News
AMSilk Announces Exten­sion of Series C Fin­an­cing to
EUR
54

M
10.04.2023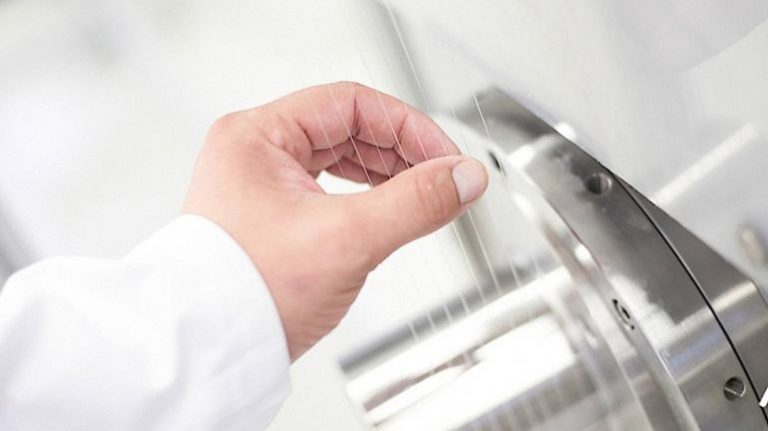 AMSilk GmbH ("AMSilk"), the world's first indus­tri­al sup­pli­er of bio-fab­ric­ated silk pro­tein mater­i­als, today announced it has suc­cess­fully raised an addi­tion­al EUR 25 mil­lion in an exten­ded Series C fin­an­cing led by exist­ing investor ATHOS (AT New­tec) with par­ti­cip­a­tion from Novo Hold­ings, Car­gill, and MIG Capital.
AMSilk's out­stand­ing tech­no­logy plat­form, based on silk pro­teins, pro­duces bio-fab­ric­ated mater­i­als that can be util­ized across a vari­ety of applic­a­tions such as tex­tile fibers, med­ic­al devices and con­sumer goods.
Pro­ceeds from the fin­an­cing will enable AMSilk to accel­er­ate the ongo­ing scale-up of its indus­tri­al­iz­a­tion and com­mer­cial­iz­a­tion pro­jects world­wide, to meet the ever-increas­ing demand for AMSilk's innov­at­ive materials.
AMSilk's unique bio-fab­ric­a­tion repro­grams microor­gan­isms to enable them to pro­duce silk pro­teins into usable forms such as powders, hydro­gels, fibers, and coat­ings. Coupled with its unique fer­ment­a­tion pro­cess, this allows the Com­pany to pro­duce com­plex pro­teins in large quant­it­ies for vari­ous mar­ket seg­ments includ­ing tex­tiles, med­ic­al use or con­sumer goods. AMSilk's bio-fab­ric­ated silk mater­i­als are 100% pro­tein, fully bio­de­grad­able and do not include any source of micro plastics.
Ulrich Scher­bel, Chief Exec­ut­ive Officer of AMSilk, says: ​"We are delighted to have closed this suc­cess­ful fin­an­cing round which val­id­ates our tech­no­logy and under­pins our ongo­ing devel­op­ment as we scale-up and expand our com­mer­cial oper­a­tions. We will invest in tech­no­logy to ensure that we con­tin­ue to provide innov­at­ive, attract­ive solu­tions to our cus­tom­ers, and improve the com­mer­cial sup­ply of our products to expand our business."
Dr Wolfgang Col­berg, Chair­man of the Advis­ory Board, adds: ​"This fun­drais­ing is a sig­ni­fic­ant step to accel­er­ate the upscal­ing of AMSilk. This will now cre­ate the cap­ab­il­it­ies to pro­duce in large volumes and meet the high demand growth from our cus­tom­ers, enabling them to cre­ate sus­tain­able products in har­mony with nature."
Daniel Kolb, Invest­ment Man­ager at ATHOS KG, states: ​"ATHOS has been invest­ing in revolu­tion­ary tech­no­lo­gies ever since. We are highly inter­ested in bio-mater­i­als, because of their proven abil­ity to change the world for the bet­ter. As one of the found­ing investors, we con­tin­ue to sup­port AMSilk in this import­ant step to scale up their pro­duc­tion. Their game-chan­ging products can have a real impact on the market."
Since the suc­cess­ful EUR 29 mil­lion fin­an­cing in 2021, the Com­pany has inves­ted in part­ner­ship agree­ments with world-lead­ing brands in the appar­el, med­ic­al and auto­mot­ive industry, and sup­ply con­tracts with lead­ers from the Biotech industry.
Source