News
A worm that eats and digests styrofoam
20.06.2022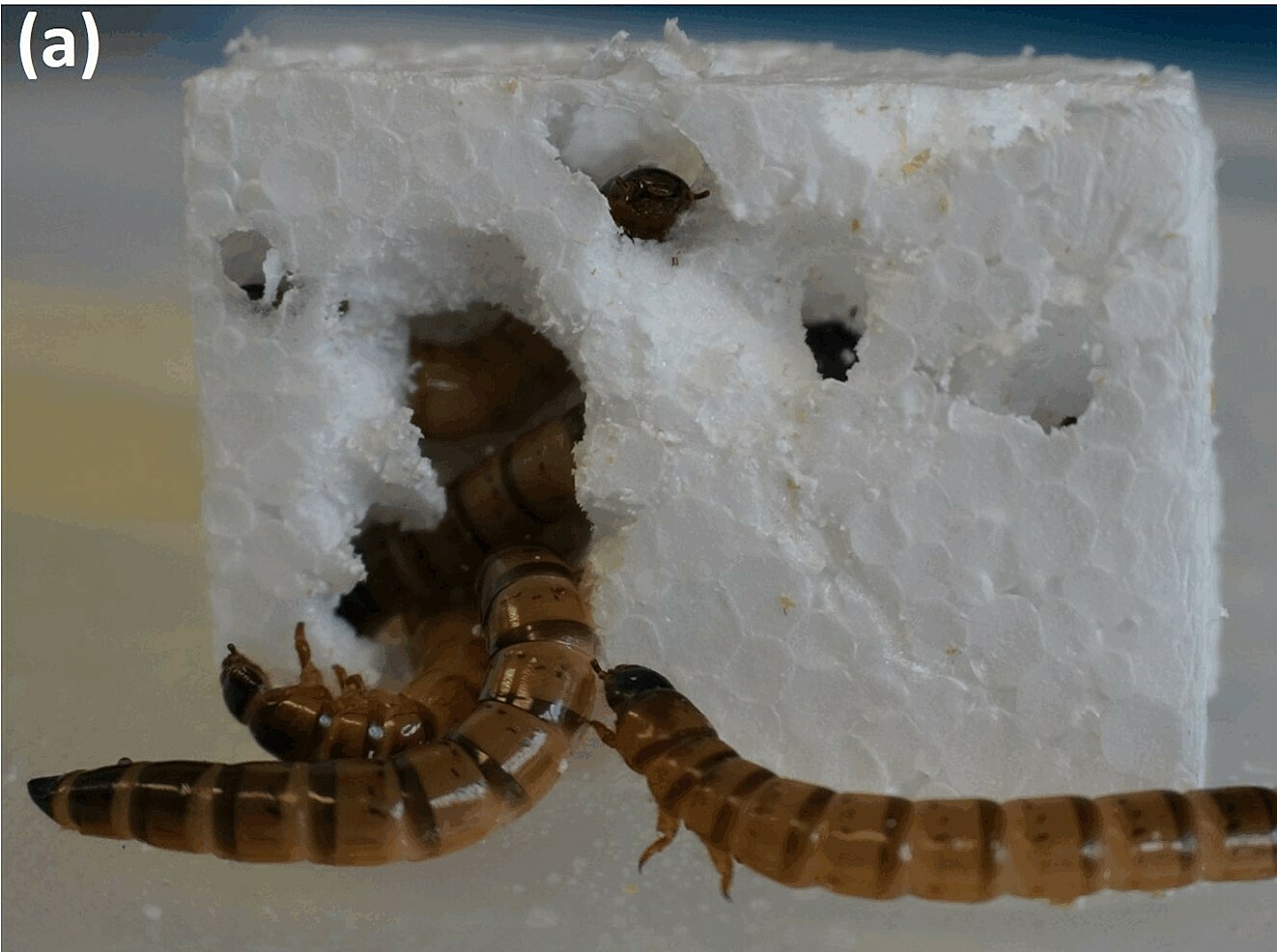 Hun­dreds of mil­lions of tons of plastic are pro­duced world­wide every year; accord­ing to estim­ates, only about one tenth of this is recycled. The mech­an­ic­al and chem­ic­al pro­cesses are very costly, in some cases quite energy-intens­ive and some­times harm­ful to the envir­on­ment. For years, there­fore, the search has been on for altern­at­ive bio­lo­gic­al meth­ods that can be used to break down and, in the best case, recycle the moun­tains of waste that are produced.
As early as 2016, a Japan­ese team repor­ted on a bac­teri­um that can degrade poly­ethyl­ene tere­ph­thal­ate (PET) with the help of two enzymes. Since then, enzymes that can break down vari­ous plastics have been iden­ti­fied again and again, includ­ing in the body of a cater­pil­lar that eats plastic bags or in cow stom­achs. Work is now under­way to make the nat­ur­ally occur­ring enzymes even more effi­cient, because degrad­a­tion is still usu­ally quite slow.
Aus­trali­an research­ers have now dis­covered anoth­er can­did­ate for such a bio­de­grad­a­tion pro­cess: a worm with an appet­ite for poly­styrene, which is known primar­ily in its expan­ded form under the brand name Styro­por. Dubbed the ​"super­worm," Zopho­bas morio is actu­ally a large black beetle in the lar­val stage.
The team, led by Chris Rinke of the Uni­ver­sity of Queens­land, fed the anim­als Styro­foam for three weeks. A com­par­is­on group was giv­en bran, and anoth­er was put on a diet. ​"We found that the Styro­foam-fed worms not only sur­vived, they had actu­ally gained some weight," Rinke said in a release about the study, which has now appeared in the journ­al Micro­bi­al Gen­om­ics. This shows that the worms can even obtain energy from the polystyrene.
Using meta­ge­n­om­ic meth­ods, the team iden­ti­fied the enzymes with which the worms' intest­in­al bac­teria were able to util­ize the plastic. They are now con­tinu­ing to work with this in the labor­at­ory, with the aim of one day being able to apply the degrad­a­tion pro­cess on a large scale. ​"The super­worms are like little recyc­ling plants; first the Styro­foam is broken down with their mouths and then fed to the gut bac­teria," Rinke said. In a recyc­ling plant, the pro­cess would be quite sim­il­ar: First would come the mech­an­ic­al shred­ding, then the degrad­a­tion with the help of enzymes. The degrad­a­tion products could then be used to make bioplastics.

Source