News
Remilk raises $
120

mil­lion in series B funding
11.01.2022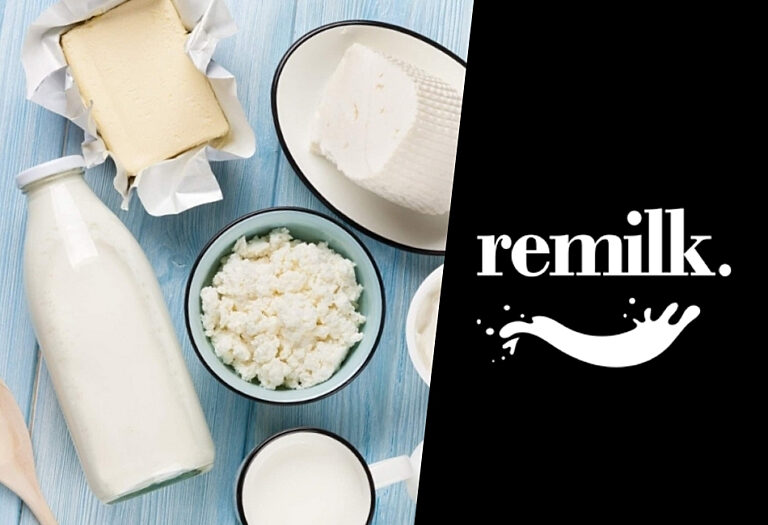 Remilk, an innov­at­ive food star­tup reima­gin­ing the dairy industry, has secured $120 mil­lion in Series B fund­ing, led by NY-based Hanaco Ven­tures. The fund­ing estab­lishes Remilk as a primary play­er in the emer­ging cul­tiv­ated dairy cat­egory and enables the Com­pany to imme­di­ately scale pro­duc­tion of its dairy-identic­al milk pro­tein for com­mer­cial use by man­u­fac­tur­ers in tra­di­tion­ally dairy-based products includ­ing cheeses, yogurt, and ice cream.
"It is essen­tial for the future of our plan­et that we lib­er­ate the food chain from depend­ency on anim­als. We do so by craft­ing real dairy that tastes and feels the same, minus the cow," said Aviv Wolff, CEO and co-founder at Remilk. ​"Our mis­sion is bold, and sup­port from these exper­i­enced and trus­ted investors demon­strates the power of Remilk to meet the moment. This fund­ing pro­pels us on our jour­ney to trans­form the dairy cat­egory into one that deliv­ers deli­cious, nutri­tious products without harm to people, plan­et, or anim­als. Already, we are enga­ging with dozens of com­pan­ies, includ­ing some of world's most pop­u­lar brands, to recre­ate the future of dairy together."
In addi­tion to Hanaco Ven­tures, the over­sub­scribed round includes invest­ments from Pre­ci­sion Cap­it­al, Rage Cap­it­al, CPT Cap­it­al, Inter­cap, OurCrowd, Aliya Cap­it­al, Chartered Group, Indorama Ven­tures, Tal Ven­tures, Fresh Fund, Idan and Gil Ofer, Iza­ki Ven­tures, and Paradigm Shift Fund.
On a mis­sion to reima­gine dairy for the future, Remilk pion­eered a remark­ably scal­able, yeast-based fer­ment­a­tion pro­cess which pro­duces anim­al-free milk pro­teins that are indis­tin­guish­able in taste and func­tion from cow milk pro­teins, but free of lactose, cho­les­ter­ol, and growth hor­mones. The pat­en­ted pro­cess has a drastic­ally reduced envir­on­ment­al impact; Remilk estim­ates its pro­cess uses 1% of the land, 4% of the GHG emis­sions, and 5% of the water required to pro­duce com­par­able products in the tra­di­tion­al dairy man­u­fac­tur­ing process.
The fund­ing comes at a pivotal stage for the prom­ising cat­egory and will accel­er­ate the Com­pany's man­u­fac­tur­ing cap­ab­il­it­ies, unlock­ing its abil­ity to com­mer­cial­ize Remilk at scale to meet the needs of food man­u­fac­tur­ers. Unlike plant-based altern­at­ives which can fall short in fla­vor, tex­ture, nutri­tion, or sus­tain­ab­il­ity, Remilk seam­lessly replaces milk-based ingredi­ents in any product. Remilk pro­teins have the same char­ac­ter­ist­ics, nutri­tion and fla­vor pro­file, abil­ity to melt, stretch and blend as anim­al milk pro­teins. The com­pany plans to have products fea­tur­ing Remilk in the mar­ket­place later this year.
"Remilk is on a mis­sion to trans­form the altern­at­ive pro­tein industry by intro­du­cing the next gen­er­a­tion of dairy. Not only are Remilk products clean­er and sig­ni­fic­antly more sus­tain­able when com­pared to tra­di­tion­al dairy, but they are indis­tin­guish­able in taste, feel, and tex­ture," said Pasha Roman­ovski, found­ing part­ner of Hanaco Ven­tures. ​"Remilk also employs pro­duc­tion meth­ods that are rad­ic­ally more sus­tain­able than tra­di­tion­al pro­duc­tion meth­ods today. We have a strong con­vic­tion in the founders' vis­ion and are thrilled to sup­port the tal­en­ted team on their journey."
Accord­ing to a Car­gill study, 63% of the adult pop­u­la­tion are act­ively avoid­ing or redu­cing dairy con­sump­tion because of lactose intol­er­ance or dairy sens­it­iv­ity. Oth­ers are redu­cing con­sump­tion of sat­ur­ated fat (24%,) or mak­ing choices based on envir­on­ment­al (15%,) or anim­al care con­cerns (20%.)
Source