News
Vir­gin­ia Tech research­ers con­duct proof-of-concept study on mos­quito scent preferences
16.05.2023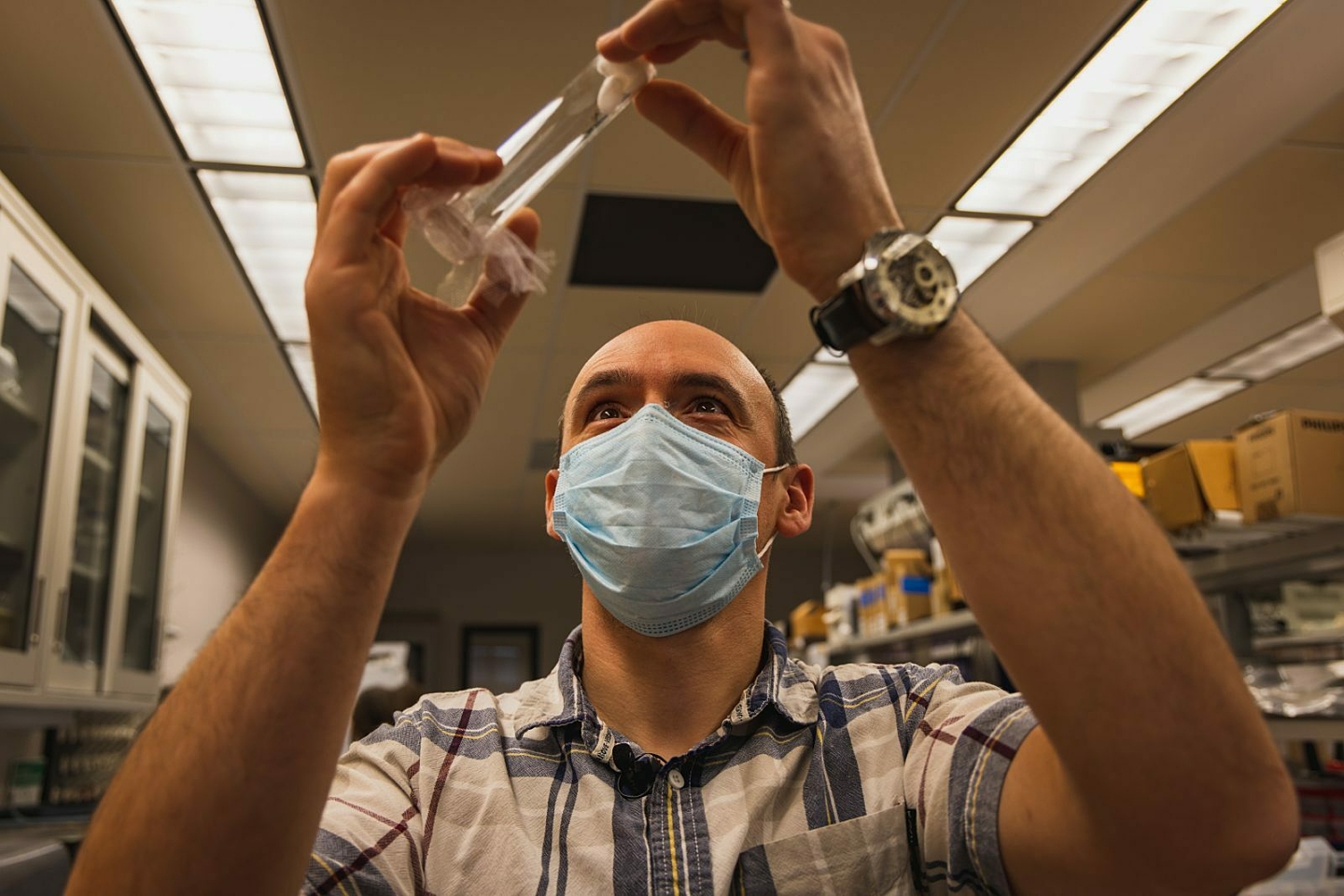 Humans smell. Each per­son has a unique body odor. People have been using products to alter their scent for gen­er­a­tions. From soaps to per­fumes, people grav­it­ate to flor­al and fruity smells. Wheth­er we think these smells are good or bad is of little con­sequence to mos­qui­toes, trans­mit­ters of dis­eases that kill hun­dreds of thou­sands of people each year. Addi­tion­ally, mos­qui­toes rely on plant nec­tar to get some sug­ars needed to sus­tain their meta­bol­ism in addi­tion to need­ing nutri­ents in the blood to pro­duce eggs. And humans with nutri­ents and a flor­al scent? That's two strikes. Des­pite these scents being right under humans' noses, the impact of soap smell on mos­quito pref­er­ence was largely ignored until Vir­gin­ia Tech research­ers in the Col­lege of Agri­cul­ture and Life Sci­ences asked the ques­tion. They found that cer­tain soaps could make people more or less attract­ive to mos­qui­toes. ​"Just by chan­ging soap scents, someone who already attracts mos­qui­toes at a high­er-than-aver­age rate could fur­ther amp­li­fy or decrease that attrac­tion," said Clé­ment Vin­auger, assist­ant pro­fess­or of bio­chem­istry and co-prin­cip­al invest­ig­at­or on the proof-of-concept study with col­lab­or­at­or Chloé Lahondère, also assist­ant pro­fess­or of bio­chem­istry. The research on mos­quito soap inter­ac­tions was pub­lished May 10 in iScience and was fun­ded in part by the U.S. Depart­ment of Agri­cul­ture and the Nation­al Insti­tute of Food and Agriculture.
Hid­den under human noses
The con­nec­tion between soap and mos­quito attract­ive­ness was stud­ied through four volun­teers. First, the research team, which included gradu­ate stu­dent Mor­gen Vander­Gis­sen and postdoc­tor­al asso­ci­ate Anaïs Tal­lon, stud­ied the unique scent pro­file of each indi­vidu­al, unwashed and washed with each Dial, Dove, Nat­ive, and Simple Truth soaps. Accord­ing to Vin­auger, more than 60 per­cent of what is smelled after wash­ing comes from soap rather than nat­ur­al body odors. ​"The oth­er aspect is that it's not simply adding stuff to our body odor, but it's also repla­cing some chem­ic­als while elim­in­at­ing oth­ers that are washed away," Vin­auger said. ​"So we think there is a lot of chem­ic­al inter­ac­tion between our nat­ur­al chem­ic­als and soap chem­ic­als." To test the inter­ac­tions between smell, the research­ers released mos­qui­toes in a meshed cage that had two cups con­tain­ing odor extracts and gave them a choice – unwashed scents gathered from the indi­vidu­als or their washed scents. The scents were gathered from a nylon sleeve worn on the fore­arm with the body in both washed and unwashed states. Tests were repeated for the vari­ous com­bin­a­tions of scents. ​"This way we can really meas­ure and quanti­fy the effect of the soap in terms of increas­ing or decreas­ing the attract­ive­ness of the indi­vidu­al," Vin­auger said. ​"That's where we found that not all soaps have the same effect on all volun­teers." In terms of fra­grance pref­er­ences, three of the four soaps increased mos­quito attract­ive­ness while one decreased. All of the soaps had a fruity or flowery scent. The one that decreased attract­ive­ness was coconut scen­ted. ​"That was very inter­est­ing for us because there is oth­er evid­ence in the lit­er­at­ure that elev­at­ing cer­tain fatty acids, such as those found in coconut oil deriv­at­ives, could serve as a repel­lant for mos­qui­toes and oth­er insects," Vin­auger said.
Odors are everywhere
With the res­ults of the proof-of-concept study in hand, the research­ers hope to expand the study with addi­tion­al people and soap vari­et­ies to get a clear­er under­stand­ing of the implic­a­tions. ​"Try­ing dif­fer­ent soaps is import­ant because we are show­ing that it's really the com­bin­a­tion between your nat­ur­al odor and a spe­cif­ic soap that mat­ters," Vin­auger said. ​"We also need to study the dur­a­tion of these effects. What if you shower in the morn­ing? The even­ing? We need to answer these ques­tions in our future work." Soap is only one part of the equa­tion. Deodor­ants, laun­dry deter­gents, and oth­er scen­ted products could also play a factor. While there is more work to be done, research shows that using coconut-scen­ted soaps could reduce attract­ive­ness to mosquitoes.