News
Cov­estro and Lanxess cooper­ate to pro­duce more sus­tain­able raw mater­i­als with reduced CO₂ footprint
21.01.2023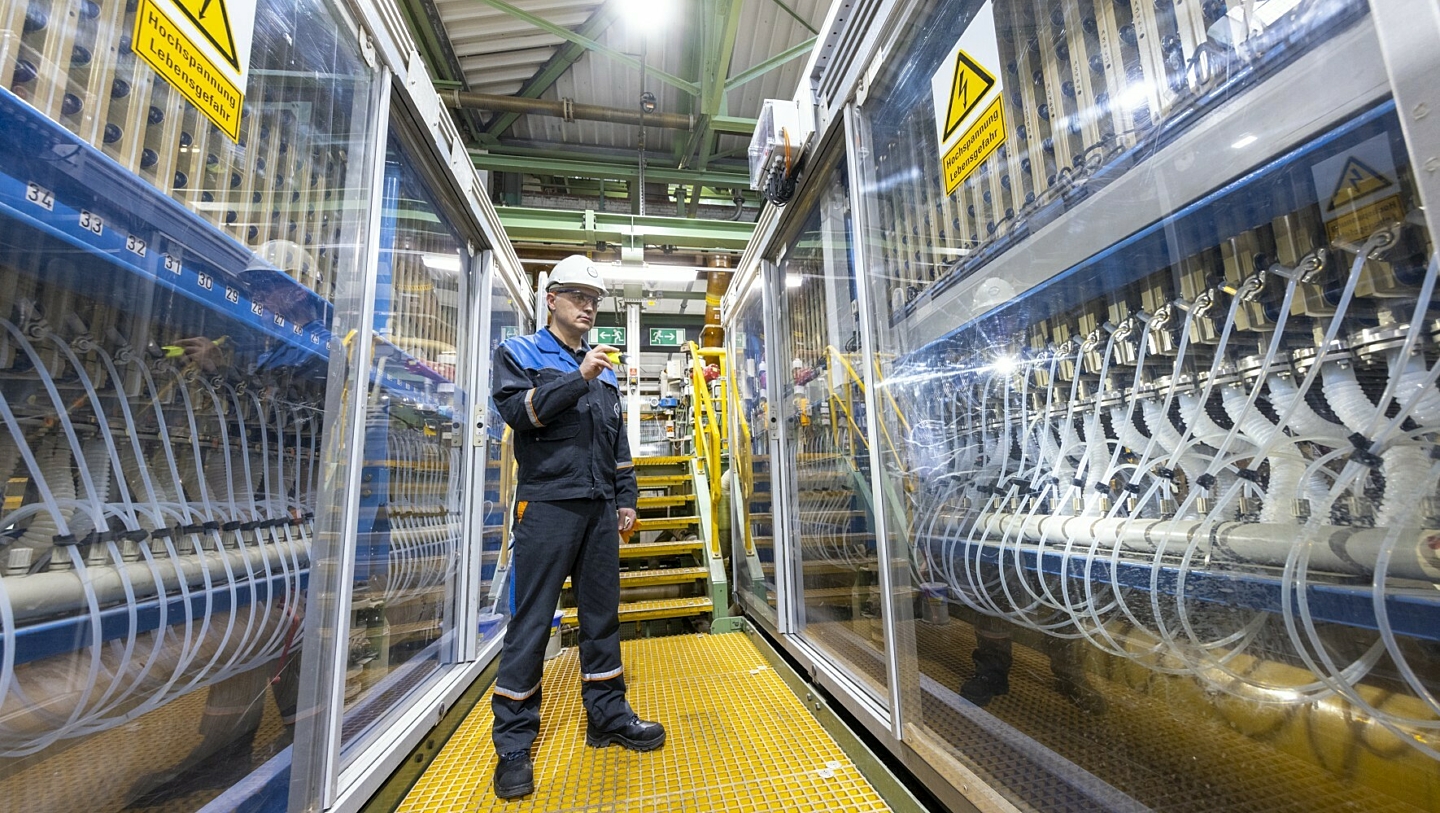 Chem­ic­al com­pan­ies Cov­estro and LANXESS are cooper­at­ing to make the energy-intens­ive pro­duc­tion of basic chem­ic­als at their Lower Rhine sites more cli­mate-friendly. LANXESS sources chlor­ine, caustic soda and hydro­gen from Cov­estro's ISCC PLUS-cer­ti­fied sites in Leverkusen and Krefeld-Uerdin­gen. Effect­ive imme­di­ately, Cov­estro will man­u­fac­ture about one-third of the product volume sup­plied to LANXESS using energy from hydro­power based on cer­ti­fic­ates of origin.
"On its path to oper­a­tion­al cli­mate neut­ral­ity in 2035, Cov­estro is pur­su­ing the goal of com­pletely con­vert­ing its pro­duc­tion to elec­tri­city from renew­able sources," says Dr. Klaus Schäfer, Cov­estro's Chief Tech­no­logy Officer. ​"A par­tic­u­lar focus is on the energy-intens­ive pro­duc­tion of basic raw mater­i­als. In cooper­a­tion with LANXESS, we are using energy in our elec­tro­lys­is plants in NRW on a pro-rata basis, which will enable us to reduce our repor­ted emis­sions by up to 120,000 met­ric tons of CO₂ per year."
"The joint pro­ject with Cov­estro is an import­ant build­ing block in mak­ing our entire value chain cli­mate-neut­ral. By sourcing raw mater­i­als with a reduced CO₂ foot­print for these products, we will be able to reduce our indir­ect emis­sions by around 120,000 met­ric tons of CO₂ equi­val­ents annu­ally in the future," says Dr. Hubert Fink, mem­ber of the LANXESS Board of Man­age­ment. With its Net Zero Value Chain Ini­ti­at­ive, the spe­cialty chem­ic­als group plans to elim­in­ate Scope 3 emis­sions with­in its upstream and down­stream sup­ply chain by 2050. This includes indir­ect emis­sions from pur­chased raw mater­i­als, but also in logist­ics or dis­pos­al. For Scope 1 and 2 emis­sions, the com­pany aims to be cli­mate neut­ral as early as 2040. ​"With our pro­gram, we are tak­ing the next step towards a cli­mate-neut­ral product port­fo­lio and thus also sup­port­ing our cus­tom­ers, who are increas­ingly look­ing for sus­tain­able solu­tions," says Fink.
Chlor­ine, caustic soda and hydro­gen are basic build­ing blocks for many products in the chem­ic­al industry. How­ever, their pro­duc­tion is very energy-intens­ive. LANXESS uses the raw mater­i­als sup­plied by Cov­estro for products that then go to the food industry or agri­cul­ture, for example.
Cov­estro pro­duces the three basic raw mater­i­als at its North Rhine-West­phali­an sites in Leverkusen, Krefeld-Uerdin­gen and Dormagen. The first two have already been cer­ti­fied to the inter­na­tion­ally recog­nized ISCC PLUS stand­ard for the pro­duc­tion of the stra­tegic raw mater­i­al chlor­ine, and this is planned for Dormagen in the near future. This cer­ti­fic­a­tion ensures that the elec­tri­city is cor­rectly alloc­ated to the products, and the use of renew­able energy is doc­u­mented by the inval­id­a­tion of cer­ti­fic­ates of ori­gin at the Ger­man Fed­er­al Envir­on­ment Agency.
Cov­estro is also act­ively involved in vari­ous pro­jects to build a hydro­gen eco­nomy that aims to use green hydro­gen as an energy car­ri­er. Among oth­er things, the com­pany is sup­port­ing the con­struc­tion of the world's largest plant for stor­ing renew­able hydro­gen in liquid organ­ic car­ri­ers in cooper­a­tion with Hydro­geni­ous LOHC Tech­no­lo­gies in Dormagen, Germany.
In terms of energy sup­ply, Cov­estro relies on power sup­ply agree­ments (PPAs) for renew­able ener­gies or high-qual­ity cer­ti­fic­ates. Just recently, the com­pany signed PPAs with the Chinese util­ity CGN New Energy for wind and sol­ar energy, which will cov­er around 30 per­cent of the elec­tri­city require­ments of its import­ant pro­duc­tion site in Shang­hai. In anoth­er pro­ject, util­ity Ørsted is to sup­ply off­shore wind energy start­ing in 2025, which is expec­ted to meet 10 per­cent of the elec­tri­city needs of Cov­estro's Ger­man sites. ENGIE, Bel­gi­um's largest pro­du­cer of renew­able energy, is provid­ing onshore wind power to meet 45 per­cent of the elec­tri­city needs of Cov­estro's site in Ant­werp, Belgium.
Source