News
New tools advance bio-logic
11.08.2014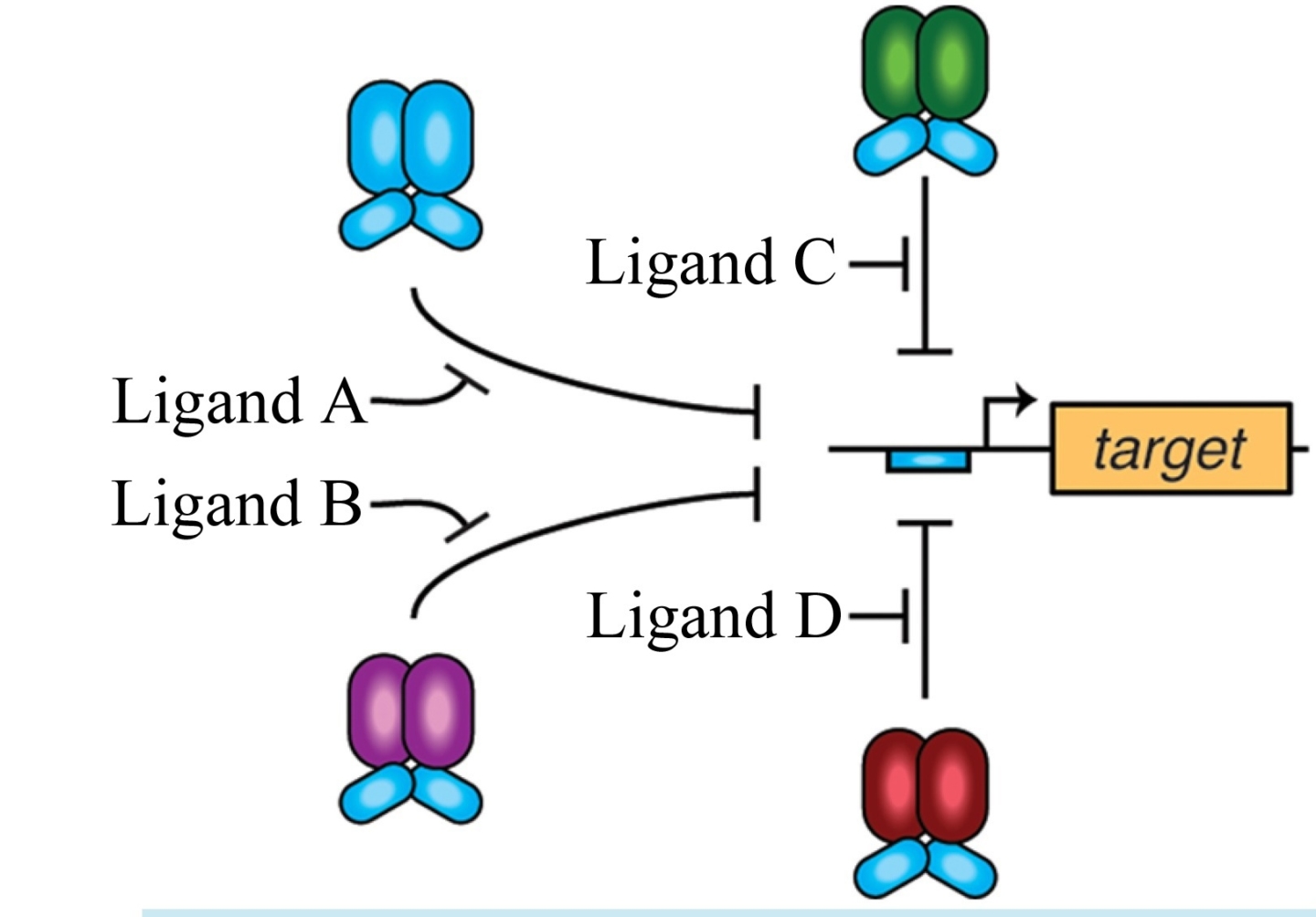 The mod­u­lar genet­ic cir­cuits engin­eered from parts of oth­er­wise unre­lated bac­teri­al gen­omes can be set up to handle mul­tiple chem­ic­al inputs sim­ul­tan­eously with a min­im­um of inter­fer­ence from their neighbours. The work repor­ted in the Amer­ic­an Chem­ic­al Soci­ety journ­al

ACS

Syn­thet­ic Bio­logy gives sci­ent­ists more options as they design syn­thet­ic cells for spe­cif­ic tasks, such as the pro­duc­tion of bio­fuels, envir­on­ment­al remedi­ation or the treat­ment of human diseases. The research­ers are cre­at­ing com­plex genet­ic logic cir­cuits sim­il­ar to those used to build tra­di­tion­al com­puters and elec­tric­al devices. In a simple cir­cuit, if one input and anoth­er input are both present, the cir­cuit car­ries out its instruc­tion. With genet­ic cir­cuitry based on this type of Boolean logic, a genet­ic logic cir­cuit might prompt the cre­ation of a spe­cif­ic pro­tein when it senses two chem­ic­als — or prompt a cell's

DNA

to repress the cre­ation of that pro­tein. Simple cir­cuits have become easi­er to cre­ate as syn­thet­ic bio­lo­gists devel­op more tools, but they require more soph­ist­ic­ated tools for com­plex prob­lems. Rice's Mat­thew Ben­nett and his col­leagues are intent upon fol­low­ing a path sim­il­ar to that of com­puter pro­gram­mers whose cap­ab­il­it­ies grew from simple Pong to the immers­ive worlds of mod­ern games. ​

"

One of the ulti­mate goals of this tech­no­logy is to allow cells to sense and respond to their envir­on­ment in pro­gram­mat­ic ways," said Ben­nett, an assist­ant pro­fess­or of bio­chem­istry and cell bio­logy. ​

"

We want to be able to pro­gram cells to go into an envir­on­ment and do what they're sup­posed to do. Right now, one of the main ways we do that is through tran­scrip­tion­al logic gates. These are akin to elec­tron­ic cir­cuits — the logic gates in our com­puters. In cells, they work a little bit dif­fer­ently, but there are a lot of par­al­lels." Logic gates designed by Bennett's team and oth­ers react in a pro­grammed way when they sense chem­ic­als in their imme­di­ate envir­on­ment. If cer­tain com­bin­a­tions of chem­ic­als are present in the envir­on­ment, the gate will turn on a gene that may either repress or pro­mote the expres­sion of a pro­tein. ​

"

A lot of work in syn­thet­ic bio­logy has gone into pro­gram­ming cells to make decisions bet­ter and more effi­ciently," Ben­nett said. ​

"

That's what this paper is address­ing. We found a new way of cre­at­ing very mod­u­lar and easy-to-use genet­ic sys­tems to cre­ate highly respons­ive tran­scrip­tion­al logic." The research led by Rice gradu­ate stu­dent Dav­id Shis drew from a genet­ic tool­box of chi­mer­ic (with parts from dif­fer­ent sources) tran­scrip­tion factors. These mod­u­lar pro­teins incor­por­ate the gene reg­u­lat­ory capa­city of one tran­scrip­tion factor and the envir­on­ment­al sens­ing cap­ab­il­it­ies of anoth­er. The research­ers demon­strated that as many as four chi­mer­as with the same DNA-bind­ing mod­ules can work togeth­er and serve as gates with mul­tiple inputs, either repress­ing — or over­rid­ing the repres­sion of — spe­cif­ic genes. They suc­cess­fully tested the abil­ity of chi­mera com­bin­a­tions in the bac­teria Escheri­chia coli to up- or down-reg­u­late the expres­sion of a gene encod­ing green fluor­es­cent pro­tein. ​

"

Often, when you make a genet­ic logic gate, you have to have many genes in the back­ground to allow the gate to work," Ben­nett said. ​

"

We've been able to elim­in­ate the need for that by pro­gram­ming tran­scrip­tion factors — which are spe­cif­ic pro­teins that turn genes on and off — to respond to their envir­on­ment dir­ectly and activ­ate a spe­cif­ic gene in a very mod­u­lar way. We can now pro­gram both envir­on­ment­al sens­ing and down­stream genet­ic reg­u­la­tion into the same mod­ule," he said. Ben­nett said he sees syn­thet­ic bio­logy address­ing many issues. ​

"

We might be able to use cells to report on, or remedi­ate, envir­on­ment­al pol­lu­tion. Or we might be able to pro­gram them to find a tumor in your body and respond to it. Meta­bol­ic engin­eers might find com­plex syn­thet­ic cir­cuits that are able to adjust on the fly, he said. ​

"

In fer­ment­a­tion, for example, you might want gene reg­u­la­tion in the cells to change as a pro­cess evolves. These new cir­cuits can sense dif­fer­ent sug­ars in the cul­ture and dir­ect gene reg­u­la­tion to max­im­ize pro­duc­tion." Co-authors include Rice alumna Faiza Hus­sain and Sarah Mein­hardt and Liskin Swint-Kruse, both of the Uni­ver­sity of Kan­sas Med­ic­al Cen­ter. Swint-Kruse, an asso­ci­ate pro­fess­or of bio­chem­istry and molecu­lar bio­logy at

KUMC

, is a former postdoc­tor­al research­er and research sci­ent­ist at Rice. The Nation­al Insti­tutes of Health, through the joint Nation­al Sci­ence Foundation/​National Insti­tute of Gen­er­al Med­ic­al Sci­ences Math­em­at­ic­al Bio­logy Pro­gram, and the Robert A. Welch Found­a­tion sup­por­ted the research.
Ori­gin­al publication:
Dav­id L. Shis, Faiza Hus­sain, Sarah Mein­hardt, Liskin Swint-Kruse, Mat­thew R. Ben­nett. Mod­u­lar, Multi-Input Tran­scrip­tion­al Logic Gat­ing with Ortho­gon­al LacI/​GalR Fam­ily Chi­mer­as.

ACS

Syn­thet­ic Bio­logy,

2014

;

140728104557004

DOI

:

10

.

1021

/sb

500262

f Source: Rice University